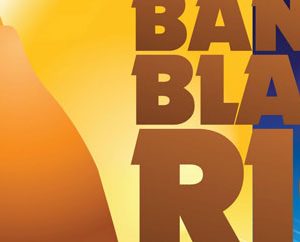 Review
Banda Black Rio – Super Nova Samba Funk
This isn't the first time Sounds and Colours have written about Banda Black Rio, and after listening to their new album, I am sure this won't be the last. Banda Black Rio first experienced success in the 70s but stopped in the early 80s due to its leader's, Oberdan Magalhaes, tragic death. However, the importance of Banda Black Rio was never forgotten and Oberdan's son, William Magalhaes put the pieces together, formed a new group and continued the band's legacy. The new album Super Nova Samba Funk proves that William's effort to keep the band alive has definitely paid off.
Historically, both Banda Black Rio and William himself have worked with some of the finest Brazilian musicians, such as Caetano Veloso, Gilberto Gil and Luiz Melodia. In this new Super Nova Samba Funk it is not different; there are lots of special collaborations and some other surprising guests. The album lives up to the main characteristic of Banda Black Rio, which is to mix different musical elements and instruments but always stick to the core of what is known as contemporary black music.
The album starts with a song called "Nove no Samba", which brings back the delicious combination of instruments so typical of Banda Black Rio. It's followed by the first two guest appearances of the album, an unusual encounter between "Brazilian gasgsta rap" singer Mano Brown and multi-million selling MPB singer Seu Jorge. The mix between the two guests and Banda Black Rio worked out really well and has made "Louis Lane" an uplifting funky tune, with the potential to be played at nightclubs across Brazil and the rest of the world.
The two first tracks are followed by a sequence of six songs which I want to mention one by one, since they seem to be the most authorial songs of the group. "America do Sul", "Quem Vem La", "Samba Nova", "Som Preto", "Deixa Estar" and "Nossa Jornada" are six songs that – in my opinion – clearly mark a point of difference between what Banda Black Rio used to be and what it is now. In other words, the innovations that can be found in these six tracks show that although William Magalhaes and his band still respect and carry on the tradition of the old Banda Black Rio, they have made their music sound more contemporary, using modern elements in the arrangement and the singing, including rap and strong beats. "America do Sul" and "Som de Preto" deserve some special attention.
Track number nine, "It's the Time", opens up a new sequence in the album. It is the first of three 'international' songs, sounding very chilled and romantic with a seductive melody. It sounds almost nostalgic, or saudosista (full of saudade), while also contemporary, filled with modern elements and beats, which seems to be the perfect soundtrack for some good summer days.
The second of the 'international' tracks is the surprising "Back to the Project", a hip-hop song featuring rappers Flame Killer and God PT3. A mix of Brazilian Portuguese and American English rap, the song comes out of the blue on this CD. I admit that I didn't expect to hear hip-hop on a Banda Black Rio album. However, the neat production and quality of the song proves that Banda Black Rio is mature enough to produce other genres of Black Music, which is a sign of both maturity and versatility of William Magalhaes and his band.
After a whistle stop tour of the hip-hop world, the last – and most – 'international' song of the album is the brilliant "Paname", which brings back the old school elements so recognisable of Banda Black Rio but also introduces an upbeat vibe, making this tune a must play on dance floors. The production is creative and ambitious, using a sample of the classic "Mercy, Mercy", and is sung in both English and French, introducing French rap through the guest appearance of the amazing Pyroman. The final result is a groovy and "worldy" song, the biggest highlight of the album so far.
Back to the Brazilian music side of things, song number twelve "Isabella" features Brazilian old school singer Elza Soares. This is one more song that lives up to Banda Black Rio's tradition, as it is highly influenced by samba and uses more classical arrangements and instruments such as the ultra Brazilian cuica. Also, Elza Soares' voice is an instrument by itself. Great tune!
"Isabella" is followed by one of the best songs on the album, "Lindos Olhos", which has the collaboration of Seu Jorge. Beautiful lyrics and a combination of soothing instruments make this song sound almost like a romantic ballad. Seu Jorge's performance is sublime, accompanied by an inspired Banda Black Rio.
William Magalhaes' 'bassy' voice dictates the rhythm of this next track, "Final Feliz". Once again elements of rap are introduced to give a more contemporary vibe to the song. "Final Feliz" means happy ending in Portuguese, an almost prophetic title in that the final two tracks provide just this feeling.
"Irere" is the second to last song of this album, in which William Magalhaes hosts Brazilian music star Gilberto Gil. It all becomes even more special when Caetano Veloso lends his voice to "Aos Pes do Redentor", the last track of Super Nova Samba Funk. The song sounds like a tribute to Rio de Janeiro and Brazilian music itself. It is a divine bossa nova song, so chilled out and full of easy rhymes and catchy lyrics, which talk about sailing around Rio's beaches.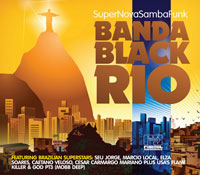 The biggest merit of Banda Black Rio's new album is that it shows how William Magalhaes and his fellow band members are perfectly able to mix tradition with innovation. The music produced by Oberdan Magalhaes and the old Banda Black Rio, in albums such as Maria Fumaca, is still very present in these songs. However, the new Banda Black Rio is not afraid of experimenting and taking their music to a next level. Something they have definitely done with Super Nova Samba Funk.
Super Nova Samba Funk will be released by Far Out Recordings on Monday 4th July

Follow Sounds and Colours: Facebook / Twitter / Instagram / Mixcloud / Soundcloud / Bandcamp

Subscribe to the Sounds and Colours Newsletter for regular updates, news and competitions bringing the best of Latin American culture direct to your Inbox.
Share: