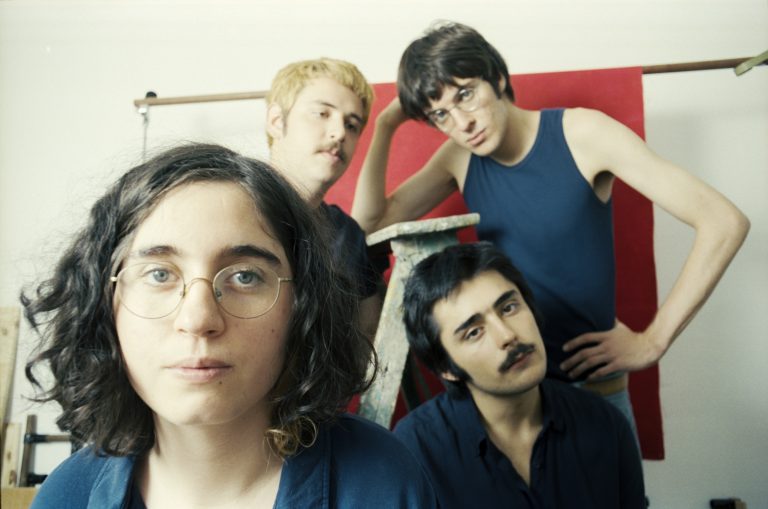 Brazilian Wax #7
07 April, 2021
This month's collection of fifteen contemporary Brazilian releases has been compiled from an almighty pool of potential albums; March and early April has proved phenomenally fertile soil. From pioneering dub to uproarious rock, angular funk and Eastern electronics, this Brazilian Wax round-up is one of the most far-reaching yet, full of corners of vivid colour to get lost in.
Albums
Highlight
Sophia Chablau E Uma Enorme Perda De Tempo – Sophia Chablau E Uma Enorme Perda De Tempo [Selo RISCO]
With a cartoonish yelp for a battle cry, Sophia Chablau summons her guitar-wielding cavalry on "Pop Cabecinha", the uproarious opener from long-awaited debut Sophia Chablau E Uma Enorme Perda De Tempo – in English, "Sophia Chablau and an Enormous Waste of Time". Rather than a comment on the last year spent locked up in São Paulo's tower blocks, the "Enormous Waste of Time" in question is her band: Téo Serson (bass), Theo Ceccato (drums), and Vicente Tassara (guitar/keyboards) who, supercharged on the short scrappy opener, thrum and twang their way into an almighty furore.
Chablau, in a conversational alto, makes light work of the opener's choppy guitars and delightfully uncompressed drums (an early indication of album-producer Ana Frango Elétrico's adroitness behind the control desk). Floating over bellicose blues, she shares her producer's youthful breeziness, lending the piece pointed focus and counterbalancing the thrashing accompaniment. Clocking in under two minutes, it's an arresting introduction to a young band who, after Lírio Ferreira featured their debut single "Idas e Vindas do Amor" in his 2019 Acqua Movie, have been ever-so-quietly billed as next-big-thing.
And the album opener justifies such billing. The band sound fresh and new – crafting a riotous sound that the likes of Ana Frango have leaned towards but not committed to hell-for-leather before. Certainly, if we were to locate the quartet within a historical dialogue between Anglophone and Brazilian music (something that's customarily traced from bossa nova's affair with U.S. jazz, and through the tropicalistas love-in with Swinging Sixties psychedelia), then Sophia's band is Brazil's first echo of noughties indie. And not since The Libertines crashed and burned-out in the early-2000s leaving a wake of unwashed knaves brandishing beaten-up Stratocasters has a band harnessed such fresh-faced scallywaggery.
It's Chablau and co.'s scrappiness that makes them so singularly seductive. Even when the band do away with the early chaos on "Se Você" and "Fora Do Meu Quarto", bubblings of feedback and the odd bum-note uplift fairly ponderous moments. On the former, a plodding walk-on-the-wild-side chord progression drags its knuckles, but the big-room echo of Chablau's singing, which cuts through a shiny veneer of feedback, sustains the short second track. The latter – a far better song – is sumptuous and sun-blushed. Indeed, though slow, "Fore Do Meu Quarto" rediscovers the momentum of album opener: Chablau seems content to dwell on each melodic idea here, pulling plush motifs apart like candyfloss until the piece is light and floaty. In a speak-sing tone, she reels off lines that flit between two pedal notes which then resolve to happy-sad major sevenths. Matched with the bagginess of her accompanying band, the piece has that kind of irresistible tired sound so inextricable from Velvet Underground ballads.
"Deus Lindo" re-finds the fuzz of the opener but, lacking the sharp song-writing, falls flat. Male vocals search for the right notes during the track's introduction. But it's no surprise he can't find them, because there's no real vocal melody there at all. A blunt-edged sword, "Deus Lindo" packs a punch purely in its boisterousness and any momentum is lost as a sloppy drum solo brings the jam-track to an end.
But the second half of the young quartet's debut record overturns early bathos. "Hello" is a cute yet cutting meditation on the neo-colonial dominance of the English language. "Perhaps I don't want to let you understand me/ I don't want to speak another language/ Portuguese is a very pretty língua/ But I think my tongue is like a criatura", Chablau croons over a creative-commons bossa nova pattern. The humour is patent: using such an internationally recognised Brazilian sound – a type of music that, worldwide, is treated more like a cultural signifier than a complex and pioneering music – the piece toys with the beauty and bastardisation of Brazilian culture presented for (and received by) the Anglophone world. Among the humour is some of the album's most thoughtful arranging: a couple coquettish vocal hooks and syrupy backing vocals. And the following "Debaixo Do Pano", which swings from boom-bap-for-kids-TV to horn-washed bridge sections, is equally playful.
Eliding two staples of Brazilian culture on "Debaixo Do Pano" – the "trio elétrico" and "frango asado" – the effervescent track becomes a testament to the fourpiece's producer Ana Frango Elétrico, whose acrylic baroque-pop writing is an unmistakable influence. Indeed, the colour and kiddish cleverness of their producer's Mormaço Queima is spattered all over the São Paulo quartet's debut – particularly on album highlight "Moças E Aeromoças", which twists and turns from stumble-funk cross-rhythms towards twinkly-key verses and raucous blues-heavy choruses.
Single and album-closer "Delícia / Luxúria", too, bursts with such restless creative energy. A pulse-racing ska stomp, layered with clever counter-melodies redolent of Nights Out-era Metronomy, "Delícia / Luxúria" is clearly the song most tended-to on the album. Chablau's vocals skim the surface of the revved-up accompaniment, carving out her own angular path towards each pre-chorus, giving the ear plenty melodic paths to follow. It's only one of two songs on the album that surpass three minutes, too, and at the song's crashing climax your left wondering why, earlier on the album, the quartet couldn't cut some fluff and let the more sinewy songs flex their muscles. But, then again, the young Paulistas' debut is all the more charming for its scrawniness.
Highlight
Lucas Santtana – 3 Sessions in a Greenhouse [Mais Um Discos]
UK station for contemporary Brazil, Mais Um Records will be reissuing Lucas Santtana's lost classic 3 Sessions In A Greenhouse as part of its fifteenth anniversary celebration this May. Featuring eccentric innovator Tom Zé and mangue bit pioneer Gilmar Bola 8, Santtana considers this unheeded yet urgent exploration in acid-washed dub the most decisive part of his process of "discover[ing] what I am and what I wanted to do in music." And, indeed, the shapeshifting fusion of dub, dance, rap, samba and mangue bit sounds instantly imperative – a key piece in the puzzle for fans of the trailblazing Bahian multi-instrumentalist.
The powerful collection, though, is set in motion by the bombastic but ultimately underwhelming "Awô Dub" – a minor-key strut with dubbed-out horns and webs of delay fx. Awash with crash cymbals and echoing guitar licks, the piece builds and puffs its chest out, but reticent to stray from the melody-line, it feels bloated at just short of six minutes.
Better is "Tijolo A Tijolo, Dinheiro A Dinheiro", which deftly balances a sharp cavaquinho and samba shuffle with wriggling reggae bass. The counterpoint struck between the reggae swagger and the more harmonically complex samba makes "Tijolo" a full-bodied joy. Rhythmically exciting, melodically rich and full of dynamic instrumentation, it fires on all cylinders with guitars and horns vying for attention above progressively frantic drums. And Santtana's lyrics, which leap from the commercialisation (and corruption) of samba to Brazil's balance of payments are barbed and brilliant.
"Pela Orla Dos Velhos Tempos", the itchy-feet rework of Nação Zumbi's trippy Y2K cut featuring original member Gilmar Bola 8 on vocals, is better still. Jump-started into a slice of club-ready acid-house, Santtana nimbly balances Afro-Brazilian vocal lines and Madchester flounce to create one of the most exhilarating floor-fillers this side of 1990's Haçienda. Trickling drums and cuíca squeaks keep the piece sprightly while the heavy bass and shadowy dub effects add persuasive weight to the album highlight. Elsewhere, "Lycra-Limão" ambles with a reggae bounce and is charming enough. And "Deixe O Sol Bater", taking stock in Highlife grooves, is a more interesting instrumental than the stoned opener.
Late in the proceedings, single "Ogodô Ano 2000" is a zesty Tom Zé rearrangement featuring its ingenious author on vocals. Zé's distinguishable squeak makes light work of the rootsy accompaniment, playing with the piece's syncopation and accenting a wicked backbeat. But the following spaced-out "Natureza Espera" takes pole-position as best feature-track due to its incongruous collaboration with American journalist Phylis Huber, who reads an extract from Virginia Woolf's The Waves – which, being my favourite English novel, is a personal pièce de resistance.
The variegated collection comes to a close with a slack rendition of the Arto Lindsay co-written tune "Into Shade". Doing the no-wave pacesetter justice, the distorted guitarwork and clattering horns are dexterously mixed by German dub master Stefan Betke (AKA Pole), who's mastering gives the album a Black Ark burnishing that Scratch himself would be proud of. But the digital bonus track "Faixa Amarela" – a perfectly harmless piece of dubbed-up rock-reggae – could be done away with.
Indeed, this album's best when it sticks to the noisy studio setting of live-mixed roots reggae, without overdoing the predictable horn-lines or pedestrian syncopation. Nevertheless, with a vocal melody fitting of candomble terreiros, on "Faixa Amarela", Santtana manages to give one last demonstration of how much sweeter reggae can be with a dose of samba stirred in.
Highlight
Jadsa – Olho De Vidro [Balaclava Records]
A lot of noise has been made about Bahian native Jadsa Castro since the release of her shadowy 2020 EP TAXIDERMIA Vol.1. The beguiling collection, that leapfrogged North-Eastern rhythms and religion before landing in São Paulo's electronic cityscape, was a revelatory and hybrid music which electrified as much as it eschewed classification. Created alongside João Meirelles of BainaSystem, it was a four-track EP that, while rooted in the musical tradition of their home-state, intrigued for its reframing of Bahia's contemporary musical landscape. Currently an outpost for the gaudier end of party music (such as axé and pagode), Jadsa sought to escape her native Salvador to find greater musical freedom in the South, wherefrom she began developing her own bewitching sound.
Beyond musical freedom, though, moving to São Paulo in 2018 meant, for Jadsa, moving to the city of Itamar Assumpção: the torchbearer of the innovative '80s arts movement vanguardista paulista, whose angular and undefinable rock-reggae became a wellspring of inspiration for the young Bahian. Indeed, on debut full-length Olho De Vidro, the twenty-six-year-old guitarist and vocalist, makes no effort to disguise her indebtedness to the trailblazing Paulista.
On the eerie title track – which starts with a delectably angular vocal harmony, before tumbling into a restless reggae-rock stagger – the sonic similarities between the Paulista and Bahian are clear. Shrill gang chants and wiry guitars buoy Jadsa's whispered and snapped vocals. And, as if the listener hadn't sufficiently understood her gratitude to Assumpção, she reels off the lyrics to Assumpção's hit "Nego Dito" during the track's breakdown. Dropping and inserting clipped syllables, Jadsa plays with the plasticity of each word much like Assumpção might, rolling them around in her mouth before spitting out chewed parts.
It's a vocal style she maintains throughout the album, building internal rhymes and structural counter-meanings like a concrete poet. Case in point: the way Jadsa sings the line "Quero você perto e a cores" ("I want you near and in colour") on the elastic "Sem Edição". In front of whispered backing vocals, Jadsa plays with the idea of nearness, beginning with "Quero", before adding a word each time the line repeats until the whole sentence unravels, close and crisp.
As Jadsa, later in the song, sings about "Listening to Gal/ Fatal" while her backing singers whisper the sentence "me nome e Gal", another of her influences is made patent: Gal Costa. However, besides her bite, Jadsa's music shares little with the Bahian tropicalista. Rather, as evinced by "Mangostão" (which also name-checks Costa alongside Ava Rocha and Bahian group ÀTTØØXXÁ), Jadsa has more in common with Tom Zé. On "Mangostão", "Jimmy, Renda-Se" is the point of reference, borrowing the 1970 anthem's chord progression and swagger. Like a skulking rework, though, of Zé's abstruse anthem (the lyrics of which are, incidentally, also informed by concrete poetry), Jadsa forges a darker, spectral space which casts a shadow of Ava Rocha's ethereal masterpiece Trança.
Indeed, Olho De Vidro often feels like a silhouette of Trança; they share an uncanny grasp of melody, eking out earworms from dusky corners, slicing through the darkness with silver-tongued hooks. Both albums threaten to lose focus in their awesomely immersive atmospheres, but by flitting between styles and tussling with rhythms rooted in samba, reggae, rock or rap, they both fashion an avant-garde, inimitable sound that engages the listener for the duration. Jadsa's Olho is less abrasive than Rocha's Trança. Jadsa deals in silence (as all masters of rhythm must). The Bahian, on Olho, rarely raises her voice – much of the album is delivered in a menacing whisper. But the bewitching web of sound she creates often raises hairs.
Domenico Lancellotti – Raio [Banana And Louie Records]
Carioca multi-instrumentalist Domenico Lancellotti has hardly been one to tread water over his 30-year career. After striking up friendships in his experimental nineties band Mulheres Q Dizem Sim, Lancellotti has been best known since as long-time collaborator of Alexandre Kassin and Moreno Veloso, with whom he's recorded as frontman and member of supporting troupe "+2". However, the indefatigable guitarist, percussionist and drummer has just as often frequented the studios and stages of MPB royalty. He has played alongside Moreno's father Caetano Veloso, as well as tropicalista comrades Gilberto Gil and Gal Costa, plus Quarteto Em Cy, Orquestra Imperial, Os Ritmistas and many others. So, when deeming Raio "a record about permanent transformation", the Rio native may just as well have been talking about his extensive and assorted work experience as much as his 2019 move to Portugal, proceeding trips to London (to record with Nina Miranda and play at Worldwide FM) and his attendance at Huni Kuin native rituals located between the border of Brazil and Peru.
For the carioca of Italian heritage, a fidgety and unflagging work ethic makes him one of Brazil's most interesting and in-demand players. But this restlessness doesn't shine through on Raio. Indeed, an endearing cosiness– a trait that makes Raio endlessly listenable – endures for the album's thirty-five minutes. The mood is set on springy single "Vai a Serpente" which, following a brief intro incongruously evocative of Elton John's "Bennie and the Jets", sways with the gentle groove of João Donato's seventies work. The dialogue between Lancellotti's guitar and vocal lines is informal and easy – a charming trait that continues throughout the album.
The following "Snake Way" continues the peaceful mood. Proving a proficiency for pop writing, Lancellotti's second song (an early stand-out track), is a breezy duet which, turning on a major-to-dominant-seven melody line, utterly delights. Above a charmingly uncompressed accompaniment, Nina Miranda's breathy soprano glides, recalling the flower-pop airiness of Astrud Gilberto's September 17 1969 or Margo Guryan's Take A Picture. But it's the male-female setting that sets Lancelotti's compositions soaring. Equally silky "Mushroom Room" is further proof – the wispy and weightlessness of the duet is evocative of Jamie & Nair's 1974 crate-digger classic.
Both of these duets precede sumptuous lounge-funk cuts that make Donato comparisons inescapable. Particularly "Margem Do Ceu" which, with just enough bounce, turns a soft and sweet cut into something swaggering and soulful. And there's a real Velvet Underground softness elsewhere on Lancellotti's latest album. "Confusão", lilting like a lullaby, could be certainly sung by Nico. The simple piece doesn't move much, but between the songwriting and its informal performance the piece lifts into something altogether bigger than the sum of its parts. And so does "Onda Do Mar", with Lancellotti leaning on major sevenths, lending warmth to the quiet number. These pieces feel bigger than their bare bones because both melodies are lovely: instantly singable. And this is where Lancellotti's experience glows: there's a timelessness about each track on Raio. The stellar song-writing lends the album an easy familiarity. But for all its cosiness, the soporific full-length is too damn catchy and clever to dose off to.
Paola Kirst & Lorenzo Flach – Vertigem [Pedra Redonda]
There's that breathing sound that can be soft or sensual and then there's the menacing, laboured breathiness that begins Paola Kirst's debut (visual) album Vertigem, which sets a tense, spine-tingling atmosphere. The barbed delivery of the ensuing solo alto on opener "A Fúria" is equally spine-tingling. But, this time, it's its dramatic beauty, not its menace that pricks the ears and sends shivers: a commanding opening to an album which showcases its authorial musician partaking in breath-taking vocal acrobatics.
The opening ninety-second aria heralds an ever-more rousing successor "Epiderme". Awash with a sheen of feedback and amid whirring guitar loops (courtesy of album collaborator Lorenzo Flach), Kirst engages in such vocal gymnastics redolent of Negro Leo's stirring singing on last year's Desejo De Lacrar. Growling and caterwauling her way through the five minutes of ominous soundscaping, Kirst leaps from operatic high pedals to screeched psychedelic warbling evocative of Gal Costa's "The Empty Boat", with vocal loops and warping effects.
Following the resounding thuds of a kick drum, a more reserved Kirst sings in Spanish on the following "La Garza Fênix". Slowly segueing into beatboxed loops, Kirst builds layers atop each other which meld into a rapturous wash of sound. The layered vocal lines form a parallel-thirds base for the sung verse melody. And, only at this point, do you realise how sparse Kirst's textures are: just (tuned) drums, beatboxing, percussive effects and voice. Indeed, it's astounding how much compelling, captivating music the Rio Grande Do Sul artist pulls out of so little. Nevertheless, instrumental backing is called upon on the following highlight: "Passada" is comparatively full, with a legato grand piano adding a luxurious layer. It's a gloriously moving piece, written by Alessandra Leão and Arthur da Faria, that pirouettes and waltzes with a grace further augmented by gleaming guitar effects that billow like satin curtains in a warm breeze.
But, the following vocals-only intermission "Vertigem Coletiva" (which enlists proficient vocalist Mau.Criado) and "A Outra Cabeça (Que Ódio)" continue the barren textures. Just vocals and guitar, "Que Ódio" builds atop finicky guitar plucks towards a galvanising chorus in which the two raucous musicians battle for space. Octave pedals, delay and ample distortion work to shoot the piece to a higher stratosphere. And the duo stay soaring on album closer "Crendice + Ossada", in which Kirst swaps her snarl for something far more shadowy.
Mbé – Rocinha [QTV]
Mbé is a Yoruba word that means "to be" or "to exist"; "Rocinha" is the largest favela in Brazil, located in Rio De Janeiro's South Zone. Together, artist and album name, give indication as to what is heard over the twenty-four minutes of QTV label's latest experimental release: the sounds of Rocinha merely existing. I use the passive verb "hear", rather than the active "listen" here to describe experiencing this album because Rocinha is less a stage for music performance, and more a space into which seeps the diurnal and undoctored sounds of peripheral black Rio experience. Indeed, these sounds, while heard day-to-day, don't come from a space in which they are paid much attention to. The album's liner notes recognises that these ambient sounds of daily life are typically considered extraneous – superfluous to music. But, here, such field-recording snapshots of sound are tools for transportation. Rather than "dirtying" ("sujando") the music, these sounds become the music. On Rocinha, through a quiet and intricate 24 minutes, we are given an unobtrusive ear into the communities, the animals and the nature that we can't grasp through traditional instrumentation.
Not that this album isn't musical. The Metá Metá vocalist Juçara Marçal, whose entrancing alto features throughout the album, compliments the field-recordings that serve as the basis for each track. On "Ceremônia", layers of ethereal vocals blend and shapeshift between bell-ringings and gentle white noise of daily life. Later, with a Medieval pedal note underpinning bullhorned protest cries, "A Caminho De Palmares" builds with percussive rattlings and birdsong towards the album's only lyric: "Sem palavras/ Só um sentimento, sem perguntas/ Só uma luz, sem sequência/ Só um ser sem jornada/ Só uma dança" ("Without words/ Just a feeling, no questions/ Only a light, without a sequence/ Only a being without a journey/ Just one dance").
The sentiment is clear – doing away with narrative, with teleology, with (chord) progression, this album is as honest and real as music can be. With scarce real singing and hardly any obvious instrumentation, this album lives and breathes and simply exists. The effect is such that final track "Mistura Baiana" – the album's only actual piece of instrumental (and melodious) music – seems equally un(man)made. As if merely overheard rather than intentionally recorded, the piece sounds alive, natural and, therefore, enchanting.
Singles & EPs
Matheus Santiago – INI [Índigo Azul]
What INI lacks in unpolished charm, it makes up for in the kind of slick presentation that gives even the most run-of-the-mill pop songs generous sums of gusto. Matheus Santiago's three new tunes, though, are anything but run-of-the-mill. Led by his crisp tenor and even crisper violão work, the three songs that make up this collection are playful, effortlessly catchy and just sharp enough to counteract Santiago's sweetness. What's more, each tune on INI counterbalances lightweight and elastic performance with heavy introspective themes. The EP, the title of which translates from Tupi to "hammock" seeks to look inwards and deal with dream-states and the subconscious. As such, the body, movement and dance are all themes Santiago's brand of samba is concerned with. Citing Angolan semba music (samba's namesake if not total musical forefather) as major influence, you can hear the vivid treble-heavy guitar sound native to much West African music throughout the EP. You can also hear – showcased best on the blithe "Prece Do Corpo" – Santiago's intention to make danceable music. The syncopated lilt of this xylophone and violão duet lends itself to (gentle) gyrating. And, pleasingly, when the infectious rhythms subside on closer "Bem Perto Aqui", it's replaced instead with intricate baroque-pop instrumentation, with harp flourishes, the gentle whirr of slide guitar and, eventually, featherweight glockenspiel that more than satisfies.
Dora Morelenbaum – Japão [Self-Released]
Dora Morelenbaum's voice is exquisite on "Japão". And it's no surprise, her being the daughter of the astoundingly accomplished vocalist Paula Morelenbaum (and cellist Jacques Morelenbaum). Superbly controlled, crisp and sprightly, she sounds as full and floaty on "Japão" as Joana Queiroz's complementary clarinet does. With an accompaniment leaning on the pentatonics and parallels fifths evocative of the eponymous nation's music, Morelenbaum, over her brief yet beautiful single, weaves together two musical languages she identifies with: Brazil's and Japan's. Why Japan? When Morelenbaum Jr. was five, her parents collaborated with Yellow Magic Orchestra keyboardist and songwriter Ryuichi Sakamoto. Morelenbaum looks back on this time when she "didn't know how to speak Japanese, nor he Portuguese, but [remembers their] communication being totally fluent". What Sakamoto and Morelenbaum share goes beyond their encounter at the turn of the century. Indeed, beyond familial connections, both make music that's delightfully airy.
pennarafa – Azul, Rosa E Vermelho [Self-Released]
Audiovisual artist and Applegate member strikes a charmingly off-kilter balance on "Azul, Rosa E Vermelho". With a liquescent quiver, Rafael Penna's shape-shifting single – his first of 2021 – lollops towards stonewashed choruses through psychedelic backing vocals, angular bass turnarounds and harmonic-minor deviations. Staying amorphous for it duration, the piece keeps a sci-fi sheen through which layers of horns, synths and triggered drums oscillate, luring the listener into a twilight zone of squelchy synth-pop.
Matheus Souto – Sedução Vegetal [Self-Released]
Matheus Souto's "Sedução Vegetal" sways with the insouciance of a beach-bound bohemian. Flouncing with unflapped swagger, this syrupy slice of samba-rock, which leans on two chugging seventh chords, swings along amiably, fluttering with muted trumpet, saxophone twirls and wah-wah brass. Souto's vocals, which sit propped atop the backbeat are fittingly laidback – so are the falsetto "oohs" and "aahs". But for some reason, despite the breeziness of the Floripa-based artist's latest single, "Sedução Vegetal" compels movement. It's a tune for those sunny days spread out on the sand, when all you can proffer is a slight bob of the head, even though it deserves a full-on boogie.
Overdrive Saravá, André Prando – João Do Amor Divino [Editora Moleque]
Overdrive Saravá's latest single "João Do Amor Divino" is a difficult one to corral. A sinewy beast that throws its weight between headbanging rock and sparse harmonies, the cuíca– and shaker-led piece snarls like its vocalist does. But its bark is deceptively harder-hitting than its bite. As the groove kicks in, rather than going hellbent towards rock (as is expected), there's a more slack-jaw funk rhythm that both galvanises and soothes in equal measure. The chorus, meanwhile, leans on a triplet delivery that introduces a cross-rhythm not native to rock music, per se. The track turns and twirls like fusion music that finds its sonic resting place somewhere near Nação Zumbi. Indeed, the breadth of the song is very impressive: when the piece unravels late on to crunchy harmonies and ad-percussion rustling, the spectre of a pepped-up rock song seems long gone. But, suitably unpredictable, the outro returns to seethe with fuzzed-up guitar that hisses and spits in augmented fourths.
Tróa! – Geleia [Self-Released]
Carioca duo Troá! maintain a sure-footed swagger on "Geleia". Between Carolina Mathias's squelchy bass and Manuella Terra's jittery drums, an organic neo-soul stumble starts building. Like an old car speeding up, it takes its time getting into gear, but it's the natural in-and-out-of-time swing of the piece that proves to be so charming. In her distinctive baritone, Mathias croons, allowing special guest JOCA to warm up slowly. Polyrhythms weave between the rapper's muttered lines and Mathias' vocal melody and small production treats (courtesy of Glau Tavares) twinkle and wink adding a playful shimmer.
Electronic & Club Music
Alucas do Trópico Sul – TRÓPICO SUL [Self-Released]
Alucas do Trópico Sul is one of many producers that have been prolific to the point of mania since the pandemic hit. His sixth release over the last year TRÓPICO SUL is not his first to pique interest – last October's sutil was a bass-heavy thrill-ride. But it's certainly the most beguiling EP he's dropped so far.
This frenzied four-track, born out of "reflections on [his] position in the geopolitics of our world", is a culture-clash of acoustic instrumentation native to his corner of south Brazil and urban electronics that prompt heart palpitations. Opening idea "atravessando dimensões" loops from wooden flute flutters and acoustic guitar scratches into a triplet stumble that implies a baggy trap beat. Meanwhile, the denser "sonho e delírio na américa do sul" which follows, suggests a similar trap swing which is then sidestepped when percussion, like a machine gun emptying its round, enters in double-time. The restless and irregular beats is enough of a treat, but, amid the digital instrumentation, bursts of nylon-string tango guitar add extra flavour.
Acoustic guitar, again, interrupts a pulsating four-to-the-floor on the appropriately titled "tango da vingança" ("revenge tango"). With atonal strings crescendoing towards a beautifully evocative piano-and-string interlude, there's ample activity for the ADHD listener. And when a full-on tango sample is deemed not enough entertainment, a layer of bellicose beats are graffitied over the top to pull the piece to even more outrageous heights.
"I was born here, I grew up here, and I have never had the chance to leave here," explains the producer in his EP's liner notes. But Alucas do Trópico Sul spins a web of sound which spreads so staggeringly far and wide, that this EP more than satisfies as an escape from one's own "here".
JOHANNA – Heirloom Mask [problemas dos outros]
The shape-shifting electronic music that JOHANNA (aka Joana Yamaguchi) makes is informed by the intersection between her work – anthropology – and her sense of self – a São Paulo native of Japanese origin, living and working in Ho Chi Minh (Vietnam). From this starting point, she dialogues with cultural, national and class identities which, for her, melt together and permeate to inform one's already tenuous and ghost-like foothold on identity, time and space. Accordingly, the artist's debut release Heirloom Mask, is rooted in a spectral sound-world: one diaphanous layer imprinted upon another, each in turn evoking East Asia and Latin America. The amalgam of superimposed sounds build a map on Heirloom Mask and tie together disparate imagery: the General Midi after-school-cartoon sounds of "Babar Vista", the Japanese Insen-scale jam of "Senta e Chora, o Filme", the pentatonic twinkling of "Cubatão Triads", which evokes East-Asian modality and the post-ironic style of Brazil's 40% Foda/Maneiríssimo label… Bubble-wrapped in an analogue synth sound that recalls Oneohtrix Point Never's soundtrack for Uncut Gems (Safdie Brothers), each track on Heirloom Mask fizzes and froths into a foamy lather of twinkling motifs that invoke a sense of steady pulse without percussive accompaniment. The outcome is a collection of almost singable pieces that maintain momentum while staying spacious and ambient.
Vuta – Myths of East [Bongosynth]
A curious marriage between Brazilian label and Belarusian producer, Vuta's Myths of East is an exceptional, camped-up three-track of eighties nostalgia. Above a jaunty disco beat fit with wood blocks and a shimmering snare, modular synths thrill and race on opener "Sapini". The jewel in the crown of this EP, it features a trancing vocal sample ornamented with Middle-East modal flourishes swaps in and out with Ata Kak-type synths. What's most impressive about the Belarusian's sound is his insistence to write proper songs: there's a compelling melody and lively structure on this opening track. Synth solos and percussion breaks add dynamism, while a full chordal accompaniment give Vuta's music a melodiousness most often missing from club dancefloors. The smoky follow-up "Yegeno" features a sparkling synth solo and sets a field-recording mood with snapshots of children singing. And the chugging closer "Birda" returns to another sumptuous Eastern vocal sample to carry the EP to a majestic conclusion.
Follow Brazilian Wax:
Website / Facebook / Instagram / Soundcloud / Mixcloud

Follow Sounds and Colours: Facebook / Twitter / Instagram / Mixcloud / Soundcloud / Bandcamp

Subscribe to the Sounds and Colours Newsletter for regular updates, news and competitions bringing the best of Latin American culture direct to your Inbox.
Share: