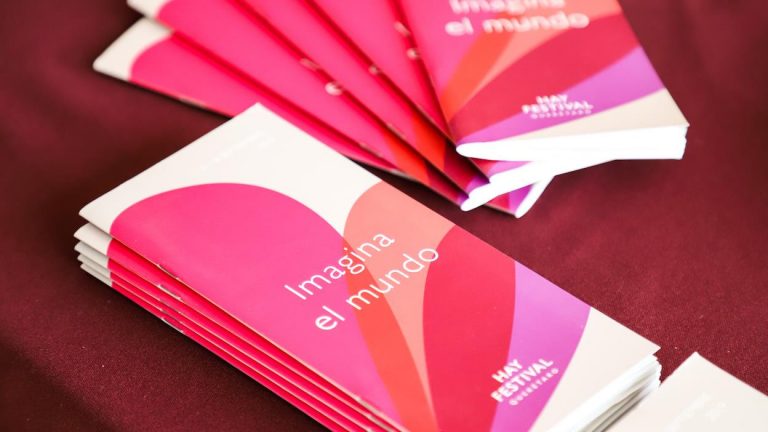 Hay Festival in Mexico: Free Online Events with Writers, Artists and Journalists
03 September, 2020
The Hay Festivals are a series of literature and art festivals held annually around the world, bringing writers and readers together to exchange stories and ideas. This year, the fifth annual Hay Festival Querétaro, held in Queretaro, Mexico, will run from September 2 – 7 in an online format. Its star-studded program boasts speakers like Mario Vargas Llosa, Paul Krugman, Kazuo Ishiguro, Malala Yousufzai, Michelle Bachelet, Gael Garcia Bernal, Julieta Venegas, and dozens more writers, politicians, artists, and scientists.
All events are free to watch online, but require that you reserve your spot on their website to watch the virtual event. Recordings of the events will also be available to watch for 24 hours after the live transmission.
We've gone through the week's schedule to select a few highlights relating to Latin American art, music, current events, and literature in particular.
September 2:
Mónica Ojeda and Nuria Barrios in conversation with Araceli Ardón
2 PM (8 PM BST)
Monica Ojeda (Ecuador) is an exciting, recent voice in Latin American poetry and fiction, and was included in the Hay Festival's own Bogotá39 list (which selected the 39 most promising Latin American writers under the age of 40). She will be discussing her work alongside Spanish writer Nuria Barrios and Mexican writer Araceli Ardón.
Gael Garcia Bernal in conversation with Olivia Zerón
4:30 PM (10:30 PM BST)
Actor, director, and producer Gael Garcia Bernal is perhaps Mexico's best known film star. He will be talking about his second film as a director, Chicuarotes.
Zahara Gómez, Mirna Medina, and Enrique Olvera in conversation with Juan Carlos Pérez
6:00 PM (12:00 AM BST)
This event centres around Recetario para la memoria [A Recipe Book for the Memory], a recipe book created by women who are looking for disappeared family members that compiles the favourite dishes of their missing loved ones. Present will be Mirna Medina, who has been looking for her son Roberto since 2014, Spanish photographer and coordinator of the project Zahara Gómez, and Mexican chef Enrique Olvera.
Salman Rushdie in conversation with Carmen Boullosa
7:15 PM (1:15 AM BST)
Xavier Villarrutia-award winning writer Carmen Boullosa (Mexico) will talk to Salman Rushdie about his most recent novel, Quichotte (2019), a satirical novel inspired by Cervantes' Don Quixote.
Malala Yousufzai in conversation with Lydia Cacho
8:30 PM (2:30 AM BST)
In 2014, Malala Yousafzai became the youngest Nobel Peace Prize winner for her work in support of women's education. She will be talking to Lydia Cacho, renowned Mexican journalist, feminist, and human rights activist.
September 3:
Dilma Rousseff in conversation with Javier Moreno
8:00 AM (2:00 PM BST)
Left-wing politician Dilma Rousseff was Brazil's first female president from 2011 to 2016, when she was removed from office under dubious circumstances. This talk was recorded at Hay Festival Cartagena earlier in 2020, where she spoke to Javier Moreno, Editor of the Spanish newspaper El País, about the future of the Left in Latin America.
(This event will be in Portuguese with Spanish subtitles)
Jon Lee Anderson in conversation with Celso Garza
3:00 PM (9:00 PM BST)
Jon Lee Anderson is a prominent journalist, biographer, and author, and something of an authority on Latin America in general. He will be talking about his upcoming book, Los años de la espiral: Cronicas de America Latina, which is composed of dozens of reports on the region from the last decade.
Mario Vargas Llosa in conversation with Raúl Tola
6:00 PM (12:00 AM BST)
Peruvian Nobel Laureate and prolific Latin American Boom writer Mario Vargas Llosa will talk about his most recent book, Medio siglo con Borges (2020), which centres on the life and work of Jorge Luis Borges.
Alma Guillermoprieto in conversation with Javier Lafuente
8:30 PM (2:30 AM BST)
Celebrlated Mexican writer and journalist Alma Guillermoprieto will discuss feminism in Latin America as she talks about her latest book, ¿Será que soy feminista? (2020).
September 4:
Lecture by Irasema Fernández
9:00 AM (3:00 PM BST)
Irasema Fernández is a visual artist, writer, and feminist who will discuss writing and illustration in the context of popular feminist movements in Latin America.
Camila Sosa Villada in conversation with Claudia Ivonne Hernández
4:30 PM (10:30 PM BST)
Camila Sosa Villada is an author, singer, and actress whose writings are often inspired by her own experiences as a trans woman. Among other things, she will be discussing her recent novel, Las malas (2019), which has been a hit in her native Argentina and will be made into a television series (read our review of Las Malas here).
Paul Auster in conversation with Valeria Luiselli
7:15 PM (1:15 PM BST)
Valeria Luiselli is a Mexican author, professor, MacArthur Genius Award recipient, and another name from the 2017 Bogota39 list. Much of her writing focuses on themes of migration and travel, including her most recent novel, the Booker-longlisted Lost Children Archive (2019).
September 5:
Francisco Hinojosa in conversation with Gina Jaramillo
11:15 PM (5:15 PM BST)
Francisco Hinojosa (Mexico) has written over 30 books ranging from non-fiction to poetry to children's literature. In this event (for ages 10 and up), he will be talking about his most recent book, Inchi Farofe (2019), about a child who likes to invent new words.
Cuadernos Hispanoamericanos: Irene Vallejos and Juan Villoro in conversation with Irma Gallo
12:30 PM (6:30 PM BST)
This talk brings together prolific Mexican fiction, non-fiction, and children's author Juan Villoro and Spanish writer Irene Vallejo in a conversation about the Spanish-language literary tradition as a unifying link between the literature of different countries and generations.
Julieta Venegas in concert
5:45 PM (11:45 PM BST)
Two-time Grammy-award-winning Latin music icon Julieta Venegas will perform live Saturday evening, in a concert "featuring the best of two and a half decades of music-making". Read our 2017 interview with Julieta Venegas here.
Darrel McLeod, Mirza Mendoza, and Yásnaya Elena Aguilar in conversation with Ingrid Bejerman
8:30 PM (2:30 AM BST)
Mexican and Canadian anthropologists, linguists, and indigenous writers will talk about the past and future of First Nations people in both countries. On Sunday morning, Mirza Mendoza will return to talk about the relationship between the city of Querétaro and indigenous people.
September 6:
Ida Vitale in conversation with Jesús Cañete Ochoa|
3:00 PM (11: PM BST)
Ida Vitale is a Uruguayan poet, translator, essayist, and critic, with a decorated career spanning across seven decades. She will be talking about a recently published edition of her collected poetry and her new book on her years in exile in Mexico, Shakespeare Palace (2019).
2020 Elections: The power of Spanish in the Trump era
8:30 PM (2:30 AM BST)
This forum will bring together US-based journalists Gerardo Lissardy and Patricia Sulbaran (from BBC Mundo) and special guest Maria Hinojosa (creator of NPR's Latino USA) for a conversation on the November US election and its connection with Latinos.
September 7:
Michelle Bachelet in conversation with Javier Moreno
10:00 AM (4:00 PM BST)
Javier Moreno (Editor of the Spanish paper El País) will interview Michelle Bachelet, the first female head of state in Chile and the current United National High Commissioner for Human Rights.
Imagine the world: Elena Poniatowska
7:15 PM (1:15 AM BST)
Elena Poniatowska is perhaps the most renowned Mexican writer and journalist active today, and has written more than 40 books and countless articles in the last 70 years. She will be discussing alternate "ways of imagining the world" during the COVID-19 pandemic.
The Piatti Quartet in concert
8:30 PM (2:30 AM BST)
A different Querétaro-based music group will perform an online concert every night of the festival, with the Piatti Quartet closing the week's events on Monday evening. They will play an assortment of compositions and arrangements for cello, drawing from their diverse repertoire of classical and popular music.

Follow Sounds and Colours: Facebook / Twitter / Instagram / Mixcloud / Soundcloud / Bandcamp

Subscribe to the Sounds and Colours Newsletter for regular updates, news and competitions bringing the best of Latin American culture direct to your Inbox.
Share: