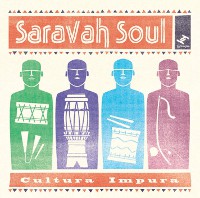 Interview with Afro-Brazilian funksters Saravah Soul
02 July, 2010
Saravah Soul began when Otto Nascarella moved from his native Brazil to London in the hope of finding a place for his mix of Brazilian soul and funk. Everything since then has moved rather fast. The band formed, released a demo, got snapped up by Tru Thoughts, toured all around the world and are now in the process of releasing their second album Cultura Impura. It will come out on Monday (5th July). Sounds and Colours met Otto to discuss this journey and what's next for Saravah Soul.

So let's start from the beginning, where are you from?
I was born in Santo Andre, which is one of the big cities in Sao Paulo. I lived in a couple of places but ended up in Curitiba which is where I grew up really.
And were you involved in music while you were in Brazil?
I've been a musician since, like, ever. I've always played funk and soul and had a function band, which is what you do when you're in Brazil if you're a musician. In Brazil if you play music and you want to create something different you can find probably the best musicians in the world but it's so difficult to get together, and get good musicians together without money because people always need to pay rent, and that's what brought me to England really. I was set on this quest to mix Brazilian music and soul since I started getting into soul in 1999 and I've never managed to keep the same group of musicians working and writing songs because you always lose musicians to other bands, or it's not like you lose them, it's just that they need to go and and play and make money. That was so annoying to me and I saw that that music market existed in another way in England, and so came to London in 2005.
There are some really great musicians in your band. How did you all come to meet each other?
I met them (Matheus Nova – bass, Eduardo Margues – drummer, Marcelo Andrade – sax) in Guanabara [a Latin-themed bar/club]. I came to England really hungry for my project and they could see that I had something and so we booked a rehearsal. It started of with 5 of us, and that's what it's still like really. I kind of effected everyone with my passion really. I met Kris (Houston), the guitar player, at a gig. He had been to Brazil, he had lived there for six months, and he then invited Jack (Yglesias – percussion, flute) to the band.
Where did the idea for the Saravah Soul sound come from, this mix of Afro-Brazilian music and soul and funk?
Now listen, what happened was in the 50s Brazil had a moment where we needed to have a national identity more than ever, and they decided on samba, and there's nothing wrong with samba, I love samba, but at that moment all the other rhythms became tainted by samba. So what happens now is that the world and Brazil gave all these other rhythms the status of folklore. So what my mission is is to take these rhythms and say this could be popular and it could be mixed with soul and so we have this thing that's as beautiful as samba but it's not being explored and this is one of the ideas of Saravah. Why is it not being explored? Why is it just being taken as folklore? If you go to Olinda and you go to a coco night you can see this music and it's not folklore, it's alive.
Where was the material coming from in these early days, how was the writing process?
We didn't get to write much music in the first year of Saravah Soul, we were just working things out. For the band it was like a function gig because they were playing some covers and some songs I had brought from other projects, but then in 2006 Kris and Jack came to Brazil with me and that trip proved really important for Saravah. It's funny, Mateus was also from Curitiba, and we ended up all meeting there, and that was a great bonding experience for the band.
This would have been followed presumably by the first album, it seems like that album came about really quickly…
Not really! We recorded the first album in January 2007, but then I went to Italy to sort out my papers (because I have an Italian background) and I got stuck there. I came back to England but had to return to Italy again to sign something and then when I tried to return a second time they wouldn't allow it and I had to go back to Italy once more. This was really frustrating, the record was ready, I was ready to sign the contract, but because I was stuck in Italy none of this could happen. When I eventually got my papers and became an Italian citizen I went back to England. That was July 2007. We signed the contract and delivered the album. It took about six months, a bit more really, there was some complications, and the album was released in April 2008.
And now, especially with this new album coming out, there seems to be a huge influence of afro-beat music. Where did this interest come from?
Well with the first album I had loads of songs that I had written with my other projects in Brazil, and it was really Brazilian funk, like mixing samba with funk, which is something I was really influenced by, especially by Banda Black Rio from the 70s. But what happened was I started listening to a lot of Afro-beat, influenced by Jack especially, and I started thinking why had Afro-Brazilian music never had the opportunity to become pop, as in radio music. Why is it like that? So we tried to apply the same ideas that the Africans did to guitar music so it's like playing guitars as if they were drums, and the way drums sound, and adding that into the mix also.
Final question, could you tell us the meaning of Saravah Soul, well, just the Saravah bit really?
Saravah is an afro-brazilian word that came from the bantu slaves. They brought it to Brazil. They were trying to say 'saludar', a portuguese word meaning 'to greet' and of course they weren't able to because of their accent and their culture, and so they would 'saravah' and it became something that was just said by them, and nowadays it has a religious connotation, but moreso it's like a form of greeting. A friend came up with the suggestion to calling the band Saravah Soul and it stuck in my mind, and when I arrived and met the guys, started the project and said I have this name, they said they weren't sure. The English contingent of the band said that it sounded a bit hebrew, they were unsure, but we didn't have a better name so it just stuck.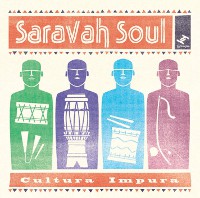 Saravah Soul's second album Cultura Impura will be released by Tru Thoughts on Monday 5th July.
Launch party for the album will be at Passing Clouds, 1 Richmond Road, London on Saturday 24th July.
More info:
Saravah Soul page at Tru Thoughts
Myspace page

Follow Sounds and Colours: Facebook / Twitter / Instagram / Mixcloud / Soundcloud / Bandcamp

Subscribe to the Sounds and Colours Newsletter for regular updates, news and competitions bringing the best of Latin American culture direct to your Inbox.
Share: