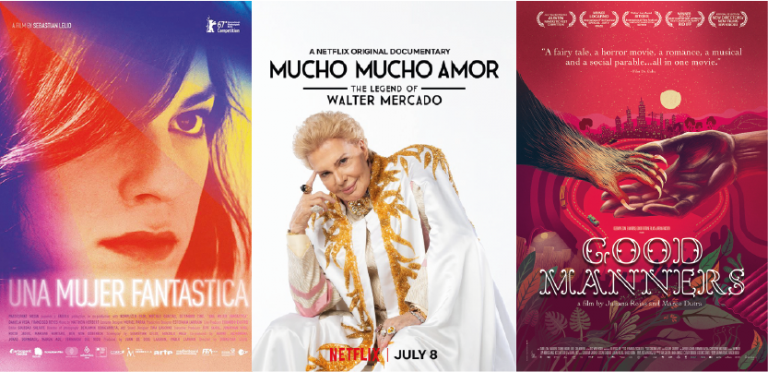 Latin American LGBTQ+ Cinema: Notable Films to Watch
17 July, 2020
Today, there is a good number of Latin American LGBTQ+ movies to peruse, if not yet back in cinemas, then certainly across various streaming platforms. The Brazilian film Bacurau (2019, now on MUBI), by Kleber Mendonça Filho and Juliano Dornelles, is but one example of a Latin American movie with a queer protagonist that did well at the international box office when the COVID-19 pandemic hit.
The first contemporary Latin American LGBTQ+ movie I saw was Karim Aïnouz's Madame Satã (2002), a film which tells the story of the real-life drag performer João Francisco dos Santos, from Rio de Janeiro, and which takes place in the 1940s. Madame Satã's gorgeous, tactile cinematography, and its mix of cruelty and sensuality, was in many ways a harbinger of the bold, inventive Latin American LGBTQ+ cinema that followed it over a decade later.
Dos Santos of Madame Satã was a groundbreaking, extravagant performer, as are the protagonists of two recent Latin American documentaries: Mucho Mucho Amor (2020, now on Netflix) by Cristina Constantini and Kareem Tabsch, and Bixa Travesty (2018, available to rent on Amazon Prime Video) by Claudia Priscilla and Kiko Goifman.
Mucho Mucho Amor is a bubbly biopic of Walter Mercado, a television personality from Puerto Rico, who in the 1970s conquered millions of Spanish-speaking, and eventually some American, viewers, by doing horoscopes in showy gender-bending costumes. While at times repetitive, the documentary is a joyous peek into the past: a run-through of Mercado's famous clips, capes and capers, and a visit to his baroque, paraphernalia-filled home in Puerto Rico.
Even though he never identified openly as queer or gay, Mercado nevertheless inspired the flourishing LGBTQ+ community. With Mercado on camera and interviews with his loved ones, the movie also rings a cautionary note: Mercado signed the rights to his image over to his manager, Bill Bakula, which resulted in a bitter legal battle. A bittersweet farewell – Mercado died shortly after the movie was made – the documentary, however, mostly skips over the hardships to instead forefront Mercado's undeniable, quasi-mystical charisma.
Decades later, a message is much edgier, in the hands of Linn da Quebrada, a Brazilian trans singer and performer who's at the centre of the documentary, Bixa Travesty (English title: Tranny Fag). The intimate documentary follows her not just on stage, but also in her private life, with family and friends, plus looking over older videos, in which she is shown recovering from cancer surgery.
Though her style is playful but more confrontational than Mercado's, da Quebrada's message is nevertheless similar: In the end, it's all about self-care and much mucho amor.
Another film centred on a trans woman is Sebastián Lelio's delicate A Fantastic Woman (2017, currently on Channel 4 in the UK and Curzon Home Cinema), in which a young waitress and singer, Marina Vidal (Daniela Vega), suffers the iniquities of having her identity constantly questioned by cis people, after the death of her partner, Orlando. Lelio's is a poignant study in grief denied: Since the moment Marina drives the ailing Orlando to a clinic, she is treated by the police as a suspect in her lover's death, and by his family, as an impostor, a threat. Her legal name change still pending, the authorities repeatedly badger Marina by using the "he" pronoun. Despite this brutalization, Marina slowly recovers, and learns to embrace and to celebrate herself first.
A recent crop of vibrant Brazilian LGBTQ+ movies move beyond narratives that revolve around antagonism, to instead ones that approach identity and sexuality in more diffused, playful ways. In the New Brazilian series program, which streams on MUBI, Rodrigo Carneiro and Gustavo Vinagre's The Blue Flower of Novalis (2018) is in a sense a bridge. Its protagonist, Marcelo Diorio, plays himself as a gay man in his thirties who tells the story of his family, his loves and obsessions with his body image, illness and ageing. In this drama, cis people appear as remote hauntings, mercifully allowed to fade, while the main focus is on Diorio's dreams.
The short film, Breakwater (2019), by Cris Lyra, also on MUBI, on the other hand, features young lesbian girls who travel to the seaside to spend New Year's Eve in each other's company. Here too, there are hints of homophobia in stories of family members, anxious over the girls' identity, but the main trauma comes from their having participated in student protests that broke out at Brazilian high schools, and were brutally repressed by the police. The film itself – with languid shots of bodies sunbathing on the beach, with songs, tenderness, and dancing – is a celebration of caring, a sweet affirmation of being and feeling loved.
Caetano Gotardo's Your Bones and Your Eyes (2019), which streams on the Cinema Tropical platform, is perhaps the most open-ended of all the recent films. Gotardo, who stars as an artist in search of self-awareness, has multiple conversations with friends, and a man he meets on the subway and with whom he ends up having an affair, about desire, loss, and memory. The love stories, straight and gay, flow fluidly, and mingle with observations of bodies in public spaces, such as in a wonderful sequence that captures dancers practising outdoors, in São Paulo. In this sense, the metaphor of dance, as union and equilibrium, permeates the film, as do constantly shifting temporalities, recreating the physical city as its own chimera.
Finally, in terms of genre-bending films, the lesbian romance cum horror story, Good Manners (2017, on MUBI), by Marco Dutra and Juliana Rojas, is a delightful take on forbidden desire. In the film, the passion between the bored social climber, Ana (Marjorie Estiano) and her live-in nanny, Clara (Isabél Zuaa), is tragically overshadowed by Ana's previous one-night-stand with a wolf. Ana ends up giving birth to a half-beast, half perfectly loveable boy, which Clara will then try to protect, at all costs. Boldly imaginative, witty, and heartwarming (albeit hair-raising too), Good Manners wraps shrewd societal critique in winsome genre garb.
Where to Watch
Bacurau, The Blue Flower of Novalis, Breakwater, Your Bones and Your Eyes, and Good Manners are available to stream on MUBI.
Mucho Mucho Amor is available to watch on Netflix.
A Fantastic Woman is available to stream on Channel 4 and Curzon Home Cinema.
Bixa Travesty is available to watch on Netflix and Amazon Prime.

Follow Sounds and Colours: Facebook / Twitter / Instagram / Mixcloud / Soundcloud / Bandcamp

Subscribe to the Sounds and Colours Newsletter for regular updates, news and competitions bringing the best of Latin American culture direct to your Inbox.
Share: