Not Ready for the Museum Yet: An Interview with Banda Black Rio's William Magalhaes
25 July, 2011
Sounds and Colours' Eduardo Pagnoncelli recently reviewed Banda Black Rio's exciting new album SuperNovaSambaFunk and here interviews William Magalhaes (pictured above, far right), the main man behind the group.
Banda Black Rio have a long story, starting in the 70s. Can you tell us how the band began?
It all started in the 60s with my dad, Oberdan Magalhaes, who was a saxophonist. He used to play with lots of different musicians such as Dom Salvador. They used to play some kind of boogaloo rock. It was sort of a pre-soul era. Then through the band Impacto 8 they started to play funk and soul together. Once they added samba to the mix, they began to create something new, a sound that was very influenced by "suburban" music. Quite successful in the underground scene, they called some attention outside that world as well. Then in the early 70s, executives and producers from Warner record label personally came to Brazil specifically searching for a band that could play funky music and be able to challenge Motown's domination of the "black music" market.
Through an uncle of mine who used to work for Warner and had good links in the music industry, a demo tape from my dad and his band was given to the Warner guys, who absolutely loved it and offered my dad, Oberdan, to gather a band and start recording an album straight away. In 1976, with all the infrastructure provided by Warner, Banda Black Rio was quickly formed with some of the finest musicians my dad used to play with and after one exhausting month of rehearsals, they recorded – in just a couple of days – and released the historical Maria Fumaca. Few people know this story but that is how the band started. And I have to say that the band would have become professional at some point but Warner's offer definitely rushed things up and made Banda Black Rio happen.
Banda Black Rio was also involved with a social movement called Movimento Black Rio. What was that all about?
Although the band never became too "mainstream", they created a new music rhythm, samba-funk, which gave them great international and national recognition, especially within the black and marginalised community and the "underground" scene. Hence why Banda Black Rio became the main inspiration for – and the actual leaders of – Movimento Black Rio, which was a movement inspired by other American civil rights movements such as Black Panthers and Black Power. It was maybe the first, and most important, "black movement" in Brazilian history, which I believe shows the extension of Banda Black Rio's influence and importance even beyond music.
Here's a video of the original group performing "Maria Fumaca":

Apart from your dad, was anyone else in the family involved with music? When did you start getting seriously interested for music?
Becoming a musician and working with music was a natural consequence of my dad's investments in my upbringing and his obvious direct influence as he worked with music his whole life pretty much – despite this, him, and I, both had a chemistry degree to make his mum, my grandma, happy. But my family has five generations of musicians. My grandfather was a drummer and my dad a saxophonist. My mum was an amateur singer and my grandmother played the piano. Basically, it was music all over the place. I started playing the guitar then I had piano lessons for 10 years. Because I was studying music my dad took me to the band rehearsals to get in contact with the instruments and see how a professional band works. So it all started at a very young age for me.
When did you start working in the music industry?
When I was just 18 I was already playing in Gilberto Gil's band. Just two years after that I was already one of Gilberto Gil's main producers and that's when I met Liminha, Brazilian's biggest pop music producer, who really opened the doors of music producing for me. Also, I kept studying music, especially arrangements and piano. Like my dad, I collaborated with many different Brazilian artists, producing and playing with great names such as Tim Maia, Caetano Veloso, Djavan, Ed Motta, Marina Lima and others. And then I decided to give Banda Black Rio a new start.
So how does your story crosses Banda Black Rio's path?
Well it is quite a sad story. The band recorded two more successful albums, Gafieira Universal, in 1978, and Saci Perere, in 1980. Also, my dad was always collaborating on other artists' work and the band was always active and playing in music festivals or joining other bands. They had a new contract lined up with Fantasy Record Label to record a new album. However, my dad died in a car accident in 1984 and Banda Black Rio had to quit its activities. He fell asleep whilst driving and crashed into a tree near Lagoa Rodrigo de Freitas, in Rio de Janeiro.
So, when did you decide that Banda Black Rio should have a come back?
First of all, I felt that my dad died at a very young age, 44, and the band was in a very good professional moment when he passed away, with contracts and lots of projects lined up, making it almost "unfair" to leave the name Banda Black Rio behind. However, there is also a very curious story that in fact has to do with the UK, which influenced my decision of continuing the band. When I went to London for the first time in the late 80s I was walking around Portobello market and I found a guy selling Banda Black Rio's LP Maria Fumaca for 100 pounds. Pretending I never heard of such band before, I had a little chat with him. He explained that the LP was very old and rare and that Banda Black Rio produced an incredible and unique sound, that is why it cost 100 pounds. I realised that although I knew about the band's success and acceptance outside Brazil, I never thought that their musical influence would stay for so long. Thus, this Portobello Market episode was an instant "click". I had to continue the band; I couldn't let it become just a "piece in a museum".
So let's talk about your era with Banda Black Rio.
SuperNovaSambaFunk is the second release of Banda Black Rio "under my management", let's put it this way. I am very excited with it and I have very high expectations for this album. Since I took over Banda Black Rio, I tried to incorporate more contemporary sounds, such as hip-hop, to the original kind of music made by my dad's original band. Also, as the band is involved with a different range of social work in poor areas of Brazil we consequently got even more involved with the hip-hop world as they are directly involved with social work in Brazil. So today there is sort of an alliance between Banda Black Rio, the rap/hip-hop scene and social organisations, which is reflected in both our music and our social identity as not only a music band but also "an arm" of social action in Brazil.
How excited are you with the new release SuperNovaSambaFunk?
I am very excited and happy with the final result of this album. It is a very contemporary album, with lots of great people's collaboration and a great mix of groovy rhythms. In Brazil it is going to be released around September/October as a double CD with 34 songs, one side with more sambas and bossas and the CD 2 with a more funky and hip hop approach. In the UK SuperNovaSambaFunk is already out with 14 songs especially chosen to suit the European public. It is an upbeat album with a touch of pop and elements of funk, soul and rap. But it also has its calm bossa moments.
You can listen to edits of the new album right here:
[soundcloud url="http://api.soundcloud.com/playlists/728602″ params="show_comments=true&auto_play=false&show_playcount=true&show_artwork=true&color=ff7700″ width="100%" height="360″ ]
I wrote a review of the album for Sounds and Colours and I particularly loved 4 songs: "Louis Lane", "Paname", "America do Sul" and "Aos Pes do Redentor". Good choices? Do you have any favourites?
Great choices I think. "Louis Lane" is also one of my favourites as I sing with my long time music partner Seu Jorge and Mano Brown, for who I have great admiration. It is a delicious tune, funny and groovy. "America do Sul" is already calling a lot of attention and I actually believe it could be one of the hits of this album. "Aos pes do Redentor" is a beautiful song with the great collaboration of Caetano Veloso and it is a very carioca tune. "Paname" has a sample of Curtis Mayfield and the collaboration of French rapper Pyroman, a tune full of soul, also one of my favourites in the album. But there are so many other highlights in this album, like "Quem Vem La", "Som de Preto", "Isabella", "Irere", "Final Feliz", it's difficult to say if I have any favourites.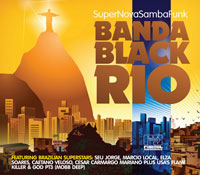 I think the European public would love to check out the new Banda Black Rio. Are you guys gonna come play for us in Europe anytime soon?
It would be amazing to play in the Europe! We have nothing lined up so far as we are a bit busy with the release of SuperNovaSambaFunk in Brazil. But we hope people in Europe enjoy the new CD and going to Europe is definitely in Banda Black Rio's plans as we have lots of fans out there and we want to show them our new work, so we hope to see you all very soon!
SuperNovaSambaFunk is available now on Far Out Recordings.
You can buy the album from Amazon and iTunes

Follow Sounds and Colours: Facebook / Twitter / Instagram / Mixcloud / Soundcloud / Bandcamp

Subscribe to the Sounds and Colours Newsletter for regular updates, news and competitions bringing the best of Latin American culture direct to your Inbox.
Share: