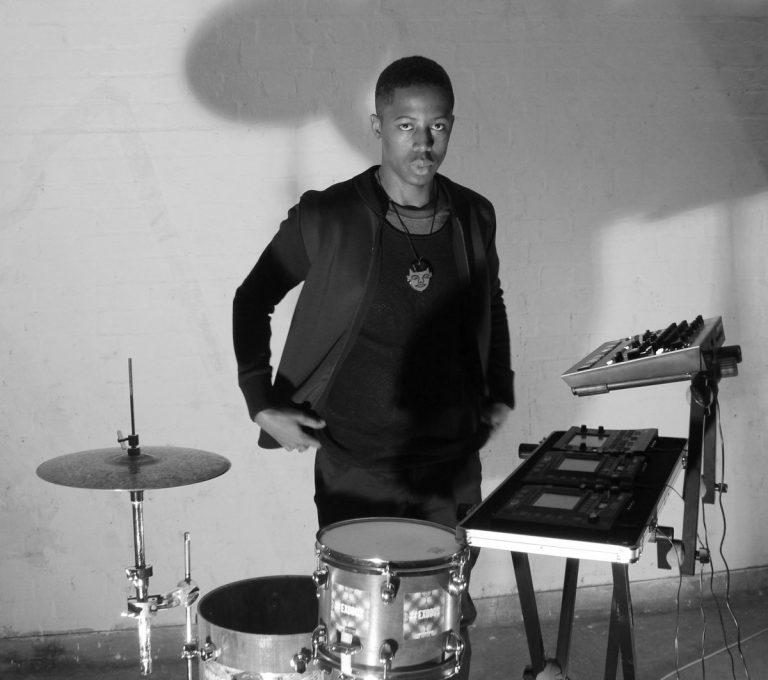 Reimagining 'Tam Tam Tam': Talking About Sonzeira and Brazilian Music with Moses Boyd
29 November, 2016
South-London jazz talent Moses Boyd is quickly rising through the ranks. Starting his drumming career at age 13, Boyd soon became enticed with the sweet nectar that is jazz and hasn't looked back since. Staying busy, Moses has shown his skills throughout the globe, formed the jazz outfit Exodus and has worked with the likes of Floating Points, Zara Mcfarlane and Soweto Kinch. Moses' talent hasn't gone unnoticed, he's collected various awards over the years including the prestigious MOBO award with fellow collaborator and saxophonist Binker Golding for Best Jazz Act in 2015.
Amongst other projects, Moses was involved this year in Gilles Peterson's Brazilian music project Sonzeira. After a two year break, Peterson's Brazilian project returned to the studio, this time for a remastering of Jose Prates' influential 1958 album Tam… Tam… Tam….  You can read my album review of Tam Tam Tam Reimagined here. On a one-day break back in London, while he was touring with Sampha, I had a chin-wag with Moses about the new Sonzeira project.
The last Sonzeira album was recorded in Brazil. Where were you based for the recording of the album?
It was a mixture. Unfortunately for my part I didn't get to go to Brazil. We recorded it at a studio in London on a boat on the Thames, which was cool. Gilles, Will Horrocks and Rob Gallagher took the raw stems and reworked it over in Brazil I believe.
What was the format for recording, were you in a band or on your own?
It was myself and the bass player Daniel Casimir for the initial sessions. It wasn't the kind of session where you come in and lay tracks and the idea is to finish a track there and then. It was almost like the starting point to bounce ideas. Gilles was there and Rob was there and we were all putting ideas into a collective pot. I was giving them material that they can later maybe work with or maybe not if they choose to. It wasn't a typical recording session where you just go in and you aim to finish a track, it was kind of anything is up for grabs.
Was there an aim from Gilles, or was there just a focus on an entire re-work of the original album?
He gave us all the history lesson behind the whole Tam… Tam… Tam… album which was quiet cool really. I didn't know much about it. He just stopped the session for like 20 minutes and explained everything and put it all in context for me and Danny which was really cool. I guess there was an aim long before I knew I was involved in the session, but it didn't musically stifle it so to speak, as Gilles is really good at that. He had an idea but it wasn't about it trying to be a perfect reinterpretation, I think he picked the right people. There was an aim but also a lot of freedom to do our own thing.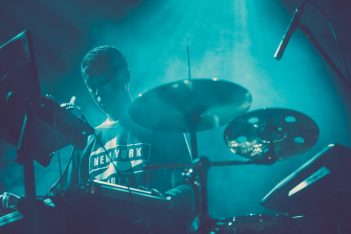 In the album there's a big variation of drumming, how did you find that. Did you enjoy it?
Yeah I enjoyed it. It was just ideas really. At the time I didn't know which ones would make the cut. Some I knew were stronger and some I knew weren't, but ultimately I wasn't involved in the post-production part of it, so for me I was supplying as many options as possible to choose from. It was quiet fun to supply all these ingredients but not make the cake. But it wasn't hard, it was really enjoyable, especially with Gilles throwing his two cents about- "Oh could you try this?" and Rob as well. When I did hear the end result it was just like, wow, really cool.
Was there a favourite track from the album?
It's funny man, I remember doing the "Nós Precisamos de Você" drum beat and thinking they're definitely gonna use this for something. Then when I heard it I loved it the most because I just remember playing that groove, not knowing how it would work and then seeing it was almost exactly the same. It was almost like they catered the track to this groove.
But then again when I got through the album, there were other parts that I really enjoyed. I guess the listener obviously might not realise it as much as I do, but just hearing how they have really gone in on the editing phase has been really interesting for me.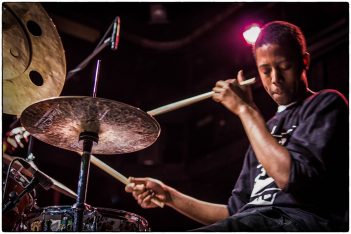 Had you listened to a lot of Brazilian music before you did this?
Yeah, I mean not on the level of Gilles but I was into a lot of the more traditional samba, like batucada and indigenous drumming that came from Africa via Brazil as well and stuff like bossa nova and some of the jazz that has come out of Brazil. I wouldn't say I was an expert, but I was familiar with the musical culture and export that came from Brazil and I have a lot of love for it.
What is it like working with Latin American music and musicians?
There's a common theme with the African-influenced music like samba or bossa nova and sounds that originate in West Africa or that are spread across the West Indies and South America. Although the accent is different, if you go from somewhere like Rio de Janeiro to Cuba to even Trinidad, I think that all of these places have a common respect for the clubbing and the grooves and rhythms that are born from West Africa. These haven't been lost and have been retained and encapsulated in cultures. All of the musicians I've worked with from South America and the Caribbean are real embodiments of that really. I guess that's what I've picked up from them.
Do you find the reimagined concept an interesting dynamic to work with. Is it a different way to what you're used to?
It wasn't really out of my comfort zone. I feel that's what I do with my music anyway to a degree. It may not sound like it to the listener or it might do. For me I'm kinda taking old concepts of music from like jazz tradition or West-Indian or Afro-Caribbean music and trying to extrapolate it from my experience into something new. I think when the project was offered to me, it was in my league, it was what I do and I was really used to it. Working with someone like Gilles is cool, he's just so easy to work with. The freedom and artistic direction that he's got coupled with your skill set and ideas, it's hard not to work.

Follow Sounds and Colours: Facebook / Twitter / Instagram / Mixcloud / Soundcloud / Bandcamp

Subscribe to the Sounds and Colours Newsletter for regular updates, news and competitions bringing the best of Latin American culture direct to your Inbox.
Share: