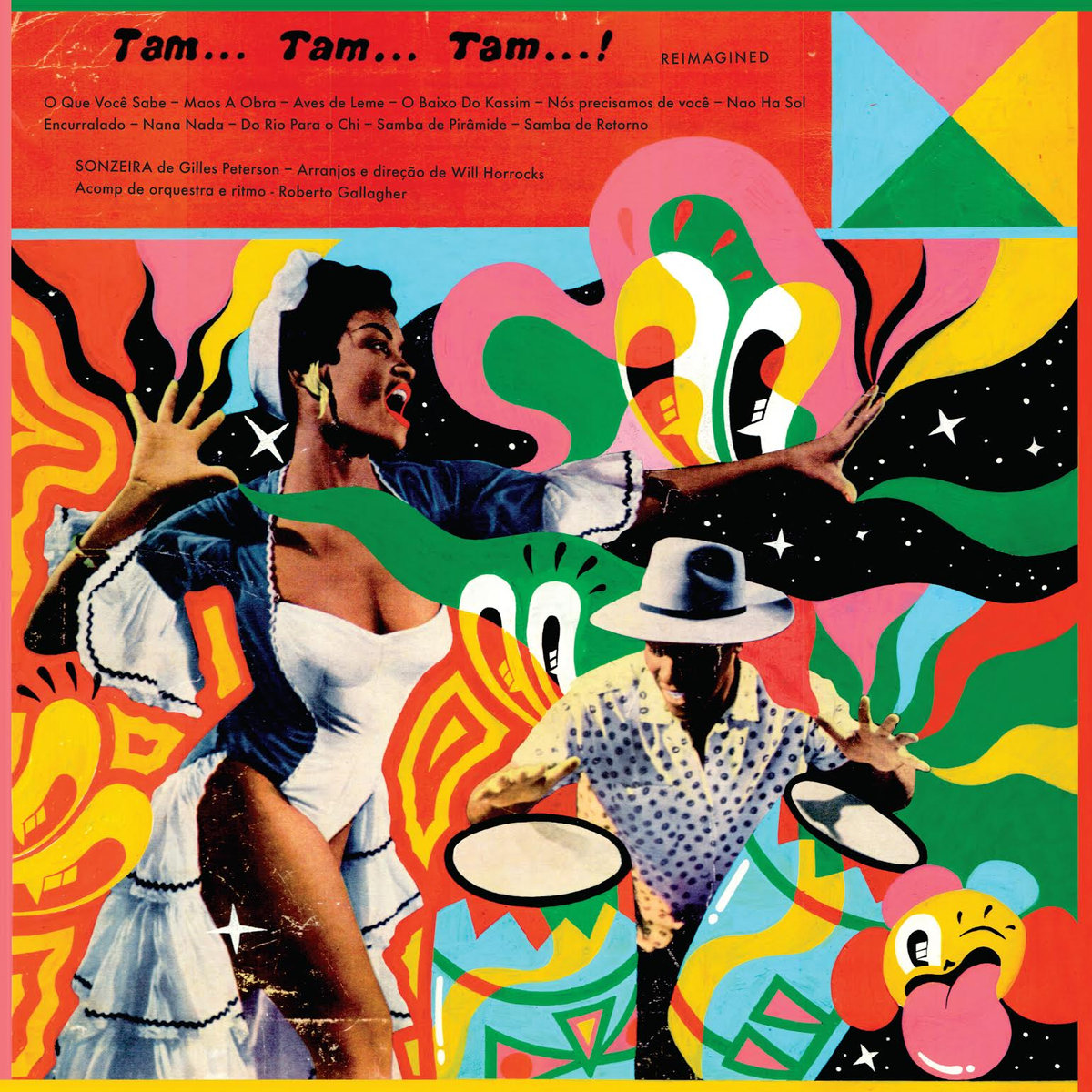 It's not exactly a secret that Gilles Peterson loves Brazil. From writing a playlist for the Guardian of his top ten Brazilian anthems to creating his own Brazilian music project Sonzeira, it's obvious he's no stranger to the country's sound. When making Sonzeira's first album, one ear-worm that simply wouldn't budge was José Prates' 1958 album Tam…Tam…Tam…!. Gilles' quest for the quintessential Brazilian record never fails to amaze. He once traded his car for a copy of João Donato's Amazons and appealed on British national television for a copy of Tam…Tam…Tam…!.
Listening to the original album, it's clear what all the fuss was about. Encapsulating the Afro-Brazilian culture of the time, Tam…Tam…Tam…! transmits samba sounds, powerful choral song as well as delicate melodic pipings. One gem in particular is "Nana Imborô", later reworked into Jorge Ben Jor's global hit "Mas Que Nada". Prates' album was a landmark in showing the world what Brazil had to offer. Having finally acquired this rarity, what next? Give it a Gilles rework of course, cue Sonzeira's second instalment Tam Tam Tam Reimagined.
Welcomed by original tribal percussion and orchestral singing, a few soft electronic wisps gently filter through the first track, giving a flavour of what to expect. After the slow start, carnival time begins in the second song "Maos A Obra" and the time for wading in to those electro waters has begun (bring trunks). With distorted vocal snippets and fast paced drumming, the album gains a darker almost grime orientated sound that wouldn't look amiss amongst retro clad university students, quite a different image from the 1958 version.
Veering further into pastures new, the album then adopts a more light-hearted approach. "Aves de Leme" introduces upbeat bass riffs, birds' tweets and that electro-trademark of a repeated one-line refrain. Things continue to be shaken up with a touch of bouncy electro-reggae that follows next.
The album continues like this, jumping from one sound to the next, sometimes completely shifting tone mid-track. An example? "Nós Precisamos de Você". Starting off with basic tribal percussion and jolly electronic zaps to accompany the soulful vocals the track seems relatively predictable. Until a naughty little riff is thrown in the mix, completely shifting the tone to a choral heavy, hip-shaking samba number. This evolves into a mysterious fade giving a short bout of silence to cleanse the musical palate in preparation for the eerie two minute interlude of "Nao Ha Sol", literally meaning "there is no sun".
The rich musical diversity lasts till the very end of the album. The penultimate tune, "Samba de Pirâmide" starts as a samba, however this is short lived and soon the curious jump to Brazil-meets-electro Bollywood takes centre stage. The album is dusted off with a strong electro influence in the final track. Though original albeit distorted vocal snippets rain through, a funky melody chucked in with a minute and a half to go shows that Brazil has still got the groove and this hasn't been forgotten by Sonzeira.
Gilles commented that the last Sonzeira album didn't really have the time for an electronic rework, its safe to say Tam Tam Tam Reimagined has certainly taken care of it this time. This eleven track album retains a Prates' feel but also engages in a musical meandering of modern-day electronic soundbites, ranging from distorted jazz to reworked samba to electro-reggae, a happy medium between the old and the new.
Tam Tam Tam Reimagined is available from Amazon UK, Amazon US and iTunes.

Follow Sounds and Colours: Facebook / Twitter / Instagram / Mixcloud / Soundcloud / Bandcamp

Subscribe to the Sounds and Colours Newsletter for regular updates, news and competitions bringing the best of Latin American culture direct to your Inbox.
Share: