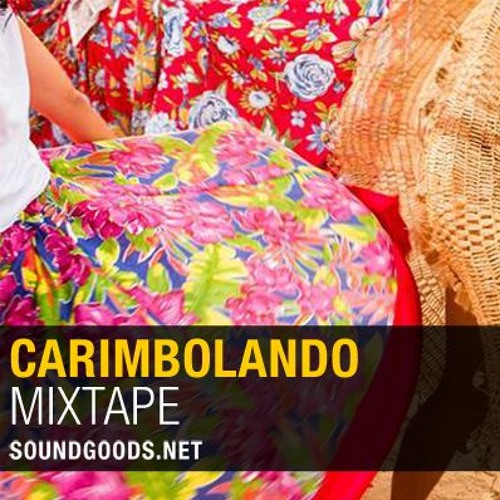 SoundGoods' Carimbolando Mixtape
23 February, 2018
It's been a while since we posted a mixtape from SoundGoods, which is a shame as if you want to find out some of the most exciting fringe dance music, old or new, in Brazil then SoundGoods is your source.  Now, there are some mitigating circumstances here as SoundGoods have been, along with Maga Bo, behind the incredible Kafundó record label which has been consistently putting out cutting-edge electronic music from Brazil over the past few years, so he has been busy. Still, it's great to have him back!
This latest mixtape features carimbó and siría music from Pará state in the north of Brazil. It's a sound that has been gaining some popularity in recent years due to the success of Dona Onete and the Mestre Cupijó compilation that Analog Africa put out, but there's still so much to discover. Here's an introduction to the style as featured on the SoundGoods blog:
"Carimbó is an Amazonian rhythm and dance style of indigenous origin which received influences from black (percussion and sensuality) and Portuguese (woodwinds) culture. The women dance barefooted with long, round and colorful skirts with floral prints. Due to its origin, the music and dance suffered repression by the government of Belém, capital of Pará, in the late 19th century being prohibited to be practiced. The most prominent carimbó musicians are Mestre Verequete and Pinduca. The style became popular in the north-east of Brazil (some songs in the selection) as well where it has been fused with forró and other rhythms of that region of Brazil. Samba singer Eliana Pittman from Rio de Janeiro had a big hit with her song "Mistura de Carimbó" from 1975."
Check out the mixtape below:
Tracklisting
01. Os Muiraquitãns – A Misturada
02. Pinduca – Cantina da Lua
03. Osvaldo Oliveira – Barco do Abaeté
04. Orlando Pereira – Carimbó Para Yemanjá
05. Mestre Cupijo e Seu Ritmo – Caboclinha do Igapó
06. Verequete e Seu Conjunto Uirapuru – Piria
07. Siluca – Saudades Dela
08. Carlos Santos – Bom barqueiro
09. Grupo Da Pesada – Baía do Guajará
10. Vieira e Seu Conjunto – Lambada do Mapinguari
11. Janjão – Axila da Sabá
12. Tony Wilson e a Moçada do Carimbó – Carimbó Da Vovó Janoca
13. Raimundo Soldado – Carimbó do Pará
14. Dom – Carimbó do Espinho
15. Alypyo Martins – Doutor, Quero Uma Chupeta
16. Ely Farias – Corrupção
17. Messias Holanda – Pescaria em Boqueirão
18. Elino Julião – Carimbó da Senzala
19. Candango Do Ypê – Moça Solteira Da Bahia
20. Marinês – No Laço do Carimbó
21. Carrapeta – Molho de Murupy
22. José Uchoa – Carimbo de Altamira

Follow Sounds and Colours: Facebook / Twitter / Instagram / Mixcloud / Soundcloud / Bandcamp

Subscribe to the Sounds and Colours Newsletter for regular updates, news and competitions bringing the best of Latin American culture direct to your Inbox.
Share: