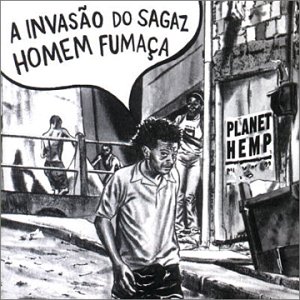 The Brazilian World of Beastie Boys producer Mario Caldato Jr.
02 July, 2010
Mario Caldato Jr. has worked as a producer or engineer for Jack Johnson, Manu Chao, Donovan Frankenreiter, Beck, Super Furry Animals, Tone Loc and Young MC. He is of course most famous though for his work with Beastie Boys where he was their right-hand man from Paul's Boutique right the way through to Hello Nasty. What is not well-known about Mario is the amount of Brazilian records he has played a part in over the last 10 years. The list of people he has worked with resembles a 'who's who' of modern Brazilian culture. We sat down with Mario to get his thoughts on these records.
Planet Hemp
Os Cães Ladram Mas a Caravana Não Pára (1997)
A Invasao do Sagaz Homem Fumaca (2000)
"I was born in Brazil but raised in LA since I was two so I spent most of my time here. Eventually I managed to go to Brazil on tour one time with the Beastie Boys and kinda touched back with my country and I met up with these cats Planet Hemp and that actually set the spark for me to come out and produce their record. They're a Brazilian rock/rap kind of band, a little bit of a Beasties vibe. They invited me to produce their next record (Os Caes). That was my first official Brazilian gig. I stayed there for one month and got a taste of Brazil and ended up meeting my future wife. I continued producing projects for these guys in 95, and they asked me to do their next record, their third album (A Invasao), and then their live album (MTV Ao Vivo – 2001). I recommend the second and third Planet Hemp record. The first one is a bit rock and the live one's good but it just doesn't really compare."
Chico Science & Nacao Zumbi
"After Planet Hemp I hooked up with Nacao Zumbi and Chico Science, their lead singer. I met him at the studio when they were mixing their second album and he asked me to mix a track, and we were supposed to work together but his life got caught short [Chico died in a car accident in 1997]"
Mundo Livre S/A
Por Pouco (2000)
"Edu K produced this Mundo Livre record and he asked if I could help him with the mixing and he came to LA, and the lead singer came with him, and we knocked that out, and that's a really special record actually. It was pretty under-rated although it was chosen as the record of the year by a lot of important magazines at the time but it didn't really sell, it didn't have any popularity among the masses, but it's respected. The people who hear it know it as a pretty cool record with a really good vibe. With the mixing we managed to push some limits. The unfortuante part is that the mastering of that record reduced what was actually there. I have an unmastered version of it and it sounds much better. They managed to take off some top and bottom and managed to make it sound smaller and not louder. I mean it's still dynamic but not as much as it could have been."
Seu Jorge
Samba Esporte Fino / Carolina (2001)
"It was Jorge's first record, his first solo record anyways. He basically recorded it in Brazil with his own resources, calling up his friends, and got a load of songs together, put a lot of love into it. Then he called me and asked if I could mix it. We did that in two weeks, 10 days, something like that. Real quick, there was some production that we needed to do, we needed to re-record some elements, he did all the vocals and all the acoustic guitars at my house and we added drums on one song. It was a quick kinda thing but it's still good, it still rocks."
Marcelo D2
A Procura da Batida Perfeita (2002)
Meu Samba e Assim (2006)
Arte do Barulho (2008)
"I continued to work with my friend Marcelo D2 who was the lead singer of Planet Hemp and the main force behind them, and he decided to go on more of a solo route and started his Brazilian hip-hop direction and I worked on a little bit of his first record, and then his second and third and fourth record.
You've gotta get A Procura da Batida Perfeita, basically translating as 'looking for the perfect beat'. That's the best, the hot record. It was the second solo record that really set it off, especially the title song "A Procura…"
There's another one called Meu Samba Esquem. I would recommend that one too. If you want to hear the whole Marcelo D2 thing I would recommend buying all four of his records and listening to them in the order they came out – see the whole evolution. That's most of the bulk of the work I've done in Brazil."
Marisa Monte
Universo ao Meu Redor (2006)
"This was a samba record which was interesting. I had never done a samba record, and she had never done one either, but she wanted to do it in her own special way, kind of psychedelic, using some effects, but it was kind of traditional too. And that won a Grammy in 2006 so I got lucky with that, and she's great, that girl can sing, and is very talented. I really respect her. It was a pleasure to work on it, she has a studio at home in her garage, and we did it there. Most of the songs aren't her songs. She did all this research and met all these old samba singers and writers and asked if there was any songs they had that had never been recorded. And then she would hear a rendition, record it, take it home and map it out, and it would be the first recording of a song that was like written 67 years ago. There is one song that's 60 years old, "Pétales Esquecidas", it was this by this old samba singer. There's some real gems there, old songs but recorded with this great singer and great band and these psychedelic elements."
Mariana Aydar
Kavita 1 (2006)
"This was one of my friend's productions that I helped mix. They're pretty cool if you like the Mundo Livre vibe. It's mellow but it's done cool. She's from Sao Paulo. I only did five songs cause they had a budget and that's all they could afford. "Deixa O Verao" is one that's real dreamy and nice. I think there's some real gems on there."
Nacao Zumbi
Fome do Tudo (2007)
"While I was in Brazil I finally got to produce one of their records. After Chico died we communicated a little bit and I mixed a few songs for their third record which was outtakes and other things that they had left over, and we wanted to work together but the timing was never right but eventually we did Fome do Tudo. It's the best record since the first couple. You can't compare it without Chico but it's the same energy of the band and vibe just the vocals are different, but it still has the Nacao formula. They were really pleased with the record and we're talking about doing the next one together, but they want to expand their wings because they never get out of Brazil."
Vanessa da Mata
Sim (2007)
"That was a pretty successful one. That was a fun and interesting one that we did in Jamaica. The single, with Ben Harper, was the most played record on the radio in 2008, and it got a Grammy, so that was very fortunate. Unfortunately they did a wacky remix of it that gets played all the time, but I had nothing to do with that."
Orquestra Imperial
Carnaval So Ano Que Vem (2007)

"There's a really cool record I did called Orquestra Imperial. That came out in 2007. It's a gang of Brazilians toghether collobaroting on this project. We recorded it live in the studio. Everyone was playing together in the studio, except some of the horns, but the singing and the playing was live at the same time and it's really kind of cool and special. There's some nice moments on there, even a little Mutantes vibe on one track there. But get the European version, there was a problem with a couple of the tracks on the Brazilian version and they weren't released over there."
Marcio Local
Samba Sem Nenhum Problema (2008)
"I like this guy Marcio Local. Luaka Bop put the record out in the US, they called it Marcio Local Says Don Day Don Dree Don Don because he's got a kind of Jorge Ben/Seu Jorge kind of vibe. It's pretty good. There's like 3 or 4 tracks that are really hot. A little Samba rock vibe. I didn't produce it all, I mixed some of it, had a co-production credit on it. It was another Brazilian style, they recorded it quick and fast and then tried to fix it in the mix."
Mallu Magalhaes
S/T (2008)
"On her myspace she had 3 million people before she even had the record out. She was 15 when we did the record, just about to turn 16. We did it in two weeks. She sings mostly in English because she likes Bob Dylan and things like that, but it was really a cool record. She sings her own songs in English. It's kind of a bit more folk rock. For a 15 year old it was pretty cool."
Chico Cesar
Francisco Forro y Frevo (2008)
"I helped mix this record and it's pretty interesting and there's some cool stuff on there, lots of different Brazil styles, different marches, forrós, frevos, things like that."
Seu Jorge and Almaz
S/T (2010)
"Seu Jorge & Almaz – this is the new record! The band is two guys from Nacao Zumbi, Pupillo, and Lucio the drummer and guitarist, Seu Jorge and this guy Antonio Pinto on bass. It's a superstar line-up. It's all covers and they do songs in a kind of psychedelic, bossa vibe. You gotta hear it to believe it. They do a Kraftwerk song, "The Model", and it's all psychedelic, 60s, total reverb dial. "Everybody Love the Sunshine", "Rock With You", Jorge Ben, Tim Maia and then a bunch of other rare Brazilian songs nobody's heard of, "Pai Joao", "Saudosa Bahia". They went in the studio and just recorded it and I mixed it. There wasn;t a lot of production because the guys are so good but in the mixing I added a few effects and things."

Follow Sounds and Colours: Facebook / Twitter / Instagram / Mixcloud / Soundcloud / Bandcamp

Subscribe to the Sounds and Colours Newsletter for regular updates, news and competitions bringing the best of Latin American culture direct to your Inbox.
Share: