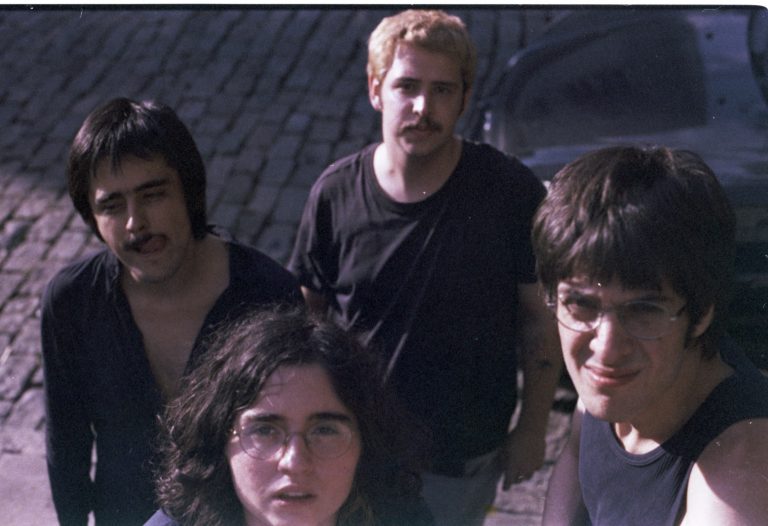 Under The Influence: Sophia Chablau E Uma Enorme Perda De Tempo
05 May, 2021
With their Ana Frango Elétrico-produced debut album making a considerable splash among Brazil's coterie of indie tastemakers and ground-breakers, Chablau and co. have become everyone's favourite fresh-faced guitar four-piece. If we were to locate this Paulista quartet within a historical dialogue between Anglophone and Brazilian music (something that's customarily traced from bossa nova's affair with U.S. jazz, and through the tropicalistas love-in with Swinging Sixties psychedelia), then Sophia Chablau's band is Brazil's first echo of noughties indie. Indeed, not since The Libertines crashed and burned-out in the early-2000s leaving a wake of unwashed knaves brandishing beaten-up Stratocasters, has a band harnessed such fresh-faced scallywaggery. For this week's Under The Influence, we ask the band themselves about the biggest influences behind their seductively scruffy sound. For a full review of their debut album Sophia Chablau E Uma Enorme Perda De Tempo, revisit the latest Brazilian Wax Round-Up.
Vicente Tassara (Guitar, Keyboards)
Sigur Rós – Ágætis Byrjun (1999)
Iceland's Sigur Rós is one of my favourite bands. As such, they're a very important influence on the guitarwork of our record, and on its noisiest instrumental parts. Ágætis Byrjun, their sophomore record, is also their best: a dreamlike journey through the otherworldly sounds of Jonsi's incredible falsetto and guitar playing. It's also a record that takes the time it needs to say what it has to say, which is something we admire greatly. Theo and I were very lucky to watch them perform live in 2017 in São Paulo, and we were absolutely astonished by their live sound. A truly remarkable band.
Caetano Veloso – Muito (Dentro da Estrela Azulada) (1978)
Caetano Veloso is unanimous among us: a songwriter unlike any other and a wonderful singer, even when singing someone else's songs. Muito was a record that we were (re)discovering at the time our band first came to be, and as such, its not-so-subtle influence can be felt all over the record, especially in its songwriting. The songs are spectacular (some of Caetano's greatest hits), lascivious and filled to the brim with desire. A personal highlight for us is the title track, a declaration of love that seems very hard to match.
Hermeto Pascoal – Slaves Mass (1977)
Hermeto Pascoal's influence over our sound might be a bit more subtle, but I found it important to state it nonetheless. I first met Téo and Theo when we three joined a Brazilian jazz septet, and our greatest achievement in that band was managing to play the opener of this record "Tacho", an insane odd-meter groove that is also a beautiful tune with a great head. More generally, however, we take that record as a great lesson on the liberties that can be taken with sound to achieve unthinkable results. Hermeto Pascoal's music is truly a lesson in freedom.
Theo Cecato (Drums)
Sonic Youth – Rather Ripped (2006)
Sonic Youth is, generally, a very important influence in our sound, as much in their way of concocting different ways of playing and performing rock tunes as in their general vibe and sound. I think this record illustrates very much this idea of an album that clashes pop songwriting with unlikely rock'n'roll, as in, for instance, "Jams Runs Free". 
Pixies – Doolittle (1989)
Dolittle is that sort of record that is complete, perhaps all too complete. Great hits all over the place, but at the same time a stuttering mix of off-kilter songs, and a pronounced divide between A side and B side. Its influence can be very much felt in "Delícia/Luxúria" which has the engine-like groove of tunes like Debaser and Tame. In many other moments of our record, however, we find ourselves aligning with the sounds of the melodramatic ballad "Wave of Mutilation". Several times I've come to find myself thinking that, if there had to be one song on that record that could be one of ours, it would be "Monkey Gone to Heaven".
Jonas Sá – BLAM! BLAM! (2015)
This is a record that feels very contemporary, and as such, it is very dear to us. I heard it when it come out. We hadn't even started the band. But four years laters, when we got together to record, it very quickly came up, as it's a very plural, very classy, very irreverent record, and those are all traits that we admire. It's a record that, whenever I put it on, I can't but listen to it to its very end.
Téo Serson (Bass)
The Velvet Underground – The Velvet Underground (1969)
This record, and the next two in this list, are here because they do kind of the same thing in radically different ways. All of them are albums based on playing songs with unexpected and innovative arrangements. This one in particular is full of absolutely beautiful songs, played in lazy or ingenious ways, always with a touch of strangeness and a touch of perfection. The album is certainly one of the most important touchstones for indie music, though it fits crazy experimental tracks like "The Murder Mystery". 
In Rainbows – Radiohead (2008)
This record blew my mind in an unexplainable way when I first heard it. How it blends pop, rock and roll, electronic elements, jazzy harmonies, beautiful melodies and lyrics to create something that goes beyond all these things, and after all, it's just a contemporary way of playing songs. How far can a song go? How many opposite elements can fit in a song? This album puts forth these kinds of questions, and we really got interested in them.
Remain in Light – Talking Heads (1980)
Here, the rhythmic possibilities and the odd grooves turn us on. Also, there's a kind of euphoric energy in the songs. It was a huge influence on the second half of the album, especially in the craziest parts of "Moças e Aeromoças". A naughty record.
Sophia Chablau (Lead Vocals, Guitar)
Ana Frango Elétrico – Mormaço Queima (2018)
This was, without a doubt, the album that I was listening to the most right before writing the songs that make up our record. Ana's insightfulness when writing lyrics and when making songs that are so irreverent (but never silly!), surprised me from the very beginning of the album, as much as the unlikely elements that make up the distinctive atmosphere of Planet Ana. In a compositional sense, this was the first time a record really shook me up and allowed me to widen my horizons. No wonder Ana took up production duties in our debut. What can poetry be?
Negro Leo – Action Lekking (2017)
I am as much a fan of Negro Leo as I am a fan of Ana Frango Elétrico. It was a total shock, a rattle-up, in a compositional sense, but also in an arranging one. The boys and I were very much united by our admiration for Leo, he is a great enthusiast of experimentation, but, especially in this record, his singer-songwriter side comes further into the spotlight (even if in unpredictable and chaotic ways). If, with Ana, I learned to see colour, with Negro Leo I learned to whistle. And I think our record carries the mark of both these influences, as much in the textures as in this fondness for whistling.
Sophia Chablau E Uma Enorme Perda De Tempo by Sophia Chablau E Uma Enorme Perda De Tempo was released on Thursday 8th April via SELO RISCO.
Listen to the album below now.

Follow Sounds and Colours: Facebook / Twitter / Instagram / Mixcloud / Soundcloud / Bandcamp

Subscribe to the Sounds and Colours Newsletter for regular updates, news and competitions bringing the best of Latin American culture direct to your Inbox.
Share: