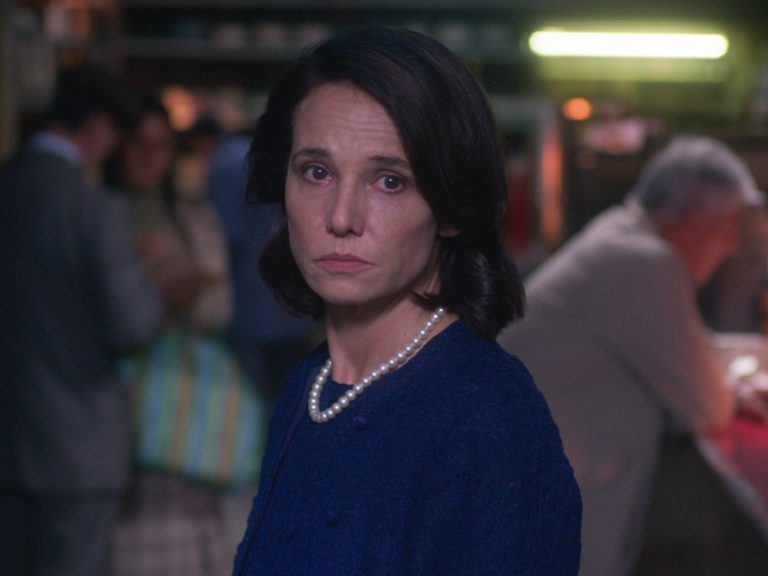 Chilean Actress Manuela Martelli Talks About Her Directorial Debut '1976'
02 April, 2023
Manuela Martelli's film 1976 premiered in the Director's Fortnight at the 2022 Cannes Film Festival and received its UK premiere at the BFI London Film Festival last October. The Machuca (Andrés Wood) actress spared a few minutes from her busy schedule to share with Sounds and Colours her experience of making her directorial debut. What Manuela didn't know during our chat was that, a few days later, she would deservedly take home the Sutherland Award for Best First Feature. The all-female crew project was inspired by the story of her own maternal grandmother, whom she never met, and who had taken her own life as consequence of a severe depression in the bloody year of 1976. This private family event served as an inspiration for the film Martelli wanted to make. During the research for the film, she dived into a deeper pool of untold stories from many other female characters from that period in Chilean history. She then realised that her family story was just a small piece of a bigger jigsaw puzzle that was never completed. Martelli then understood her urge to make a film that would explore ordinary events from the backdrop of a Chilean family living under political repression.
Sounds and Colours: You began acting when you were very young, playing a challenging role as teenager abandoned by her family, in Gonzalo Justiniano's B-Happy. How did it all start? 
Manuela Martelli: I've always enjoyed going to the cinema. Back in those days, there weren't streaming platforms to keep us home, binge-watching films and series. So, my friends and I used to go to the cinema a lot. I wasn't searching for roles or anything like that but then the opportunity to act in B-happy knocked on my door. It was my dream to make a film so I thought it could be my way in. I liked acting; I used to play roles in college, or just for fun at home. Acting was a natural for me, I think.
S&C: How was the transition from being in front of the camera to working behind it?
MM: I've learnt loads from my experience as an actress and, more importantly, being able to watch other directors on set, how they worked, how they directed me. Directing came naturally. I felt I had the sensitivity and language to speak to the actors that came from my own experience. I understood what actors wanted and how they felt, I've been there. There's a lot that's to do with body movement and language, it is not a method. So that's a natural engagement for me. Being on set, having that experience made a huge difference when I started directing other actors. 
S&C: Can you name some directors that have influenced you?
MM: There are so many. Hitchcock is a great reference. I admire all the classics, like from the Italian realism period. The classic cinema is so important to us because they thought about cinema so deeply, from their soul. For me, all classics are inspiring. In 1976, I was thinking a lot about what movies Carmen would have liked or watched, how she perceived the world outside. People were not travelling a lot in those days, so I tried to bring that imaginary perception to the film.
S&C: Your grandmother was an inspiration for you to write Carmen's story. How much of this film comes from your family history?
MM: When I was researching and writing this story, I was told that my granddad used to shoot family moments with a Super 8 camera. I was intrigued and asked my mother where that footage was kept. My family had moved houses so many times, my mom was certain that the footage had probably got lost, which was very sad. Somehow, I wasn't convinced by that. Then, one day out of nowhere, while I was chatting to my mother in her house, I stood up and walked towards an old cupboard in one of the rooms. It was spooky but it was like something was pushing me. I opened the cupboard's door and started to fumble through the shelves until I found a wooden box. I couldn't believe my eyes. The hidden box was filled with Super8 tapes! I sent the material to the USA for digitalisation. I couldn't believe it when I got the HD back by post. The footage was stunning. What I realised after watching all the material is that those moments had been very special to them. They only registered moments that they wanted to be remembered, special occasions, holidays, Christmases, birthday parties, all those magical family moments. That make think about their lives outside those special occasions. What was happening in their routine, day-to-day life? That's when I saw the film in my head, it was all about their mundane life. The end of the film came from this footage, the birthday party is very much inspired by the one in the footage. The beach that appears in the film is the same one where my family used to spend their holidays.
S&C: The film is full of metaphors and symbolisms. Is there anything you would like to share?
MM: The fish in the film serve as a meaningful metaphor, especially in the dinner scene when the entire family eats and during the character's lines that are being said as we see the fish carcass in the middle of the table. The fish is from the sea, where the dead bodies are thrown. The fish are trapped, they can't escape from the koi pool. They don't have a choice, which resonates with Carmen's life. She feels trapped by the political and family repression that surrounds her. In that sense, her struggle is to escape and help the new generation to have a different life from the one she had. That is also represented by the dress she tears apart in another scene. The dress evokes bad memories from an incident from her past. She creates a fancy costume out of the dress fabric to be gifted to her rebel granddaughter, who always refused to wear princess dresses. Carmen turns a bad memory from her past into a happy memory to her present. She craves freedom for the new generation. 
A complete review of 1976 can be read here.
The film is now showing in UK cinemas

Follow Sounds and Colours: Facebook / Twitter / Instagram / Mixcloud / Soundcloud / Bandcamp

Subscribe to the Sounds and Colours Newsletter for regular updates, news and competitions bringing the best of Latin American culture direct to your Inbox.
Share: