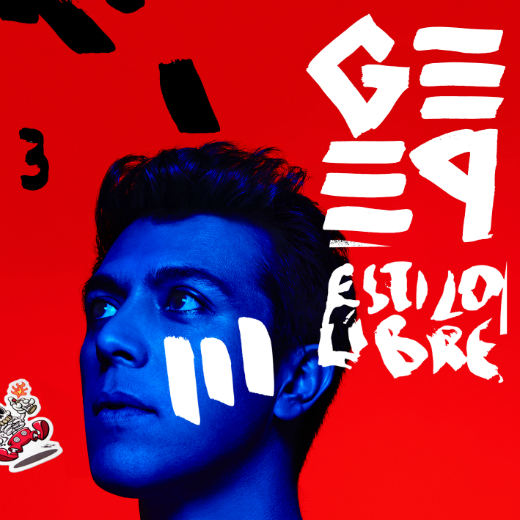 When I first listened to Gepe on Gepinto (2005), it felt very much like an addition to a folk ambient movement that was going on in Santiago at the time (arguably still present), probably most exemplified by the Caravana LP (a collective of artists which included Gepe). In this early work, Gepe's sound was characteristic in its minimalistic approach, reducing beat work to claps and bass drums, and melodies to lengthy airy phrases and looped guitars ("Namás" is a great example). In his latest album, Estilo Libre, Gepe takes the changes he started with Audiovisión (2010) even further (with its more approachable pop sound), losing a sense of melodic consistency whilst gaining in variation and dynamism.
After the success of Audiovisión, Gepe has been experimenting with a more recognisable brand of straight-up Latin pop. That means less lonely guitars and more brass and charango, although he does still maintain a clear electro-pop influence (in songs like "Hambre" for example). Whether this mixture sounds like confusion, anglo mimicry or the inevitable result of Gepe's longstanding experimental inclusion of old sounds setups is up to you. The only relevant directive is to come to Estilo Libre with an open mind, and here's why.
The album can at first even sound exoticising. Even featuring artist Wendy Sulca (who became popular online as a 'stereotypical' Peruvian singer) can seem like an unsurprising addition. Is this a superficial claim to authenticity, or an ironic use of tradition? Should one kind of sound represent a location? If not, could any sound do so? While these questions may remain unanswered, they are not the most important. The appeal of Gepe has always been his different approach, the catchy melodies, his honest personal lyrics, a rejection of terms like 'authentic' which imply a set of patterns, a checklist to be followed. He has always experimented with Andean instruments and melodies, advancing and creating, instead of hiding, a sound very much rooted in tradition. It is all about creating new things with these popular referents. Even Wendy Sulca's melodies are different here to what she normally does. The only issue is that at times it's impossible not to think of his sound as a cultural reference, as a typified melodic postcard, which while pleasant to a newcomer, can be unoriginal.
However, listen to it twice over and you start noticing that the same Gepe you loved in Gepinto is still there, that the honest-to-God lyrics that linger between tragedy, romance and telenovela melodrama still fill verses that switch – with an ease that has become his signature – between choruses, spoken-word and melodic rapping sections. Songs like "TKM" or "Punto Final" still sound like Gepe: deep electro bass lines, clean summery guitars and light vocals.
This is not to say that I felt nostalgic while listening to Estilo Libre. At no time did I wish he were locked into a particular style. Santiago already has full-on groove pop with artists like Pedro Piedra, and electro-pop is already covered with people like Javiera Mena and Astro. Even the post-folk niche has Fernando Milagros and Camila Moreno. What defines Gepe is his ability to manage styles as he manages melody and theme. While they are always recognisable tropes – the love story, the sense of loss, the passing of time – the sheer variety is easy to get excited about. The transition between "Invierno" and "Fiesta Maestra", for example, is as filled with contrasts in style (one pop, the other Latin Carnaval) as it is in theme (the end of winter against the biggest party).
This is where Gepe's message comes out. His pop is the attempt to include or absorb aesthetic differences in Chile, resulting in a sound that, whilst not the most original out there, is always a window to the vast possibilities of using past forms in a city (and ultimately a continent) with a fast-growing, and at times forgetful, music scene.
Estilo Libre is exactly that, an expression of freedom and stylistic mastery. In it, Gepe is calling on tradition to pave the way in what feels like a search for identity and voice. If you're the kind of person who likes understanding your favourite artists' transitive experiments and the way their future sound is being shaped, this will be a really enjoyable album for you. However, since every song is a contrast, there are some issues with its pacing. It gets you so used to expecting difference that when there aren't enough it falls slightly flat. It is not perfect, but it is definitely memorable.
Estilo Libre is released by Quemasucabeza and available from Amazon UK, Amazon US and iTunes

Follow Sounds and Colours: Facebook / Twitter / Instagram / Mixcloud / Soundcloud / Bandcamp

Subscribe to the Sounds and Colours Newsletter for regular updates, news and competitions bringing the best of Latin American culture direct to your Inbox.
Share: