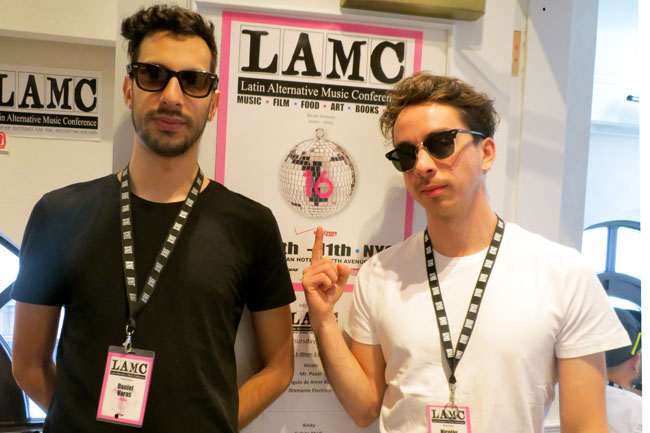 Gina Vergel
LAMC: Hanging with Astro's Nicolás Arancibia and Daniel Varas
09 July, 2015
The Big Apple is home to the Latin Alternative Music Conference (LAMC), now in its 16th year, and the "Sweet Sixteen" equals exciting artists performing at outdoor concerts and showcases throughout the city.
Wednesday evening brought Brooklyn's Helado Negro, Cartagena's Systema Solar, and Mexico City's electronic duo, Compass, to Central Park's Summerstage, for a show that, in my opinion, could have been better attended. Cmon, "city that never sleeps," get with the program! Many of these performances are free and under the stars! What more can you ask for?
There was also a showcase at the Highline Ballroom, featuring newcomers (to us) Chilean pop singer, Nicole, Bogotá's Diamante Eléctrico, young Argentine punk rockers, Callate Mark, LAMC "Artist Discovery" award-winner, Buscabulla (of Brooklyn), and a DJ set by the artists with Chile's new Pirotécnica label.
The press room on Thursday was a flurry of artists, bands, and various brands, and Sounds and Colours was able to get its interviews in.
We sat down with Astro's Nicolás Arancibia and Daniel Varas, who had just played the Knitting Factory the night prior, at a show that also featured Spain-based, Dominican artist, Alex Ferreira. This interview was translated from Spanish:
Sounds and Colours: How was last night's show?
Nicolás Arancibia and Daniel Varas: It was lit! And it was excellent to play at a show with our friend, fellow artist, Alex Ferreira.
S&C: So this is your second LAMC. Last year, you were the band everyone was raving about as buzzworthy. And you're still getting so much love. How does it feel?
N & D: We're a little older now. (laughs). We've gained more experience playing, especially being together for six years now. Not only do we play better together, but I think we produce better music. We've definitely grown as music professionals, but as people, too.
S&C: The American music press picked up on you guys a while ago and has compared you to electronic/psychedelic band, MGMT. Not a bad position to be in. Thoughts?
N & D: At first, it was a little uncomfortable, because MGMT, and bands like Empire of the Sun are bands that not only are we fans of, but influenced our earlier work. The comparisons even netted us some Internet trolls. (More laughter.)
But, now, we think, if they compare you to a band like MGMT, which is a tremendous band, estas super bien. But it's not just other sounds that influence us; we also look inwards and I think that has been a big part of our growth as a band.
S&C: It seems Chilean musicians and bands are everywhere these days! Are you excited about this Chilean music buzz?
N&D: The music scene has been thriving and growing there. There are lots of great independent artists out there, and we think the indie scene allows bands and artists to get out there and release the music you want, and promote it how you want.
There have always been great bands out of Chile, but since they were under the direction of multinational music labels, perhaps they were marketed differently. It's a different time [for artists, bands, and the music scene], and that has likely made all the difference in exposing their music to a larger, global audience.
S&C: Any plans to play London?
N&D: We would love to, especially the Glastonbury Festival. We recently hooked up with a small label, Endemika, a very independent label based in London and Chile, so we should be visiting Europe in the near future.
Watch the lyric video for Astro's newest, and very danceable and upbeat single, "Druida," below, and follow them on Facebook.

Follow Sounds and Colours: Facebook / Twitter / Instagram / Mixcloud / Soundcloud / Bandcamp

Subscribe to the Sounds and Colours Newsletter for regular updates, news and competitions bringing the best of Latin American culture direct to your Inbox.
Share: