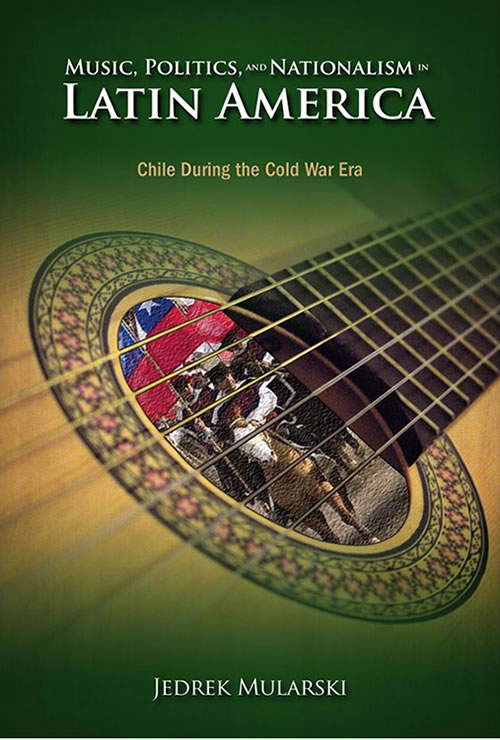 Music, Politics, and Nationalism in Latin America: Chile During the Cold War Era by Jedrek Mularksi
05 February, 2015
Music, Politics, and Nationalism in Latin America looks at how culture, specifically folk music – música típica (typical music), neofolclore (new folklore) and nueva canción – was appropriated for the purposes of politics, propaganda, patriotism and national identity.
The failure of Eduardo Frei's Partido Demócrata Cristiano government (1964 to 1970) to instigate social, political and agrarian reforms resulted in the election of the Salvador Allende-led Unidad Popular coalition in 1970. Thereafter, as this story details, the Chilean establishment used all means necessary – ultimately ending in the 11 September, 1973, coup d'état – to destabilise the elected government. Patria y libertad (fatherland and freedom) won the day. Chile then enjoyed 18-years of well-publicised pariah-status for harbouring a murderous, fascist, military dictatorship.
Looping the Loop
Meanwhile, history is going round on the turntable. Book-ending this particularly lively discourse is folklorist, Victor Jara. Very much alive in the 1960s, bullet-ridden and dumped in a ditch by the middle of September 1973, he was reincarnated in the minds of Chile's students in 2012, who 39 years hence, were still clamouring for a decent public education in a country where the rich and poor are separated by a chasm. If at this point you have a strong feeling of déjà vu, it is because stasis always builds a monument to inertia.
The sounds of Chile's past, long silenced by diktat, such as the works of nueva canción performers Victor Jara, Inti-Illimani, Illapu, Quilapayún and Sol y Lluvia, etc., came to be joined by the music of Ana Tijoux, The Beatles, Rage Against the Machine, Manu Chao, Calle 13 and Michael Jackson, in a bid to find redress. Old rhythms, melodies and harmonies, from a time of more socially-conscious music, blended happily with international rock and pop.
Who Owns Tradition?
This very thorough and thoughtful appraisal of the subject draws from interviews with musicians, musicologists, academics, DJs, promoters, vox pops, journalists, newspaper reports, broadcast media and others to set the scene.
Mularski deconstructs the Chilean folkloric tradition, particularly the cueca and rodada, the core of música típica; explores the development of nueva canción from neofolclore (a hybrid of pop and folkloric influences performed by groups such as Los de Santiago, Los de La Condes, Los Cuatro de Chile, Los del Sendero, Las Cuatro Brujas), which in turn had been influenced by Violeta Parra and Margot Loyola's broadening of what constituted Chile's musical tradition; the development of peñas, clubs set up to popularise nueva canción; the politics of recording; radio; the role of Unidad Popular, Partido Nacional, Partido Demócrata Cristiano, private business interests and a predominantly "right-wing" press, and outlines the sometimes violent and often irrational nature of the contest to win hearts and minds.
Defining Tradition
The "left", academia, musicologists and folklorists were unabashed in wanting to change the social and political narrative, and not just what constituted Chilean folkloric tradition. The "right", no less politically motivated, believed that its particular musical preferences didn't carry any political baggage – covert or overt – and merely represented the authentic timbre of Chilean culture.
Songs such as "La Carta" (The Letter), "Según El Favor De Viento" (At The Mercy Of The Wind) or "¿Porque los Pobres No Tienen?" (Why Don't The Poor Have?) by Violeta Parra, which took as their theme the realities of working life, a desire for change or a commitment to peace, were bad, whilst songs about the glories of Chilean history (especially the War of the Pacific), nature, the military, criollismo, pastoralism, love and religion were deemed good, certainly, apolitical, most definitely. "Los Viejos Estandartes" (The Old Standards) – which would become the official hymn of the Chilean army – and Adios Al Septimo De Linea (which referenced the 7th Brigade in the War of the Pacific), by Los Cuatro Cuartos, apparently had no political basis.
In betwixt the socially conscious and the status quo, Mularksi injects some valuable references to the work of folklorists such as Antonio Acevedo Hernández, Carlos Isamitt, Carlos Lavín and Osvaldo Rodríguez Musso. Acevedo, who sought without fear or favour to broaden the understanding of Chile's folkloric traditions, said "if the University of Chile had not dedicated itself seriously to this [authentic folklore] music, it would have been falsified – in large part by the singers on the radio – and by the scorn of Chileans for what is theirs."
El Musiquero, music magazine, echoed such commonalities in 1965: "This music that the new Chilean groups now offer is the same music as always – the rhythms have not changed; on the contrary, they have grown in stature with the popular apparition of some that were almost forgotten or that constituted the almost exclusive patrimony of a few."
Albrecht Moreno, a musical-scholar, speaking about the role of Violeta Parra said: "…Violeta Parra did not create a nueva canción movement since the impetus behind her music was something that already existed in the creations of hundreds of anonymous poets and singers, both living and dead. What is significant in the work of Violeta was that she was able to construct a bridge over which the traditional culture of Chile could pass into the age of mass media."
Poncho Politics
At the heart of Mularski's thesis is: what is culture? On the one hand it is collective memory and on the other it is selective memory. In essence it is a synthesis of these elements – plus a good helping of authenticity, myth, legend and patriotic bull – which goes from time to time into the eternal blender for a temporal remix at 33rpm. It is a process in reality that has no definite beginning or end.
The cultural shorthand finds us with two traditional forms of music which form the basis of música típica, the cueca (a song and dance in 6/8 or 3/4 metre and the rodada (a slow, rather monotonous song or dance). It is the music from the campo and presents an authentic if idiolised poncho-clad, sombrero-wearing cowboy (huaso), who has become a de facto reliquary for home, hearth, love, Christianity, patriotism, nature, pastoralism, stoic masculinity, and nostalgia. Mularski likens the characterisation of the huaso as being akin to Hollywood's representation of the noble cowboy in the person of Gene Autry.
Música típica was deemed by the devotees of nueva canción as a selective and fossilised approach to Chilean culture. It was held, particularly by the "right", as something immutable or inviolable, a kind of tribal camp fire around which everyone trooped obediently to a prescribed format. In fact, música típica, was alive, it was just that some devotees preferred a narrow version of what it entailed. To the patrician class of Chileans, the people, irrespective of their origins or experience, need look no further than groups such as Los Huasos Quincheros, Los Huasos de Algarrobal, Los de Ramón, Los Cuatro Huasos, Los Cuatro Hermanos Silva, Ester Soré, Nicanor Molinare and Silvia Infantas, Dúo Rey Silva, Luis Bahamonde, Raúl de Ramón, Sergio Sauvalle, Francisco Flores del Campo and Clara Solavera, for their cultural fare.
Música típica, though wasn't so culturally sterile that it precluded improvisation. Indeed many of its best exponents, especially in the tonadas, enriched it with virtuoso guitar or harp solos, complex interludes with parallel thirds, arpeggios and harmonic variations as in Del Campo's "Mi Caballo Blanco", Sergio Sauvalle's "El Corralero" and Luis Bahamonte's "Qué Bonita Es Mi Tierra".
Pedro Humberto Allende, a Chilean composer, would find the cueca far less geographically limited, formalised or instrumentally exclusive than was supposed, yet there were still those ready to ignore this. Historically, at least in the late 19th century, it was popular throughout the country and most likely to be encountered in bars and brothels rather than in the more salubrious haunts of the well-to-do.
Parallel Histories
The themes of the stylised Central Valley cueca failed to chime with the lives of many Chileans, especially away from urban centres in the relatively remote north and south of the country, where facile exhortation to endeavour and hard work were not news to people who worked hard but lived in unerring poverty and misery. This disjuncture was part of the appeal of nueva canción. It grew out of a broader sense of the Chilean experience even if it didn't always resonate with those whom it was supposed to represent.
Chorus Time
Mularski's work, whilst specifically Chilean in aspect, provides an interesting, enjoyable and instructive example to other nations and cultures about how the powerful get to tell everyone else what their culture is even if the evidence doesn't support it.
Music, Politics, and Nationalism in Latin America: Chile during the Cold War Era by Jedrek Mularksi is published by Cambria Press and available from Amazon UK and Amazon US

Follow Sounds and Colours: Facebook / Twitter / Instagram / Mixcloud / Soundcloud / Bandcamp

Subscribe to the Sounds and Colours Newsletter for regular updates, news and competitions bringing the best of Latin American culture direct to your Inbox.
Share: