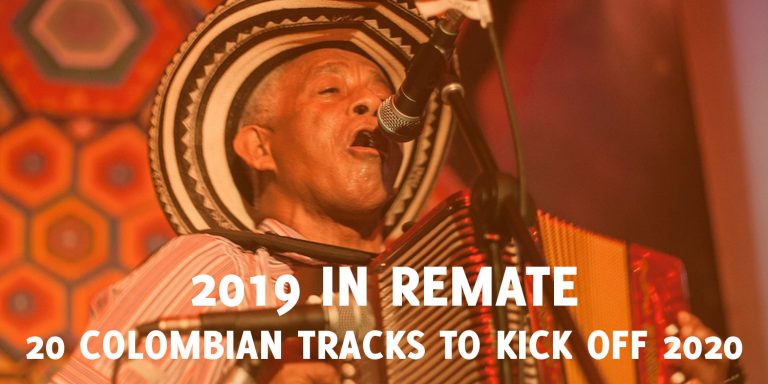 2019 in Remate: Twenty Colombian Tracks to Kick Off 2020
24 January, 2020
The remate (afterparty) is something of a Colombian institution. The desperate scramble to prolong the good times and see the party through to the daylight hours.
After a whirlwind 2019 and a typically vacuum-like first few weeks of January disappearing into nothingness, 2020 is now starting to develop, albeit reluctantly, a life of its own.
Alas, with 11 and half months in front of us, we thought we'd round up the best from the last 12. Both reliving the best of 2019 and making sure playlists are all to date for the coming year.
Abelardo Carbonó – Muevela
It's hard to admire godfather of psychedelic champeta, Arbelado Carbonó, too much. The man from Ciénaga (a small town between Barranquilla and Santa Marta) oozes cool, and his unique brand of vocal delivery, developed alongside his brothers, is one that can only be curated in the dynamics of family. This live recording from a few years ago only surfaced at the back end of 2019 thanks to Palenque Records' Lucas Silva. Abelardo takes to the five string bass whilst brother, Abel, shreds at his guitar neck with an aguardiente bottle as he plays slide. Find us a more appropriate way to kick off our list!
Bandejas Espaciales – Salamandra
One of Colombia's most exciting new groups, Bandejas Espaciales have been brewing up a storm for some time now. Drawing on artists from an array of prominent Colombian projects, the group is led by prolific saxophonist / clarinetist Marco Fajardo and are carving out a reputation well within their own right. Led by a three-pronged horn section, comprising euphonium, trombone and sax, and interpreting a range of musical styles, together with spacial mixer sounds, their other-worldly proposal has been getting Colombian audiences rather excited. Now, with studio recordings under their belt and the prospect of new releases in 2020 we're delighted to bring them to S&C readers.
La BOA feat Jhon Primera – Caminando
Ever evolving, La BOA returned to our soundwaves in 2019, bigger and better than ever. Amongst the darker and brassier sounds was the upbeat hit that perched itself firmly upon Colombian national radio's number one spot for consecutive weeks on end. Featuring Systema Solar's Jhon Primera the instantly catchy "Caminando" keeps its motors revving well into 2020. With more great things promised for the next 12 months, we'll be here sitting tight to share them with you.
Canalón de Timbiquí – Casa De La Compañia
From Canalón de Timbiquí's Latin Grammy-nominated album De Mar y Río, "Casa de la Compania" offered us a fleeting account of what happened when French mining companies went to the Pacific Coast of Colombia during the 20th Century. When the mayors office had paid for a Christmas party at a house seized from those mining the gold laden lands nearby, the only lamp in town was taken home with its owner casting the festivities into darkness. The party needn't have stopped there though. Timbiquí local Nicomedes Balanta wrote this song with a traditional juga rhythm recounting, "La casa de la compañía se quedó en la oscuridad" (the company house went dark) and the story lives on. First in Timbiquí and the local community and now as is often the case with Pacific folkloric themes finding their way into a wider eternity, through Nidía Góngora and co, on an album which saw them at their traditional best.
Carmelo Torres – Virgen De La Candelaria
Carmelo Torres carries quite some bastion. Once a student of the legendary king of cumbia sabanera (a form of music from the Caribbean coast that interprets gaita music, its melodies and rhythms in accordion form), Andrés Landero, Torres has firmly established himself as a maestro in his own right. Through both his own releases and collaborations with the prominent Bogotano musicians, Los Toscos, his rich and at times heart wrenching tones have become a blueprint all their own. Nevertheless, Torres is never far from his roots and this interpretation of Landeros' "Virgen de la Candelaria" is a joy to behold. Be transported as the accordion weaves its magic. ¡Huepajeeee!
Chúpame El Dedo – Bolillo Cafre
2019 saw the satanic brainchild of two of Colombia's bleeding edge musical innovators come to fruition with Chúpame El Dedo's self-titled EP. Two thirds of Los Pirañas, Pedro Ojeda (Romperayo) and Eblis Alvarez (Meridian Brothers) conspired in this depraved offering of warped lysergic quirk, giving rise to a rather ominous musical prodigy. In "Bolillo Cafre" frenetic percussion gets down and dirty with low frequency synth. Like a tattoo for the ear canal its the sort of uneasy discomfort that has you coming back for more.
Chongo de Colombia – Oí Mí Tambó
Chongo de Colombia is indeed nothing new. The group, headed up by master percussionist El Chongo, who has played with Sidestepper, Ondatropica and Ghetto Kumbé to name but a few, is of his own making. Indeed his songs too have been well and truly enjoyed and shared by those inside and outside of Colombia. Yet 2019 saw El Chongo back in the studio, working with a wider range of musicians than ever before to reinterpret his catalogue. Funky guitars and horn sections have accented what were already excellent foundation tracks and alas we get to enjoy the sounds of Chongo de Colombia anew thanks to the album Oí Mi Tambó, available via Polen Records.
Error 999 (prod Charles Haggard) – Truman
Those seeking out Hip Hop would do a lot worse than to start with Colombian label Indio Records who have become the hub for the genre within the country over recent years. An ever growing roster of the best new rappers and producers has most recently manifested itself with an excellent offering from Error 999 and producer Charles Haggard, which was destined for success since first single "Truman" was released in 2019.
La 33 – Maria Juana
Far from newcomers to the Colombian scene, La 33's reign spans nearly two decades now, with no sign of letting up. Last year's Tu Quieres Salsa album and corresponding tour saw the band travel widely in Latin America, Europe and the United States. "Maria Juana" is an example of the group's ability to flirt with double meaning and a healthy hit of contemporary Colombian salsa to boot. As if we needed a timely reminder that this outfit will still be soundtracking Colombian parties for a while to come still.
Las Hermanas – Hidromasaje
Apart from being busy collaborating with N Hardem and working across a number of production projects, Las Hermanas (Diego Cuellar) released an album within his own right back in November. A much evolved sound compared to previous works, this dreamy, neo-psychedelic offering may well have slipped under many a radar, yet surely that makes this retrospective introduction all the more greater a gift to kick off the year? From album masajes, a 30 minute soiree of crescendoing beats, we leave you here with "hidromasaje", a climatic listen on an otherwise wistful album from a much underrated artist who we hope to see more from in 2020.
La Delio Valdez feat Frente Cumbiero – Oye Tu Lamento
The international guest at this party are indeed no strangers to Colombian collaboration. Argentinian cumbia outfit La Delio Valdez have previously featured Los Gaiteros de San Jacinto on their 2017 track "Corazón Cumbiambero". More recently it was other Colombian favourites Frente Cumbiero with whom the Buenos Aires based 15-piece collective teamed up with. "Oye Tu Lamento" is a grandiose waltzing cumbia, brought to life through Frente's distinctive touches.
Kokodrilo – La Puya
We introduced this rising monster of Colombian sound to readers a couple of years back now. Following a short hiatus and line-up overhaul we were delighted to see them back in 2019 with new sounds; more distorted, added keys and deeper percussion than ever. EP, Cuando Se Vaya La Luz, typically warps through a range of styles in true psychologically disorienting fashion. Excellent arrangement that sounds tighter and more cohesive than before, check out the video below for "La Puya".
La Perla – Que Pasó
One of our favourite new artists of recent times La Perla left their footprint throughout Europe last year and we don't expect them to stop there. Fusing traditional tambor and bullerengue elements with more contemporary delivery and production styles, this belter from last year asks the pertinent question of "what happened?", following the ever growing figure of now 900+ assassinations of social, community and indigenous leaders throughout Colombia since the signing of the 2016 peace deal, and 18 in the first 14 days of 2020 alone. Harmonious as it is powerful, sit tight and listen closely.
Los Gaiteros de San Jacinto – Maestro Toño Garcia
We've come to expect fine things from cultural heritage label Llorona Records in recent years. Yet their latest release has exceeded arguably even their own standards. Accompanied by a heartwarming documentary, Los Gaiteros de San Jacinto released El Último Cacique last November in tribute to The Last Cacique (chief) of Gaita, Toño García. As cumbia beats gain traction worldwide, its roots have lain at risk of falling into obscurity. Not anymore, this treasure of a record pays homage to the genre's last living forbearer; Toño is a true legend of the gaita. In an album which debuts Yeison Landero, grandson of Andrés Landero and features Carmelo Torres, it's this moving rendition led by Elber Álvarez, which pays homage to the master himself.

"Y es para usted,
Maestro Toño García
Pa' que escuches mi canto
Pa' que bailes mi son"

Celebrating his 90th birthday just recently (16th January), Feliz Cumpleaños, Cacique!
Los Ninos Telepaticos – Prisma
Far from a new outfit altogether, Los Niños Telepaticos have warranted perhaps more coverage that they've received up to now. This five piece released their second album, Estallados in 2019 and quite something it turned out to be. Quickly rising in prominence and drawing attention from Colombian music press for their sound, the group shift between the lyrical and the guitar0led. Post rock number, "Prisma"'s textured sounds layer perfectly to induce a fractal daydream.
Pacifican Power – Pal Otro La'o
Music from the Colombian Pacific has been thrust further and further into the common consciousness over recent years as it continues to grow in popularity. Drawing on artists from the pacific coast departments of Cauca, Chocó and Valle De Cauca, where the regional capital Cali has become the de-facto satellite hub for many from the Pacific, Pacifican Power pulls together 10 artists in all for an explosion of Pacific folklore brought to the fore through a more urban delivery style. The 10-piece hopes to continue the Pacific resistance through music whilst serving as a voice for the region. An album well worth a listen in its entirety, it's for this reason we leave you here with the album's opening tune, "Pal Otro La'o", which seems the natural starting point for this supergroup dubbed the "Fania of the Pacific" and finely captures what the group set out to achieve.
Pernett and Quantic – Vamos a Hacer
This tropical blend brings together two well established names in Colombian circles. An electronic ditty encompassing the upbeat and danceable "Vamos a Hacer" also features typical Colombian instrumentation with Pernett playing gaita and Quantic taking the reigns on accordion. A politicised track with a great animated video that whilst celebrating Colombian traditions also proceeds to attack themes that have long dominated the country, such as the exploitation of natural resources, corruption, war and inequality; retrospectively serving an inadvertent explainer to the roots of many – but not all – drivers behind the national strikes that dominated the back end of 2019 and continue into 2020.
N Hardem & Las Hermanas – Sabbath
N Hardem is undoubtedly one of Latin America's most exciting hip hop talents. With a style rooted in the genre's heyday, together with an articulate delivery of potent themes, over four extended releases dating back to 2014 he has become established as one of the genre's forerunners. Mixed with the versatile production of Las Hermanas, the producer/rapper dynamic is perfectly balanced. The dark and cynical "Sabbath" features N Hardem's increasing recogniseable lyrical flow over a boom bap rhythm and is taken from last years excellent and highly recommended album Rhodesia.
La Sonora Mazuren – Noude Ma Gnin Tche De Me
It is hard to imagine a better way to start closing out proceedings than with the excellent La Sonora Mazuren. Pioneering the the new wave of neo-tropical outpourings from Colombia, the group have, for the most part, been reworking old songs from around Latin America and the Caribbean over the last few years. 2019's Fuzz Bogotano single, however, found inspiration further afield, in the vodun rhythms of Benin and Nigeria, and further highlighted the group's versatility. Masterful production harks back to the song's late 60s roots, this storming rendition of "Noude Ma Gnin Tche De Me" by Benin's Orchestre Poly-Rythmo de Colonou is absolute fire.
Sexteto Tabalá feat El 'León' Pardo – Ofelia (Cerrero Dub Mix)
Bringing traditional music to life through modern production principles can't be an easy feat, yet 2019's Cerrero mix of Sexteto Tabalá was the perfect example of how it is tastefully done. Hailing from San Basilio de Palenque, Sexteto Tabalá have been making music for far longer than they've been recording it, and even longer still before anyone outside of their own community knew of them. Founded in 1930, the group complete 90 years of musical legacy in 2020. Following new migratory patterns in the early part of the 20th century, Sexteto Tabalá and their ilk took on the role of preserving the various rhythms (changui, son, lunbalú and pajarito) that took root amongst Colombia's African diaspora and had moved through the Caribbean from Cuba and Jamaica, hence their title as Kings of Son Palenquero. With trumpet work from Leon Pardo, Cerrero's dub-infused production is aimed at stripping back the song's upbeat nature and to bring its more tribal elements to the fore. Expertly done, and with Cerrero purportedly rifling through the Palenque Records catalogue for more similar inspiration, watch this space.
2019 in Remate: Spotify Playlist

Follow Sounds and Colours: Facebook / Twitter / Instagram / Mixcloud / Soundcloud / Bandcamp

Subscribe to the Sounds and Colours Newsletter for regular updates, news and competitions bringing the best of Latin American culture direct to your Inbox.
Share: