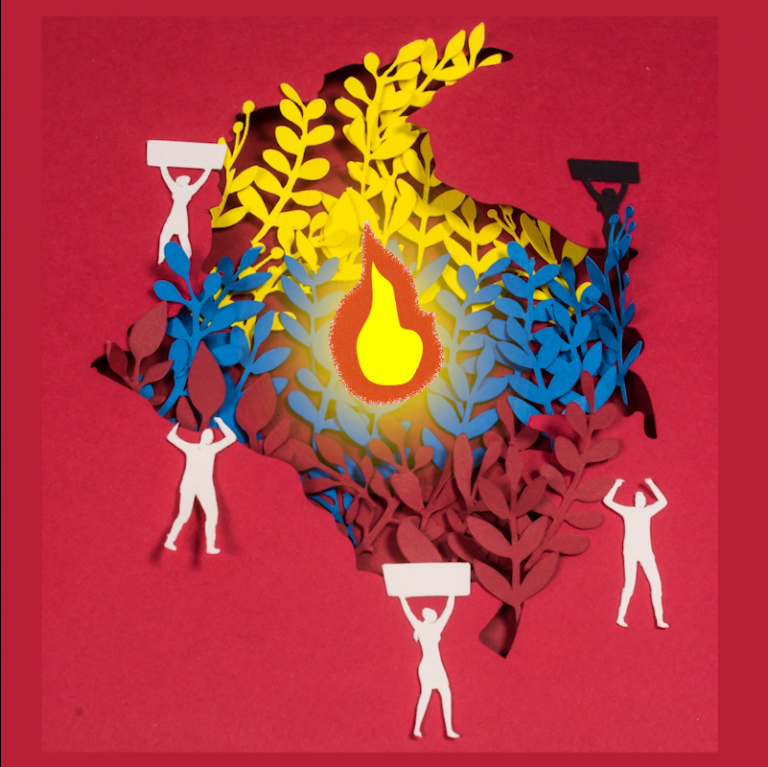 CON ALMA 33: Biomigrant (Colombian Solidarity Special)
21 June, 2021
In lieu of our regular mellow Monday-morning offering, Biomigrant's "Colombian Solidarity Special" will be drawing attention to Colombia's ongoing political and social crisis instead. Biomigrant is the producer and multi-instrumentalist Michael Alfred Wagner. U.S.-born but settling in Colombia after crossing Central America by bicycle, his blend of electronica, live instrumentation, Latin American tradition and field recordings has set him out as one of Latin American music's most thoughtful contributors. He believes sound "is a medium that enables us to relive and share moments and perspectives, and that through music and dance even the most painful experiences can be channelled into something beautiful."
"This mix was originally broadcast on Radio Alhara, based out of Palestine, as part of a 24 hour program of Colombian/Palestinian solidarity curated by Edna Martinez. The selection highlights the ongoing political and social crisis in Colombia, where, since the April 28th, the government is being challenged by a general strike on its historic and current actions of corruption, dismantling the historic peace process, attempts to punish the lower and middle classes with abusive tax and health reforms, human rights abuses, and violent repression against peaceful manifestations. The music is a mix of original tunes and songs of resistance from Colombian artists. Dedicated to the memory of Junior Jein, artist and activist from Buenaventura, who was assassinated on the 13th of this month.
"For in depth coverage:
https://www.temblores.org/
https://www.laorejaroja.com/
https://www.noticiasuno.com/
"Bonus: Not included in the mix, but the Colombian singer-songwriter La Muchacha is writing some incredibly powerful music in response to all of this…"
Tracklisting
Lucerito mirando a la nada – Ezmeralda – También
Interviews and Press Conferences of Colombian Government Officials Siendo Triple Hjptas
Mucho Hijueputa (Biomigrant Edit) – Los Hermanos Balanta
Generations – Biomigrant – Unreleased
¿Quién los mató? – Hendrix B, Nidia Gongora, Alexis Play, Junior Jein – Bombo Records
Lo Que Vendrá – Biomigrant ft. Crissbeth Cortés – Unreleased
Para Para Avanzar – Casa Seis & Mente Orgánica (Biomigrant remix) – Gusanito Discos
No Más Velorio (Rodrigo Gallardo Remix) – Plu con Pla – Galletas Calientes Records
La Utopía – Biomigrant – Shika Shika
Cetaceo – Biomigrant & Mente Orgánica – Unreleased
Son de la Cacerola – Biomigrant
A.R.M.A.S. – Biomigrant – University of Tropical Sound
El Infiltrao- Edson Velandia
Himno de la Guardia Indígena – Guardia Fuerza (feat. Ali Aka Mind, Andrea Echeverri, Chane Meza, Carlos Arturo Villamarin, Derly Eliced Musse Pasu, Eulalia Yagari & Gregorio Merchan)
Esto Que Está Pasando Pasará – Grupo Bahía
La Paz – Semblanzas del río Guapi – Llorona Records
The Con Alma series is a mug of hot coffee served fortnightly on Monday mornings, to start your week off right. An hour of musical soul food, downtempo undulations and freshly-squeezed groovers that's good for the heart, mind and body. Although the series' name is taken from Dizzy Gillespie's Latin standard, don't expect an hour of frenetic bebop – this is gentle introspection, warm sunrises, shower sing-a-longs… always with plenty of soul.

Follow Sounds and Colours: Facebook / Twitter / Instagram / Mixcloud / Soundcloud / Bandcamp

Subscribe to the Sounds and Colours Newsletter for regular updates, news and competitions bringing the best of Latin American culture direct to your Inbox.
Share: