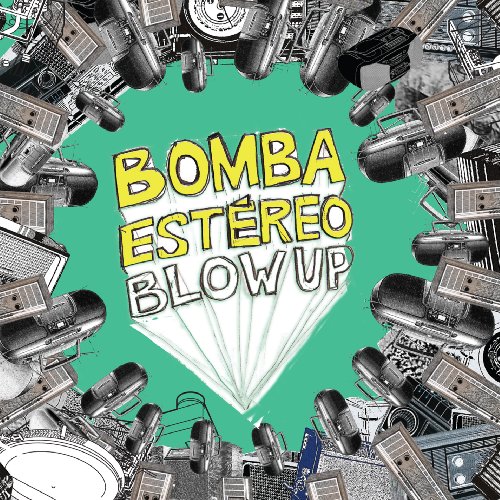 Cumbia should be THE latin music: An Interview with Bomba Estéreo
23 July, 2010
Sounds and Colours has made no secret of its love for Bomba Estéreo. Their album Blow Up and recent performances at Hackney Empire and Shoreditch Festival have been some of the highlights of our summer. It's fair to say then that we couldn't be happier that Simón Mejía, the main man behind the group, agreed to answer a few questions for us.
Bomba Estéreo, hailing from Bogotá, Colombia, mix electronic music with cumbia resulting in something they like to refer to as "Electro tropical." Over the past year they have been travelling all over South America, USA and Europe, spreading their infectious beats. Simón, who founded the group, is the main architect of their sound, their Liam Howlett if you will. We wanted to find out a bit more about how Bomba Estéreo came to be, where their sound comes from and just why Colombian music seems to be so popular right now.

You've played all kinds of festivals this year; South by Southwest, Bonnaroo, Lovebox, to name a few – how has the reception been?
It´s amazing to see how people who don´t talk Spanish get connected with our music, it´s a way of seeing how a so local music can be universal at the time, it´s all about Africa, and about dance music, which connects the whole world around one same feeling.
Do you find that you attract a Latin audience when you're overseas or is it more of a mix?
It´s a mix, you can´t say it´s just one way or the other, it´s simply by chance, sometimes one thing sometimes the other.
You seem to be one of a number of bands (including the likes of Choc Quib Town and La Mojarra Electrica) that are mixing traditional Colombian music with modern styles, and have been able to gain attention from outside Colombia with this. How has all this been received within Colombia? Have more people taken an interest in traditional styles?
Yes, actually one of the purposes when I created Bomba was to preserve all the music tradition from Colombia, that some way or other is being jeopardised by external music. So doing this is a way to get this music to a wider audience, especially to young people.
What's the music-making process for the group?
The music comes from me, then passes through Liliana [vocals], then through Kike [drums] and Julian [guitar]. It´s a personal process that ends up in a band, always starting from traditional rhythm patterns from Colombia.
One of the things I really love about the group is the guitar work. It has a very distinctive style and helps give the band that psychedelic edge at times. Can you tell us a little more about the guitar style?
The guitar work is very particular because I was doing it until Julian came to the band. He understood my style and brought a new input to it, then I told him to work with us. Now he is a shining element in the band cause his style is unique.
From a music-making process also, what do you see as the perfect medium for your music? For example, do you write the music imagining it being played in a club, or by a sound-system outdoors, or just as a live act?
I play it for myself, and if I enjoy it I suppose people will. Well, if Liliana enjoys it is a good sign for me, but well you never know! Maybe no one will enjoy only you, but one way or another you´ll be happy!
Which brings me to the picós, which I have just seen in your video to "fuego". I was looking at some of the pictures of the picós that are used in Colombia now and some in the old days – they look absolutely amazing! Do they play a big part in Colombian music and have they played a big part in your music?
Well it's kind of an underground thing, yes they are amazing…those sound systems in the 70´s were the ones that spread real music like Salsa, African and Caribbean music, and the ones who made the real DJ parties, our DJ parties in Colombia. It´s something that happens in the Coasts only, very particular, very distinctive, a real music phenomenon. Nowadays they are more based on Champeta,
but they play real 70s African classics and Salsa Classics as well….the best party ever!
What's the music scene like in Bogotá? Are there many other electronic cumbia artists there?
It´s growing up, there are lots of talented artists who surely will come up with very serious things in the future.
How do you feel about the electronic cumbia coming out of Argentina? It has a very different style; more urban, less tropical, but seems to be as popular as the electronic cumbia from Colombia outside of South America.
I like the phenomenon of Cumbia when it spread all over Latin America in the 70s and each country assimilated in a different way. Cumbia should be the Latin music by excellence, each country with it´s own crazy way of playing it, now with electronics also, it´s a very rich scene.
I can't help but feel a trace of Totó La Momposina in the voice of Liliana. What are some of the traditional artists that have had an influence on the group?
Yes, she comes unconsciously from that tradition, cause she grew up listening to that type of singers during carnivals in the coast: Totó, La Niña Emila, Petrona, Etelvina Maldonado, all the traditional music from the Magdalena River, Palenque and it´s surroundings.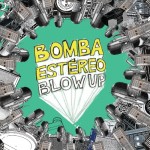 This is a question I like to ask everyone. What is your favourite party track, the track that you put on before you go out on a Saturday night?
Mine is Pump up the Jam!
And I think that's it. Thanks so much for answering our questions!!!
Blow Up (Nacional Records) is available to buy from Amazon or iTunes. NB: The album is called Estalla in the UK.

Follow Sounds and Colours: Facebook / Twitter / Instagram / Mixcloud / Soundcloud / Bandcamp

Subscribe to the Sounds and Colours Newsletter for regular updates, news and competitions bringing the best of Latin American culture direct to your Inbox.
Share: