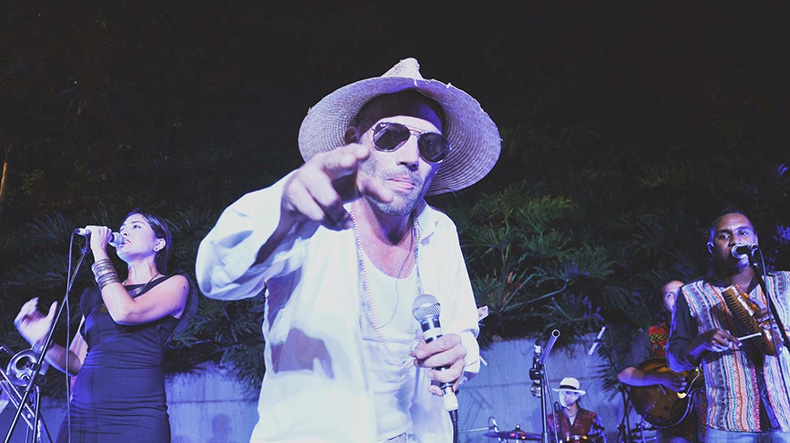 EXCLUSIVE: Stream La Mambanegra's New Break Salsa EP 'La Galeria' + Interview with Jacobo Velez
20 January, 2016
La Mambanegra are not your average salsa band. Speaking to bandleader Jacobo Vélez (in the interview below) it is clear that he doesn't think of the group as a salsa band at all, instead a mixture of funk, hip-hop, raggamuffin and New York salsa influences that could even become a genre in itself, one that Vélez likes to call Break Salsa.
Prior to La Mambanegra, Cali-native Vélez was the bandleader for La Mojarra Elécrica, a band that brought rhythms and styles from Colombia's Pacific Coast to the mainstream through national and international tours. With La Mambanegra the project seems more personal, Vélez reincarnating himself as El Callegüeso, the leader of La Mambanegra, both names paying homage to his great grandfather and his own Afro-Colombian heritage. The style too, is more defined, filled with blasts of horns, passioned vocals and grooves that refuse to let you sit down. Although La Mambanegra will almost certainly be labelled a salsa group (whether that be salsa dura, salsa funk, plain ol' salsa or even Vélez's own Break Salsa moniker) this isn't music just for salsa fans, this is for anyone who likes their music to be passionate, powerful and pure in intent.
Prior to its release on Thursday 21st January we are very happy to be bringing you the exclusive stream of La Galería, the brand new EP from the group. Listen to the release below and then read our extensive interview with Jacobo Vélez to understand the incredible story behind La Mambanegra and his thoughts on Colombian salsa:
Interview with La Mambanegra's Jacobo Velez
translated by Charlotte Mackenzie
So, what can you tell us about La Mambanegra? Where did the name come from?
"La Mambanegra" was originally an ivory flute with magical powers, made in Africa. History and legend tells us that this instrument only reached the hands of people who had lost their memory and by playing the flute they would recover their lost memories. The flute absorbs the person's history in such a way that whenever it is played by a memory-less musician, the magical flute will tell them the story behind all those who have played it.
My great grandfather Tomas Renteria ("El Callegüeso Antiguo") lost his memory after almost drowning when he was thrown into the sea by a ship's crew. He had boarded the ship as a stowaway from the Southern Colombian Pacific port of Buenaventura, hoping to reach New York to follow his dreams of becoming a musician in the 'Big Apple'. His luck ran out close to the port of Havana in 1933.
He was rescued by a Babalawo (priest from the Ifá religion known as a "master of secrets") and was baptised as El Callegüeso. My great grandfather lived in Havana for seven years under his new name and with no memory. On the island he met the legendary Chano Pozo, they became inseparable friends, and it was he who gave him the powerful Mambanegra flute. In honour of his incredible gift from Chano and after regaining his memory, he finally reached New York, once again as a stowaway. During the 40s he created an orchestra and called it Mambanegra.
The new Mambanegra was recreated on the 9th of April 2012 with nine powerful musicians. Their potent African heritage is one of the factors that characterises its members.
It's an incredible story! You could even call it a myth?!
The Mambanegra is the main thread in a story about a stowaway, an illegal immigrant without any papers who dreams of music. It's the power that each one of us needs to get to know ourselves, without memory you don't know where you are coming from, where you are, where you are going… The Mambanegra is an instrument which invites you to search for your roots. The Mambanegra is an animal which injects you with lethal venom so that you pass into another life, where fear is impossible, dance exorcises your demons, where you are resurrected.
What would you say are the biggest influences on your latest album?
The biggest influences are New York style salsa from the 70s, funk from James Brown and Maceo Parker, Wayne Smith's raggamuffin and Yellowman and of course, the songo from Los Van Van, with a special aggressive touch of hip-hop from the ghettos in the Bronx.
The biggest references are Ruben Blades, Manu Chao, Kelvis Ochoa and Kool and the Gang. amongst others.
What does salsa mean to you?
I think that the name salsa is initially a label which tries to tie an infinite number of Caribbean rhythms and began to mix with jazzy elements in New York in the 40s, and which has finally become, musically speaking, a type of concrete musical genre. It reaches common places to produce a standard sound, this being what we actually hear.
But on a deeper level, salsa for me means la calle, el barrio, the street corner, rumba, fiesta, without salsa you can't light up! Salsa is sweat, sex, liquour and Pielroja cigarettes, it's the gasoline which turns my heart on.
On the other hand, I don't think that what I produce is salsa, the most coherent option would be to call it Latin music with Afro-Antillean and gringo influences, but if we want to label it and give it a serious name it would be something like: Break Salsa.
One of my favourite songs of yours is "Puro Potenkem" [off the El Callegüeso y su Malamaña album]. What does this title actually mean?
The name is based on the legendary silent film from 1925, Battleship Potemkin (Броненосец Потёмкин) by Eisenstein. The name always attracted me, and the size of the boat and what it meant, it's unusual weight made me think about great and devastating power that in a conscious or sub-conscious manner during my adolescence with Tomas Correrá (one of the founding members of La Mojarra Eléctrica), we said Puro Potenkem when we were referring to something with a lot of strength and which had a lot of weight, from a musical point of view.
Did your upbringing have a big impact on your music?
I grew up in Cali, the city with the second largest amount of African descendants in Latin America. My great great grandfather arrived from Africa to Colombia when he was still a baby, one of the last slaves, Belarmina Rentería, mother of Tomas Rentería my great grandfather, El Callegüeso Antiguo. So African blood flows through my veins, and in my case, is translated into music.
Referring to the geographic context, I have to say that salsa reached my city in the 60s and said; "I'm staying here, this will be my headquarters, Cali will be the planet's salsa capital," so inevitably in my town salsa inhabits you, it looks for you on every corner, you breath it in the air, you feel it in the breeze, in the hips of larger ladies, in being mulatto.
Do you think that the interest in música pacifica (i.e. music from Colombia's Pacific Coast) is growing in Colombia?
I think that La Mojarra Eléctrica was a communication channel so that música pacifica would reach the centre of the country and I am sure that it touched many people's hearts and changed them for good. Nevertheless, we still want to be like the gringos, we are still overridden by Euro-centrism, we are tricked with smokes and mirrors and let ourselves become enslaved. There is a lot of ground to cover, lots of media manipulation to exorcise and lots of hearts to win over.
What are your plans with La Mambanegra? Releases? Shows?
I could reply yes!! We have this and that, but I prefer to say:
My plan is to move my heart with what I do and to move more hearts with this story. That would be great.
Find out the latest news from La Mambanegra at facebook.com/lamambanegrasalsa

Follow Sounds and Colours: Facebook / Twitter / Instagram / Mixcloud / Soundcloud / Bandcamp

Subscribe to the Sounds and Colours Newsletter for regular updates, news and competitions bringing the best of Latin American culture direct to your Inbox.
Share: