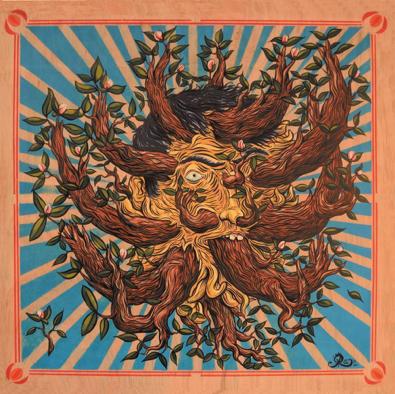 A Laboratory In My House: An Interview with Romperayo's Pedro Ojeda
28 April, 2017
Percussionist Pedro Ojeda has been involved with many groups that form part of the current alternative music scene in Colombia; Frente Cumbiero, Meridian Brothers, Sidestepper, Chúpame el Dedo, to name a few. Now he leads Romperayo, a project that offers an explosive and eclectic musical expression of Colombian and Latin American popular culture. He also plays as part of Los Pirañas, El Ombligo and El Leopardo, a new electronic project with Daniel Broderick. We talked to this busy musical bee from his house in the traditional Bogotá neighbourhood of Teusaquillo, the namesake of their first album El Original de Teusaquillo.
How did Romperayo begin?
Romperayo started as a kind of project, a laboratory in my house. Taking vinyls and experimenting with them. I took so many influences from Colombian rhythms and melodies, but also from Perú, Ecuador, Panamá… composing music inspired by the repertoire of recorded Colombian music. Mostly music from the 50s, 60s and 70s… the 80s not so much. The older the better. That's how it started. I started using analog synthesizers that are very simple, very lo-fi, and really interesting to experiment with. So I started working on that alone at home, and when I had some music composed I got some friends together to play it live, and from there we started to record.
Is the synthesizer the reason that Romperayo's music sounds like it could be from a few years back?
Yes exactly. Because it's analog, it's just like they used in the 70s. There was a boom of synthesizer use all across the world, in rock music for example, but there was also a lot of experimentation in Latin America. Its like a nod to the old-school. I personally love old discs, the sound of vinyls from the 60s and 70s with everyone playing at the same time, recorded on tape. It's a different way to conceive and record music. In our tracks we try to emulate this sound.
You are in a lot of groups at the moment. Is it difficult to divide your time?
At the moment I'm in three [groups], I was in so many but I had to prioritise. It's not difficult because with Romperayo we play my compositions, in a certain way I lead the group. The other musicians more or less follow the idea that I have but we have musical chemistry that works really well.
On the other hand in Los Pirañas we are a trio and we compose by improvising. We really like improvising, for our records and live. From these improvisations our songs start to come out. Its more like music of the moment. Stuff that comes out through improvising sticks, and when we listen back to our recorded sessions we know how to do it for the next time.
I'm also in a project called El Ombligo which is much more based on improvisation, and its more connected to free jazz. It's less focused on the dance floor, unlike Romperayo and Los Pirañas. I'm also working with Danny Broderick in El Leopardo helping him with percussion, synthesizers and various things…
You try to include so many genres of Colombian music into Romperayo's songs, how does this process work?
Firstly it has been a process of study. I've studied the rhythms, and also the records. I've travelled to traditional music festivals to try and find that particular feel. We've been in a kind of educational process composing music with these different rhythms, but it has also been a really fluid process and not at all forced. The musical language of the streets and small towns is what inspires us to create and play in this way that is so free and easy.
The names of your songs stand out a lot. Can you explain where they come from a bit?
Well they come from all over, a large part from records and Colombian discographic history. Tropical and traditional music has never been serious, academic music. There is always a game, humour, a double meaning. I get inspiration from names of songs, names of groups and a lot of the time when I compose a song It's a nod to an older song… all kinds of stuff. There are also influences from Colombian writers or film directors such as Victor Gaviria. He is a great director from Medellín and he made books about the stories of people living in the poor neighbourhoods of the city such as El Peladito Que No Duró Nada. It has a hilarious glossary at the end and some of the names come out of there. It's a mix of everything, of popular Colombian and Latin American culture.
Your songs never have words, why do you like doing instrumental songs?
Instrumental music takes you on a very special trip. I made songs with words for many years, and I respect that. However with this format in Romperayo and Los Pirañas we have no singer, no frontman. The band doesn't have to validate itself next to a singer. There is more importance given to the music than to the singer or the words… to the sound. The names of the songs can be about anything and for me it is a political act creating instrumental music. It is putting the music first. Right now we are really focused on this, making instrumental music for the dance floor to connect with people not through words or a frontman or a show but through the music.
None of you are from Teusaquillo right? So why do you have an album called El Original de Teusaquillo?
I don't think we are no… I'd have to ask. The formation of Romperayo has changed a lot. I've been in Teusaquillo for ten years, but the road here just in front of my house has been a really musical street. When I arrived here the guys from La Mojarra Eléctrica lived there. They are really good friends; we were in Cuba together. There was also Jacobo Velez from La Mambanegra. From then on I had a real connection with Teusaquillo. It has been a neighbourhood that is really connected to music. The name of the neighbourhood is indigenous, and it has a really nice sonority… and from that came the album I suppose!
What is next for Romperayo?
Next Monday we are starting a tour of Brazil. Brazil is truly amazing and for Colombian music it's a fairly untouched market. The two countries are so connected rhythmically but we still haven't exploited that connection. In June we are going on tour in Europe for a month and a half around various festivals. They are really cool festivals with great curation. I love seeing so much music especially from Africa, but from around the world.
We've just finished recording some songs in the studio of a really good friend who records on tape with only eight channels. It's a really simple, organic, raw, and more sincere recording process. We also made a videoclip which will come out soon with those songs.
What is Romperayo's message for the world?
We want to show the importance of digging and finding things in the barren lands of our culture. The pressure from society is so strong that people arrive so easily to the motorways of culture, to the mainstream. Everything points you there, and from there is is very difficult because the content is so small and so limited. The invitation is to leave these mainstream avenues and to try and find the barren lands, of which there are so many in our culture, where you can really stick your hand in and get something interesting out.
Find more on Pedro here, and more music from Romperayo here.

Follow Sounds and Colours: Facebook / Twitter / Instagram / Mixcloud / Soundcloud / Bandcamp

Subscribe to the Sounds and Colours Newsletter for regular updates, news and competitions bringing the best of Latin American culture direct to your Inbox.
Share: