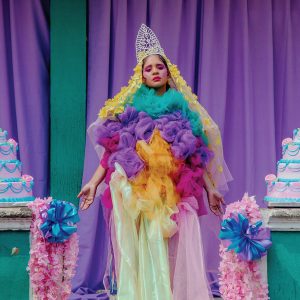 Review
Lido Pimienta – Miss Colombia
Miss Colombia, Lido Pimienta's third full-length is a gloriously introspective album that delves into Pimienta's complicated relationship with her birth country. Through harmony, rhythm and energetic production, Lido narrates a journey of acceptance, of discovering herself as a site of rich, painful and joyous fusion.
Pimienta wrote and arranged the 11 tracks that make up the album, co-produced with Matt Smith, aka Prince Nifty, and recorded them in her home studio and in the historic Colombian free town of San Basilio de Palenque.
The sound of Miss Colombia is distinctly Lido, related to all of the projects that have come before – with simple yet distinctive melodies, a focused repetition that gives to a feeling of elevation or even transcendence, and always a clear message in her lyrics. This record is more instrumentally rich, with the lightness of steel pans, rhythmic, hearty brass and modern beats with traceable heritage.
The tone is at times warm, delicate, defiant and celebratory. Lido melds urban industrial sounds in the darker club beats of "No Pude", emotively layering voices with a certain anger, yet there is bouncing Caribbean warmth on "Te Quería" and the sound of traditional Palenquero freedom on "Quiero Que Me Salves" and "Pelo Cucú". The considered production and its many layers present both Colombia's and Pimienta's own hybridity, placed firmly in the now.
The album title is at once satirical and aspirational and was partly inspired by the mix-up in 2015 when the Miss Universe crown was mistakenly awarded to Miss Colombia instead of Miss Philippines. Colombians were united in outrage – at the "stupidest cause", Lido told S&C in 2017, considering Colombia's spectrum of other issues. From here, Lido sonically analyses Colombia in the present day and explores the complex mix of pride, rage, shame and anxiety she feels towards it – as an Afro-Indigenous queer feminist who's lived outside of the country since the age of 16.
The harmonic first and last tracks on the album, "Para Transcribir (SOL)" and "Para Transcribir (LUNA)" describe the process of introspection that was necessary in order for Lido to write the album. She confounds tenses in honest lyrics, playing with time and presenting self-discovery as an ongoing process. These almost identical, minimal tracks are in fact reimaginations of an earlier Soundcloud release using the same melody and lyrics, giving them an overall sense of self, unconstrained by time.
Continuing her colourful self-analysis, Lido explores her blackness through Afro-Colombian rhythms on "Quiero Que Me Salves". She reiterates the importance of Palenque music and cumbia in the current day: in modern Colombia and in her life. In order to understand Lido's story, we hear an introduction from the revered Sexteto Tabalá leader, Rafael Cassiani Cassiani, touching on family and legacy, before Lido then joins the group, singing of her own experiences, in a moment of stripped-back healing. Her sanación is an offering to others to heal through her.
San Basilio de Palenque has been UNESCO-protected as a site of cultural interest since 2005 and its music is very much alive today. 'Travelling' to San Basilio de Palenque later in the album shows that this heritage is not just the beginning of Lido's story, it is a present reality. That the Palenque rhythms are especially strong in the tracks that follow: "Resisto y Ya" and "Pelo Cucú", giving this tradition continued importance in Lido's life and in Colombia.
In the video for "Eso Que Tu Haces", Lido performs alongside the Afro-Colombian dance crew she sang with as a teenager, Grupo de Danzas Kumbé, in San Basilio. Choreographed by the group's leader, Matilde Herrera, there is a sense of strong tradition in the dance formations and dress, but there is also something else. Lido's movements are off-kilter, her outfits an eccentric mix of her roots. Pimienta explains that she was viewed in adolescence as a "weird artistic tomboy" for not adhering to expected norms, physically and spiritually. Here, she is celebrated.
In "Nada", Lido, alongside friend and collaborator Li Samuet of Colombia's heralded Bomba Estereo, sings about, for, and as, the Colombian woman. The video sees the two musicians in the forest outside Santa Marta, dressed in lace that harks back to Colonial times, defiantly looking into the camera with their (real life) children beside them. The two are attached via a long, thick braid. "Yo te soy sincero, si es que mañana muero no le tengo miedo, pues soy mujer y llevo el dolor adentro", they sing: "I'll be honest, If I'm to die tomorrow, I'm not afraid as I'm a woman and I carry the pain within me."
The braid is finally cut – perhaps the woman succumbs to the pain, perhaps she dies, perhaps she rids herself of her Colonial past. Either way, the message is clear: there is both immense power and strain in motherhood and womanhood. It is women who carry the family's, and society's, pain.
This wholesome and current musical critique-celebration of Colombianidad is a real feat for Lido Pimienta, whose 'controversial' views are often more famous than her artistic work. Steel pans, horns, tambores and harmonic vocals give this electronic-cumbia-Palenquera album depth and character and make it a spiritedly political and decidedly honest piece of art. She is both "coming true" and "coming thru" on this latest release.
Miss Colombia is released by ANTI Records. Listen/pre-order on Bandcamp.

Follow Sounds and Colours: Facebook / Twitter / Instagram / Mixcloud / Soundcloud / Bandcamp

Subscribe to the Sounds and Colours Newsletter for regular updates, news and competitions bringing the best of Latin American culture direct to your Inbox.
Share: