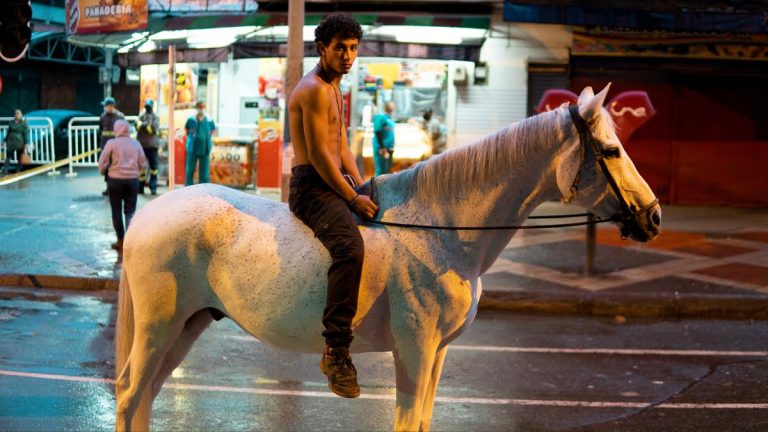 A still from Los reyes del mundo. Photo courtesy of Proimagenes Colombia
'Los Reyes Del Mundo': An Epic Tale of Modern Colombia
16 November, 2022
Los reyes del mundo (The Kings of the World, 2022), somewhat of a road movie, charismatically dances the line where hate for the world and love for life meet. It is an undulating, bumpy line, drawn south from the bustling streets of Medellin, Colombia, through the misty mountains of Antioquia, towards wild Bajo Cauca, a hotspot for narco trafficking and illegal mining.
Beneath Medellin's metro we meet the protagonists: Rá, Culebro, Sere, Winny and Nano – five machete-carrying adolescents from the streets, played by five adolescents from the streets. The boys leave their city in search of a plot of land left to pack leader Rá by his grandmother, who was displaced by paramilitaries during the 52-year armed conflict. The government is to return the land to its rightful owners.
The road takes the reyes through various socio-geographical landscapes of Colombia. They ride on top of trailer trucks or freewheel on their bikes down the Antioquian mountains, ignored by locals in sombreros getting drunk at lay-by stop-offs; they get high in cattle pastures, slitting the plastic greenhouses with machetes in rebellion, freedom, and rage; they feel the warm embrace of women in make-up and heels old enough to be their mothers and grandmothers, as they slowdance in a rural neon brothel; they reflect on their dignified dreams as they trip on a misty roadside. Waking up to epic mountain views one morning as the clouds disperse, Rá tells their host, assumed to be crazy by society for living in rural poverty with his four dogs, "We're all on our own. I just want to take them somewhere they'll be okay. Where they won't be in need. Where they won't be treated badly or discriminated against. Where they'll have dignity".

These boys, between gritted teeth and the delirium of surviving in a world pitted against them, hold onto hope that there is a place for them somewhere, a plot that's theirs. Ra's hope is incarnated in an oneiric white horse that guides him – appearing beneath the rattling Medellin metro, between the mangroves on the shining Magdalena River, reflected in the puddles of a gold mine. Rá must jump seemingly endless hurdles in order to reclaim his land from the state. Notably, Juan Manuel Santos' land restitution policy was created in 2011 with the aim of returning 5 million hectares of land to its rightful owners. In 11 years it hasn't even reached the first million.
Director Laura Mora continuously plays with tension. The plot keeps you right on the edge that these boys inhabit, as you root for them against male violence, theft, class discrimination, human greed, and the unjustness of bureaucracy. There are imminent dangers curled around each turn of their journey, yet the boys' sense of brotherhood is a bright halo. Living a fragile life on the margins of society, their warm, playful physicality can spark like a matchstick into intense scraps, and soften to solidarity and care just as swiftly.

Life has taught them to be rough: they rob what they need, fight for what they want, and express their freedom however they can. The boys narrate, in the blaze of a barricade of car tyres and wood they've lit across the motorway after losing friends, food, and promises on the way: 'My hatred gives me strength; your hatred gives me strength.' It's at once devastating and exhilarating.
Scenes like this mirror events from the prímera línea (or frontlines) of Colombia's recent social protests: young people trashing the city and fighting police, dog-tired of prejudice, inequality, and empty politics. "Y no me digas ¡pobre! por ir viajando así. ¿No ves que estoy contento?" (And don't call me poor for travelling like this. Can't you see I'm happy?) goes the Prisioneros song that soundtracks the film in what feels like a nod to the paros sociales. The Chilean rock group's catchy socio-political anthems were used to protest the Pinochet dictatorship in the '80s and have since accompanied social protesters throughout the continent.
Mora and her actors sensitively and energetically encapsulate young Colombians' cries for a more just country. They bring to life that within this rebellion, destruction, and delinquency there is intimacy and brotherhood. Underlying the action, as well as more poetic, contemplative scenes, there is a fierce message of social justice. "From this moment onwards, all men will be equal. From now on no-one will have more than another, no-one will be more than another," the reyes declare, in the flames of destruction.
Los reyes del mundo is an epic tale of modern-day Colombia, it is no 'poverty porn' film, despite its storyline and its cast of non-actors. Given Mora's profound love and profound sorrow for life, this film is fittingly full of action, poetry, wild cinematography, and a pertinent social message. This is a road film to remember, an intense quest that's full of heart.
Los reyes del mundo is showing in cinemas in Colombia.

Follow Sounds and Colours: Facebook / Twitter / Instagram / Mixcloud / Soundcloud / Bandcamp

Subscribe to the Sounds and Colours Newsletter for regular updates, news and competitions bringing the best of Latin American culture direct to your Inbox.
Share: