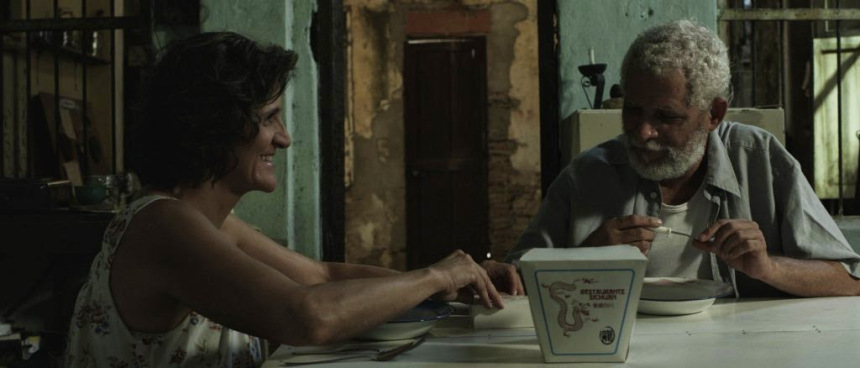 Ruido Rosa
05 March, 2015
Ruido Rosa (Pink Noise, 2014) by Colombian director, Roberto Flores Prieto is a film preoccupied by sound. The film inverts the normal role of everyday background sounds and brings them to the fore as an essential element in the film's grammar; the ruido rosa or pink noise of the title. The sound of radios, footsteps, sex, rain, thunder, sizzling neon signs, doors clanging, buses braking, caged birdsong, crunching popcorn, vacuum cleaners, etc., add to the film's emotional intensity and complement the dialogue.
The dialogue is at best sparse, sometimes monosyllabic or just absent. The two leads, Luis (Roosevel González) and Carmen (Mabel Pizarro), are supported by a small cast in much the same manner. The script is honed to the bone.
Loneliness and Hope
The opening scene introduces Luis being questioned by a census collector. He lives alone in a small decrepit workshop which doubles as home. He repairs radios and televisions yet possesses neither. When it rains the place is strewn with basins to catch those drops which don't drum mechanically on the tin roof.
Then there is Carmen, who is the live-in cleaner at a small local hotel where customers hire rooms usually by the hour. Her existence is similarly pared down. Like many people who work hard in deadening menial tasks she is prematurely worn, weary and her teeth smile at her from a glass on a bedside cabinet. She looks on the hotel's customers without resentment but conscious of her own fading light. She is 52 and kept going on the promise that her visa will come. In the meantime she is sustained by the remittances and postcards sent by her brother from New York.
Undying Spirit
Carmen's radio-cassette player, on which she depends for her English lessons, goes wrong and this brings her into contact with Luis. After a fashion – and for want of the right part – they begin to develop a relationship which touchingly invigorates them both.
Carmen gets a new haircut, dons nail varnish and invests in a matching cerise bra and knickers with lace trim. Luis sticks to his vest but puts on a shirt to eat a Chinese takeaway. They are two dignified people, doggedly self-sufficient, but with lives in which hard graft and routine have long had the upper hand.
Carmen is tormented between her new-found love and the desire to complete her escape from Barranquilla. To find out what happens, it is well worth a look.
It is beguiling, beautiful and understated not least becomes of the performances of the leads, some great sound work by Gabriel Bocanegra and the trio (two acoustic guitars and bongos– Miguel Ángel Tapia, Carlos Santo and Ariel Vega),who deliver a brilliantly evocative love song in the bar scene.
Ruido Rosa will be screened at Manchester's ¡Viva! Spanish and Latin American Film Festival, staged at The Cornerhouse Cinema from 5-8 March.

Follow Sounds and Colours: Facebook / Twitter / Instagram / Mixcloud / Soundcloud / Bandcamp

Subscribe to the Sounds and Colours Newsletter for regular updates, news and competitions bringing the best of Latin American culture direct to your Inbox.
Share: