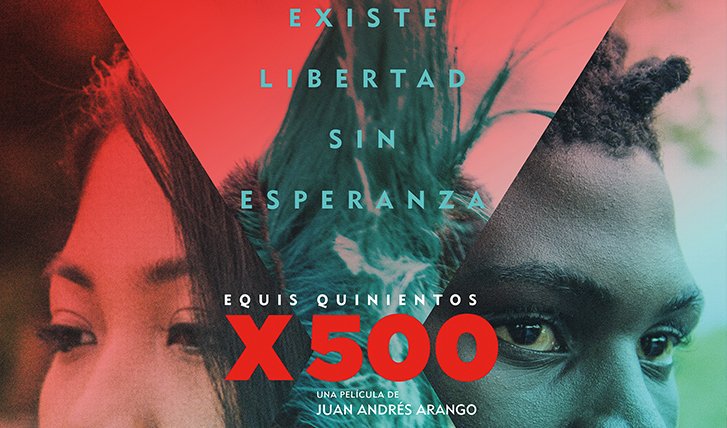 Proimágenes Colombia
X500
09 July, 2018
Following the touching and action-packed La Playa D.C. (2012), former Colombian National University student, Juan Andres Arango, returns to present us with X500*, an urban cinematic tale of youth, migration, and the struggle to claim a space and an identity outside of home.
X500 follows three adolescent characters in three countries on the great American continent. Although each story bears some resemblance to the others, the audience is left to imagine the possible relationships between characters, and through doing so, to put ourselves in their shoes.
Each character is indirectly forced to move from their home following the loss of a close family member, to face a new world of social and identity politics, where they undergo a transformation in assimilating to these new societies: David leaves rural Michoacán for construction work in Mexico City, Alex returns to his family in the violent coastal Buenaventura in Colombia after a messy trip to L.A., and Maria joins her Filipina grandmother in Montreal, leaving her teenage life and her deceased mother in Manila.

The narrative variables are diverse but the emotions are steadily relatable. Through exposure to different languages, clothes and customs, the characters forget their old ways and adopt suitable replacements, constantly with one foot in the past, battling to overcome the grief they have not yet faced. Violent confrontations with these new societies allow the characters to understand both their own roots and the shared inner-workings of America. Colonialism and gang-culture are as pertinent as they should be in a realistic, and relatively pessimistic, film about the continent.
The camera keeps a close eye on the characters. Jonathan Diaz Angulo, as Alex, is particularly striking as he gazes resolutely out of shot, with stern expression. María is both innocent and rebellious, and plays a convincing teenager uprooted and disturbed. David illuminates an indigenous Mexican experience of migration to urban poverty, of harsh lessons in becoming streetwise and of the diversity of group mentality in Mexico City, regardless the nature of one's work (he finds his place pogo-ing to punk cumbia).
Although the 4:3 aspect ratio and constant close-up shots emphasise the universality of the characters' experiences and heighten the contrasting colour tones of each individual's story, as a viewer I wanted to widen the cinematic view to see more of these cultural details: landscapes, foods, locals. Arango's editing and splicing was applauded on the festival circuits although at times its public audiences may find the jumps too quick and the scenes too slow for empathy to evolve.
Through character focus, however, the viewer does eventually become fully-immersed in each vivid environment, intensified by the sense of reality portrayed by non-professional actors, an ever-popular technique in Colombian film. The dialogue can at times feel stilted, but within scenes evoking displacement, loss and the search for identity, this jolted speech carries the realism of X500. The silence between David and his new colleague highlights their connection in quite a beautiful and innocent way.

X500 does not paint a simple, concise, or particularly positive picture of America. It suggests the continent's overarching unity, and incites empathy for the many shared experiences despite geography, weather, language and occupation. The need to form relationships – for protection, for human contact, for general happiness – is clear. But these relationships prove to be tempestuous and tense despite shared blood and memories. Humans band together but life remains dangerous. 'Where will you fit in and how?' Arango asks through this pensive film.
X500 is released in the UK on DVD from Network Releasing. It is available for pre-order from Amazon UK. X500 is available on Amazon Prime in the US.
*Although it is never alluded to in the film, X500 is the name of a small village in Yucatán, Mexico- the exact middle point of the American Continent- which, unbeknownst to them, ties each of the characters together… we know you were wondering!

Follow Sounds and Colours: Facebook / Twitter / Instagram / Mixcloud / Soundcloud / Bandcamp

Subscribe to the Sounds and Colours Newsletter for regular updates, news and competitions bringing the best of Latin American culture direct to your Inbox.
Share: