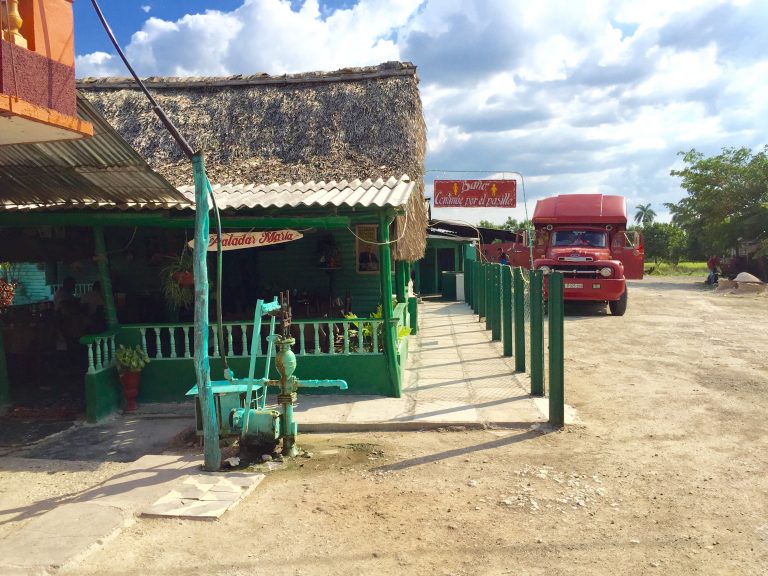 Chapter 1: The Yuma and the Guagua
29 June, 2016
Day 1: 1st May 2016
Cuba does not care if you are uncomfortable or in a hurry. Here, you learn to wait. I become aware of this detail of cubanidad almost upon arrival at Jose Martí International Airport in Havana where, after a slightly awkward exchange with a female airport security worker who tells me, "eres muy lindo" as I remove several articles of clothing for the baggage scanner, I spend half an hour searching for the currency exchange counter.
The three different people I ask for help give me three contradicting sets of directions, making me question my Spanish, which I've always believed to be fluent. At the Cadeca, four women in brown uniform shirts count stacks of cash, by hand, blanketing their desks with bills. After thirty minutes of waiting for them to finish and open for business, I take a seat on the airport floor below the counter and doze off, tired from a long night preparing for this trip, and the 4am flight check-in time. Another ninety minutes passes before one of the women shakes me awake, and I see a fat queue of impatient foreigners has formed behind me. I change some Euros I got in Miami to the Cuban convertible peso, aka the CUC, and get on my way.
From the airport, I take a taxi to the El Cobre train station, hoping to catch the six o'clock train to Santiago de Cuba, on the other side of the island, where the Manana Festival will begin in three days. When I ask the security officers at the station where I can buy a ticket they stare at me like I'm asking for the nearest bullet train.
"You can't get a ticket because the ticket office for foreigners is closed," one officer tells me.
"When will it open?" I ask.
"Tuesday."
It's Sunday morning.
"Can't I just buy a ticket to get on the train?"
"No."
"Why not?"
"Because it doesn't work that way here in Cuba. You have to have a Cuban National ID to get on the train right now."
"I need to get to Santiago, so is there any way I can get on this train?"
"You're not getting it. You can't. It's not going to happen today. You have to wait until Tuesday. Try the Vía Azul buses."
Ok then; Santiago by bus it is. After going through another fruitless and frustrating exchange with the ticketing agents at the nearby bus station, I find out I have to go to yet another bus station specifically for foreigners, only to find that the only bus to Santiago that day has already left. Next option: a guagua. Cuban guaguas are essentially heavy-duty trucks of widely varying quality and construction, retrofitted with metal cabins and bench seats or old, used bus seats. They are not very comfortable but they are considerably cheaper than any other form of long-distance ground transportation making it a popular choice for Cubans.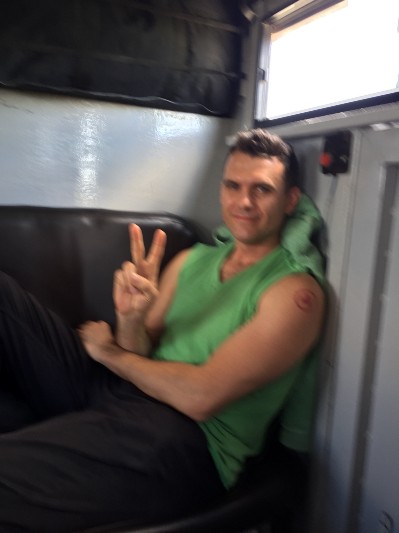 El Yuma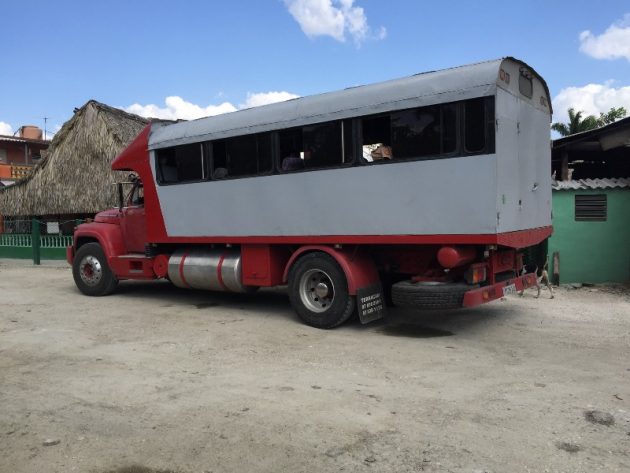 La Gaugua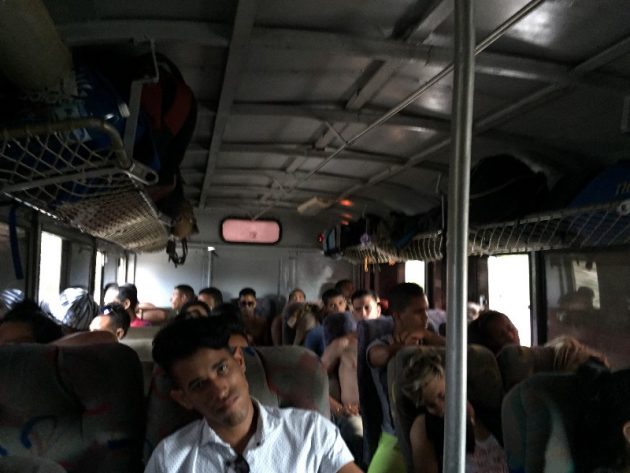 Cubanos en La Guagua
The price for a fifteen-hour ride to Santiago: 12 CUC, or about 12 US dollars. I console myself with the idea that I'm getting an 'authentic' perspective of the trip between Havana and Santiago, travelling as 'real Cubans' do, and find a seat on the front bench of the bus facing the guagua (full of passengers staring back at me) the uncomfortable Yuma who only just now realises this is going to be a very tedious, ass-jarring, day-long ride over Cuba's poorly-maintained highways. Various items rain down from storage shelves above us, secured with dry-rotted rubber bungee cords that threaten an avalanche of makeshift cardboard luggage and bags of rotting potatoes and onions. The guagua breaks down three times on the road to Santiago, nearly catching fire from a loose battery cable, and has to be push-started on the side of the highway twice. Not one passenger seems surprised in the least.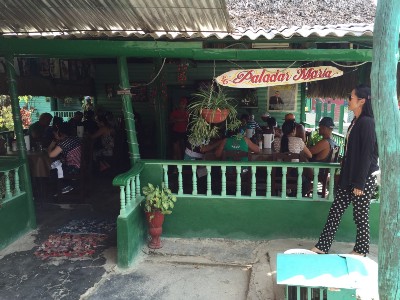 We make a late-afternoon stop in a dusty little village restaurant called Paladar María (Paladars are privately-owned restaurants) where I find temporary relief in a cold Cerveza Cristal and some chicken with beans and rice.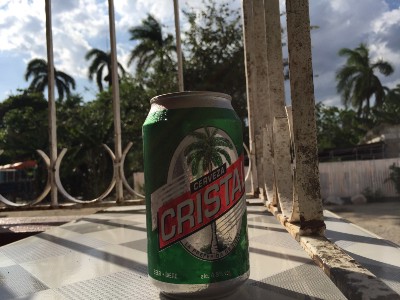 The guagua jangles along for another 8 hours before I arrive in Santiago at 2:30 in the morning, deposited on a deserted street, unsure of my exact location, without the help of mobile service or Google to help me find my way to my destination.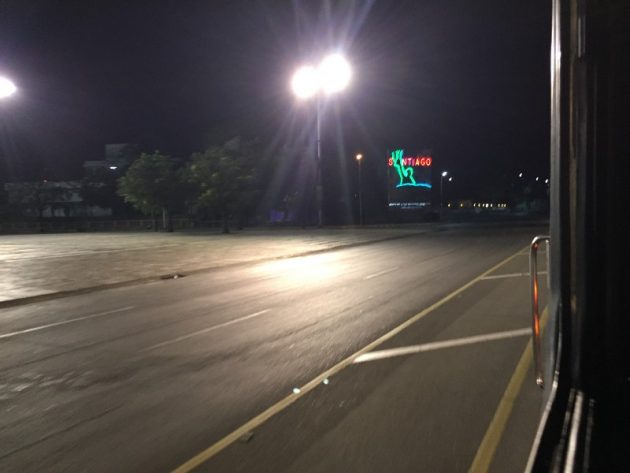 I flag the nearest motorcycle taxi I can find, ask him to take me to the Plaza Céspedes, climb into his sidecar and rumble off into the dark early-morning heart of the most humid and petroleum-scented city I've ever seen.
Members of the late-night staff at Hotel Casa Granda, near the Teatro Herédia, where the Manana Festival is set take place, graciously help me find a room in a local casa particular to spend what's left of the night. I'm welcomed with a private bathroom, fresh towels, air conditioning and a Chihuahua named Beatriz. I shower off the day's sweaty travel grime, drop onto my single bed covered with peach-coloured sheets and slip into an easy asleep.
Welcome to Cuba.

Follow Sounds and Colours: Facebook / Twitter / Instagram / Mixcloud / Soundcloud / Bandcamp

Subscribe to the Sounds and Colours Newsletter for regular updates, news and competitions bringing the best of Latin American culture direct to your Inbox.
Share: