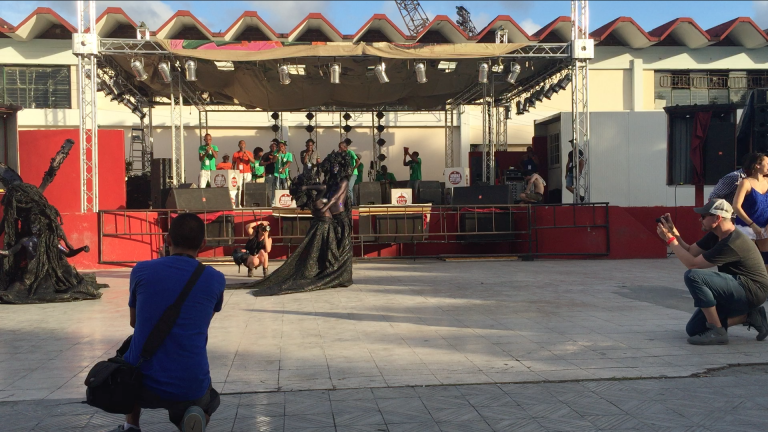 Chapter 4: First Day of MANANA Festival
29 November, 2016
Day 4, 4th May 2016
Hoping to avoid a repeat of the guagua experience I'd had getting to Santiago, I head out first thing in the morning for the Cubana Airlines office on Enramadas to inquire about airline tickets back to Havana.
From a few blocks away I hear jangly street drums playing a kind of Cubanified hip hop shuffle beat, and follow the music until I find a guy playing percussion with whatever makeshift instrumentation he can find. He sings his heart out and, looking into his basket, he is clearly not making a lot of money doing it. I've seen plenty of more virtuosic street performances that this, but he plays and sings like his life depends on it, which it probably does.
I wonder: "When was the last time I played the drums with that kind of urgency?"
"When was the last time I played live and didn't worry about being original or perfect and just went for it with no reservations, on an instrument that I had built myself no less?"
I realize I need to up my musical hustle. Badly.
Do what you love and do it with passion.
This guy right here is the embodiment of MANANA: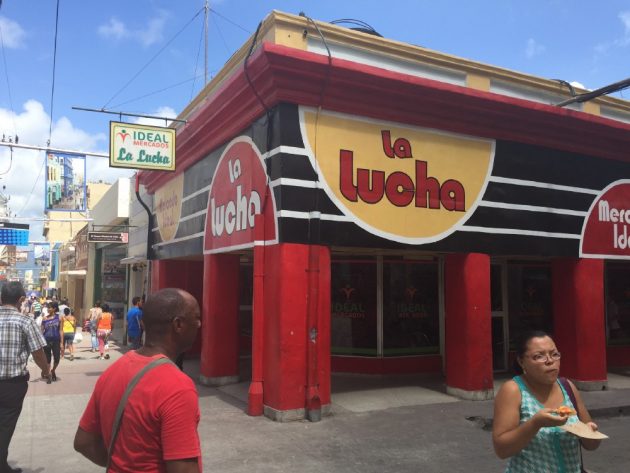 La Lucha es Real
I continue on to the Cubana Airlines office. After waiting for close to an hour for assistance, I finally meet with a kind, older gentleman who consults a 20 year-old monochrome computer terminal and eventually informs me that there are no available flights for the next four days. I have no choice but to take another bus back to Havana.
I make my way to Plaza Céspedes, a few blocks over, my de facto outdoor office and WiFi hub, to try to book a ticket on the Vía Azul bus lines for Friday night. There are still a few seats available on the midnight bus, which will get me back to the capital in about 14 hours. Not ideal, but it's a big step up from the butt-bruising guagua that brought me to Santiago.
I'm working on recording a 360 degree video of the city's main avenue, Enramadas, when I run into a guy I met a few days ago at the Tambores de Bonne show in Plaza Martes with Aaron. His name is Eider Bouly Hernandez and he's a reggaeton singer who came to MANANA hoping to connect with some music producers and record a track while here.
I've never heard his music before and reggaeton is not really my production forté, but I've got some time before the first MANANA show of the day and since I'm carrying recording gear, we decide to give it a shot; Eirder and I head to my casa particular and set up a makeshift studio in my room where I record his vocals on a Zoom Q3HD, feed them into Ableton Live running a simple reggaeton drum loop that Eider can hear in his headphones.
My laptop starts acting strangely and we have to cut the session short about thirty minutes in, but I feel like we've gotten the best take possible given the circumstances. Eider leaves and I walk over to Teatro Heredia to see the opening performances for Manana at the Pacho Alonso Stage (Pacho Alonso was a Cuban singer and bandleader from Santiago de Cuba who is attributed with creating the musical form pilón).
Since arriving in Santiago, there's been a current of excitement and creativity rushing through the city, but when the first performances are underway at Pacho Alonso, I immediately understand that this festival has likely not been as heavily promoted within Cuba as it was in the U.S. and Europe. In the audience, I observe plenty of foreigners dressed in trendy clothing and armed with professional camera and audio equipment, but hardly any Cubans.
This is a bit of a disappointment given MANANA's heavily publicized mission as an intercultural exchange project and the fairly even mix of Cubans vs. Euro/UK/US natives I've seen at rehearsals and side shows over the last two days. The fact is I'm just another camera-carrying white guy like the rest of the press pass-wielding culture vultures around here. I'm suddenly self-conscious and hide my press badge, using my iPhone to record instead of my DSLR in order to stick out as little as possible.
Fortunately, as afternoon turns into evening, the crowd starts to balance out with the arrival of more Cubans. An electric performance by Rumba Aché accompanied by an arresting, interpretive dance number helps heighten the tone of the event to one of engagement rather than mere removed observation of the musical performance.
Several people dressed in elaborate mythical creature costumes made out of found materials painted an iridescent black appear among the crowd, intended to be moving sculptures created by Alberto Lescay, the famed Cuban sculptor who designed the Plaza de La Revolución sculpture. These performers wander all around the festival ground for most of the three days, adding an element of dark surrealism that seems to find its way into both the music and the general tenor of the crowd.
I decide to redirect my focus to the inspiration behind the festival itself – rhythm and collaboration – rather than concentrate on the surface activity like most of the other press around here, as well as the Cuban artists playing here; specifically the ones who aren't already music blog famous.
Don't get me wrong: I'm a big fan of nearly all the UK/Euro/US musical acts filling MANANA's programming schedule, but even a quick glance around the Teatro Heredia's three stage areas that day is enough to tell me there will be plenty of other larger media outlets to tell their story.
I want to go deeper to find the perspective of the artists at MANANA who live and work in the Cuban music industry and how they are making a life of music work for them and their families. I want to find out what it is that drives them, year in and year out, to push forward with making music a career in an economy that offers little compensation for being a professional artist unless you have that rare confluence of both creative virtuosity and socio-political diplomacy.
Silvio Echevarría is one such working musician and, in yet another fortuitous encounter, I manage to find him backstage in the main theater right before the next act is about to go on. As seems to be the norm here in Santiago, Silvio is a member of multiple bands and ensembles in the city and plays batá drums with the Ballet Folklórico Del Oriente. With just minutes to go before the curtain call, I convince him to let me put my 360-camera on a microphone stand in the middle of his group: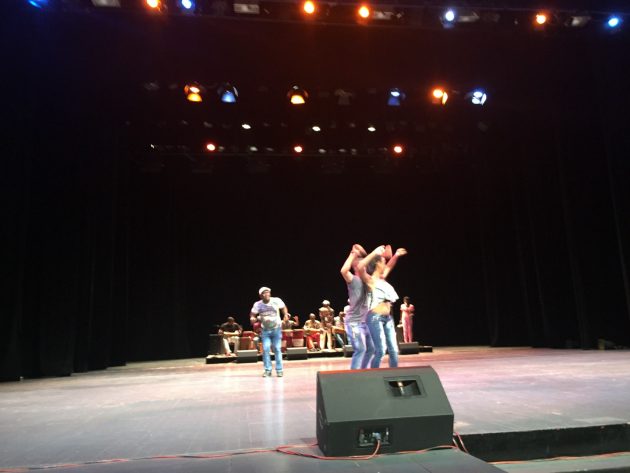 A bit later Silvio and his friend and band member from Ballet Folklórico Del Oriente, José Luis Guzman, and I all meet up to watch the Quantic show at the Pacho Alonso stage. The Cristal beer flows freely and we chat for hours into the night about working as a musician in Cuba, MANANA festival logistics, Afro-Cuban musical history and the various forms of Afro-Cuban religion found in Santiago. Perfect.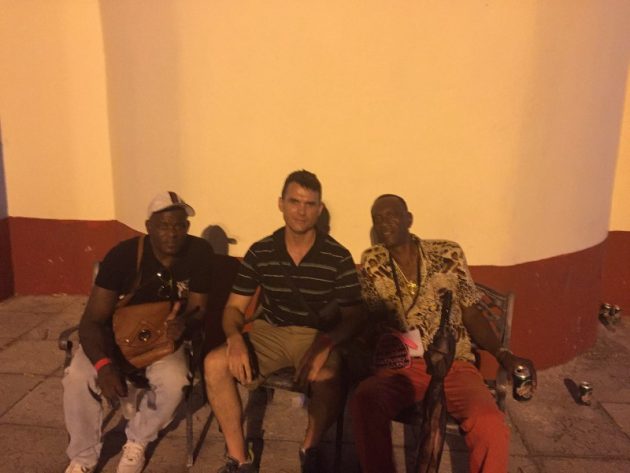 After chatting with Silvio and José for a few hours I serendipitously run into my friends Holmes and Claudia who are here from Mexico with two other friends. We watch Quantic bring his particular brand of Latin-flavored funk and soul to a great set of mid-tempo songs made from his collaborative efforts with local Santiaguero musicians in the studio the previous week. He is followed by the prodigiously talented live electronic jazz trio led by Havana-based DJ and electronic producer Wichy de Vedado — another electric performance that typifies the spirit of Manana: old-school Cuban jazz and rumba sounds mixed with live samplers and drum machines. I also run into my new friend Aaron Liddard again right before he jumps onstage with Wichy de Vedado for a guest saxophone solo, which he kills.
Afterwards we head inside to check out the Fania / Calentura party to finish out the night at Cafe Cantante. I've been rocking their recent compilation Calentura: Global Bass quite a bit in my DJ sets and have been looking forward to seeing this crew perform for a while. As we enter the nightclub / bar area of the theater, the vibes and music are all about the get down.
"Might music play a role in sexual selection? Darwin thought so. In The Descent of Man he wrote, 'I conclude that musical notes and rhythm were first acquired by the male or female progenitors of mankind for the sake of charming the opposite sex. Thus musical tones became firmly associated with some of the strongest passions an animal is capable of feeling, and are consequently used instinctively…' In seeking mates, our innate drive is to find — either consciously or unconsciously — someone who is biologically and sexually fit, someone who will provide us with children who are likely to be healthy and able to attract mates of their own. Music may indicate biological and sexual fitness, serving to attract mates."
Daniel Levitin, This is Your Brain on Music
If Darwin's position on the role of music in sexual selection is correct, it certainly would help explain the completely different musical and social scenes found in the Café Cantante vs. the main auditorium of Teatro Heredia, where all the folkloric music of MANANA was being presented. The club vibes from Fania's Calentura party are filled with sweat, sex and sidelong glances. This wasn't just due to song selection and a big club sound system hitting the crowd's pelvic region with waves of undulating bass; there were just a lot more scantily dressed women and men in the club with that hungry look in their eyes. And, while one doesn't want to make any assumptions in this day and age, it became fairly clear as the night wore on that a number of them were professionals. It's not like we don't have prostitution back in Miami, but it's all a bit more obvious here in Santiago. Sex is a physical currency and a lot of people are exchanging it for paper.
Despite a number of blatant solicitations from women, my friends and I still manage to have a great time dancing our asses off to some world-class global bass music courtesy of Canyon Cody, Jeremy Sole, Uproot Andy and Nickodemus. These guys are paving a bright future for Afro-Latin and folkloric bass and club music worldwide and it's exciting to see them here in such a completely different context that the clubs and bars of LA, New York or Miami.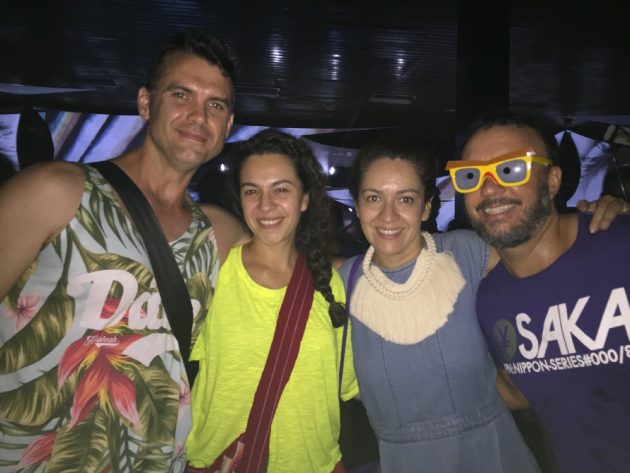 Amigos reunidos
After Calentura I'm ready to walk home and sleep.

Follow Sounds and Colours: Facebook / Twitter / Instagram / Mixcloud / Soundcloud / Bandcamp

Subscribe to the Sounds and Colours Newsletter for regular updates, news and competitions bringing the best of Latin American culture direct to your Inbox.
Share: