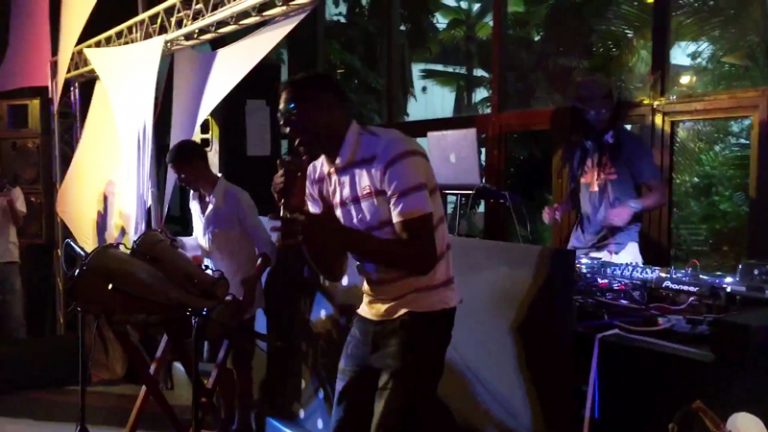 Chapter 5: MANANA Continues
26 January, 2017
Day 5, 5.5.16
I start the day by getting up late and eat more government breakfast at Casa Marmol. I had made plans with Aaron the previous night to go to the nearby Castillo de San Pedro de la Roca, but it looks like rain and I'm not much for soggy tourist activity. So I head into town to work on music and video editing until the MANANA shows start again in the afternoon.
Another Cuban musician I keep running into throughout the week was a skinny percussionist with a moustache and deep brown eyes that seemed to communicate a lifetime of devoted music practice. His name is Irán Farías-Saínz (aka El Menor). In addition to working as a full-time drummer and percussionist, he is also part of the Havana-based Guámpara Productions music collective formed by Isnay Rodriguez (aka DJ Jigüe) with whom he's collaborated in the past, and performed several times throughout the festival. Irán and I had been talking at the Casa Micaela show about playing drums and percussion with electronic music. Towards the end of the day I get him to sit down and talk about his experience with both the festival and his life as a working musician in Havana. His wisdom and perspective on how every experience can have a musical quality to it gives me deep pause about my own thinking on musical inspiration.
(NB: The interview is entirely in Spanish because translating and subtitling interview videos takes a LONG time, so apologies to the non-Spanish speakers.)
I also manage to book an interview with Iran's frequent collaborator, DJ Jigüe. In his opinion, one of the standout concerts of the festival wasn't even officially on the schedule. It was the pre-fiesta that took place on Tuesday night at Casa Micaela, which ended up being a kind of mini-MANANA festival that took place on one small stage all over the course of one night. DJ Jigüe, Yasek De Manzano, Wichy De Vedado, Golpe Seko, El Menor, and US-Based DJs Uproot Andy and Nickodemus were throwing down all manner of hip hop, global bass, MPC'd drum 'n' bass, jazz and Afro-Cuban beats. And it all worked. This show embodied exactly the type of self-starting, cross-cultural collaboration that the founders had envisioned would emerge from MANANA.
After Jigüe and Iran's hybrid performance, I was ready for some more old school acoustic music. Diogenes Y Su Changüi were playing in the main theatre space. Silvio had been telling me about the origins of changüi the previous night and I was eager to check out one of the only acts on the bill playing this style of eastern Cuban music.
" Changüí is a style of Cuban music which originated in the early 19th century in the eastern region of Guantánamo Province, specifically Baracoa. It arose in the sugar cane refineries and in the rural communities populated by slaves. Changüí combines the structure and elements of Spain's canción and the Spanish guitar with African rhythms and percussion instruments of Bantu origin. Changüí is considered a predecessor of son montuno (the ancestor of modern salsa), which has enjoyed tremendous popularity in Cuba throughout the 20th century." (en.wikipedia.org/wiki/Changüí)
One can hear the direct influence of Changüi on the hugely popular Buena Vista Social Club records from the 1990s.
Later that evening I experienced what was was easily the most audience-engaging show of the whole festival in the form a collaboration with Aché Meyi with London-based Producer/Musician/DJ brothers Henry and Oliver Keen, aka Sound Species. More than any other show I saw the entire time at MANANA, Aché Meyi and Sound Species showed the sweet spot between the realm of experimental electronic dance music and Afro-Cuban bembé.
This is about as compelling a performance as I've seen yet and it's a good way to end the day so I walk home, in the rain, and realise how fortunate I am to be where I am right now.

Follow Sounds and Colours: Facebook / Twitter / Instagram / Mixcloud / Soundcloud / Bandcamp

Subscribe to the Sounds and Colours Newsletter for regular updates, news and competitions bringing the best of Latin American culture direct to your Inbox.
Share: