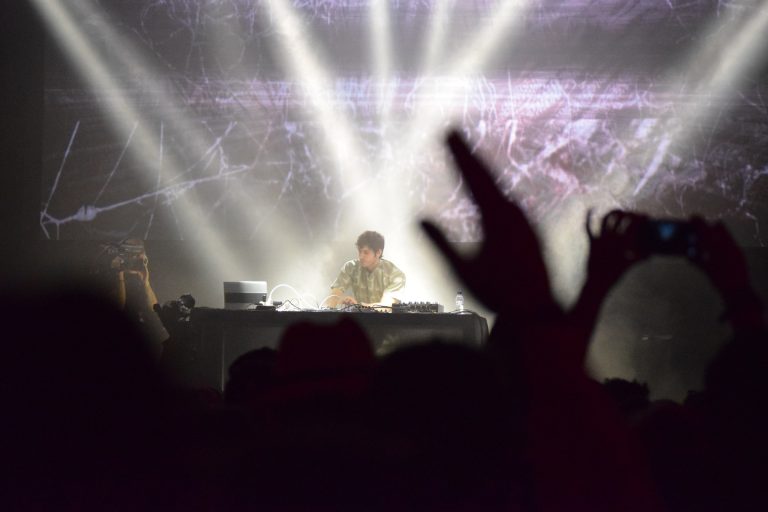 Charlie Bailey
We're Living in a Nice Moment, Exposing Something Sincere and Unique: A Conversation with Nicola Cruz
31 October, 2016
Ecuador's folklore futurist, Nicola Cruz is in the middle of a tour taking in Europe and Latin America. Back in June, at Sonar Barcelona 2016, Sounds and Colours caught a moment to chat about the people and places that inspire him, Latin American electronica's rise, and what the world can learn from folk culture.
—
What have the reactions to your sound been like from European audiences?
Well, so far so good! It's always interesting to show my music all around. I think also, we are in an interesting period where people accept this music: the identity with roots and origins.
It seems like roots and cultural identity are strong influences on your work. Where are those roots for you?
Yeah I was born in France, I lived there for three years then I moved back to Ecuador – my parents are Ecuadorian – living in countries like that, you know, in South America you are really exposed to folklore all around: on the radio, when you walk around the city.
Of course, these are my main influences, to tell stories from the place, to tell stories from the coast, or the mountains, and use those types of colours. It just happened naturally.
Was music a big part of your childhood in these places?
Always, especially percussion. I always played percussion, and the world of rhythm, then I moved to sound design and studying acoustics and it just made sense to compose folklore and electronic music.
What kind of records were playing in your house when your were a kid?
[Laughs] I hate this question, cause there's so many things I could say. Marimba music I guess, music from the Pacific. Latin music, I've always been into it, it's very rhythmic.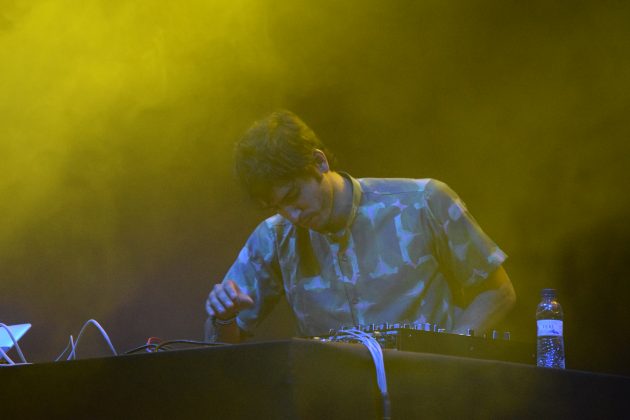 Those rhythmic elements of Latin electronica is what really appealed to me when I discovered this music, especially the connection between rhythm and psychedelia that artists are experimenting with in scenes around Latin America. Why do you think there is such an interest in these particular musical aspects in the continent?
Well, I would say it's the jungle [laughs]. You know, the jungle in essence is extremely psychedelic. The repetition. The repetition of greens, in the colours of the animals. I don't live in the jungle myself but having the Amazon there is such an inspiration, having such a huge natural forest across the continent.
Given you don't live in the forests, what other landscapes inspire you?
Quito, where I live, is really interesting because, first of all, we are at 2,800 metres above sea level and it's really geographically irregular, you know? You travel around it and you always end up going up and down hills, you have these beautiful landscapes of huge mountains and volcanos.
I was really impressed with your version on the Luzmila Carpio compilation that was released by ZZK. They seem to be doing a great job bringing together artists from around the region. Do you feel a sense of community with other Latin electronica and modern folklore artists when you go abroad to Europe?
Yeah, like, Chancha Via Circuito or El Búho, SidiRum or Barrio Lindo, Matanza. We all know each other, we've all played together a couple of times. It's always nice to meet, wherever we can. The Luzmila thing, Luzmila's from Bolivia so she has this amazing type of folkloric music – Bolivia's one of the most representative countries in Andean music – so it was really nice to do this reinterpretation of her work. I felt really honoured.
What do you think has made it possible at this moment in history for this music to travel internationally?
Well, I'm also trying to find that out! [laugh] I feel it's a moment when people are recognising their origins, their roots. In a way that's what Prender el Alma [Nicola's 2015 release] speaks about: having this wider consciousness of where we come from. I feel we're living in a nice moment, exposing something sincere and unique. I see that not only in South America, but also with folklore all around the world.
The collaboration you did with Huaira for the single from Prender, "Colibria" was really interesting. Who would you love to work with in the future?
There's lots of people I'd like to work with, for example Quantic. I really like his work. He's actually from England but he's a genius how he understands Latin music, being from another place. That's another example of how music is a universal language. You don't need to speak French or German, or English or Spanish to communicate through music, it's this one universal thing.
The music videos for your work are particularly impressive. How important are visuals to you and your work?
Part of conceptualising an album or certain songs is creating this circle: music and visuals. For example in the "Colibria" video I worked with a friend of mine called Camila Coba. He's a really good director who specialises in photography, which you can see throughout the video, the frames are really special. I remember we thought it through a lot. We did this nice pre-work, then we shot in this jungle an hour away from Quito. It was very special, and now every time I see it I see something new that we did.
Your work seem to be very much representing the highlands, the mountains, like a painting with sound. Are there any film-makers who inspired you with a similar sensibility?
Cinema has always been an influence for me. I can't think of any names right now, I would say mostly documentaries. [I suggest his music would be perfect for Baraka by Ron Fricke] [Laughs] That would be great, I'm a huge fan of Philip Glass. I don't know if my music is for that situation. However I do feel my work is cinematic, whenever I begin a song I have this pre-image I would like to introduce sound to, so this visual aspect I talked about is always hand-in-hand with the music.
Finally, away from music, what have you been reading recently that really resonated with you?
I finished reading the Tibetan Book of the Dead last year. It's a very complex book but it has this approach to death that meant a lot of people had recommended it to me. While I was travelling I decided to start reading it.
It makes me think a lot about the last period, when death is approaching, and how to take it. I feel we're not nearly there, but for example when I speak with my grandfather I feel he's closer. I see the relationship between the book and him as natural.
Is it this spiritual component which folklore speaks about that's missing from everyday life?
I don't know about missing, because who's to say what's missing from someone's life? More than spirituality, it's a bigger consciousness that's needed, like awareness in lots of daily stuff. Where I come from they like to explode natural resources, lately they just want to completely destroy it. This is the kind of awareness that's missing, that there's a point where there's no going back with our effects on the places we live or the people who live there.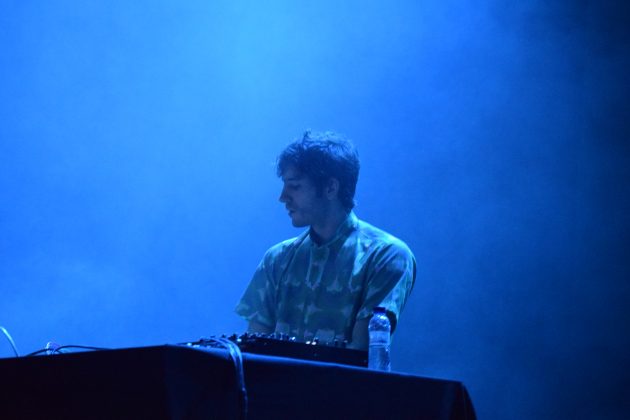 Follow Sounds and Colours: Facebook / Twitter / Instagram / Mixcloud / Soundcloud / Bandcamp

Subscribe to the Sounds and Colours Newsletter for regular updates, news and competitions bringing the best of Latin American culture direct to your Inbox.
Share: