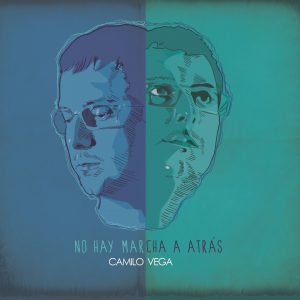 Review
Camilo Vega – No Hay Marcha A Atrás
Camilo Vega has been around for a while, but somehow we had missed him. The sociologist turned singer/songwriter had been touring around Perú as part of his day job. Yet, as he tells us in his autobiography, he wanted to use his talents to create awareness about the issues of the world through art. That's how his third record, No Hay Marcha A Atrás, was born: a mix of pop songs that tastes more like protest anthems than anything. Nonetheless, it gets a little bit more complex, as Vega uses his music to talk about a wide range of subject matter from debunking unfair standards of beauty to the damaging arbitrariness of geographical borders.
No Hay Marcha A Atrás took me by surprise, specifically by the subtlety in the way he treats his music and the themes in his record. The album begins with the uplifting and harmonious "Bonita", where Vega underscores the Peruvian charango with an acoustic guitar and an almost march-like drumbeat. The playfulness of the music complements perfectly Vegas' lyrics, which promote acceptance, self love and pride in Andean heritage. "Bonita, si dos seres han de amarse / Debería ser desnudos y sincerarse / ¿Para qué tantos escudos si abrirás tu corazón?", sings Vega. In contemporary pop music, self-acceptance anthems are a dime a dozen. Nonetheless, "Bonita" is the first one I've heard in a while that feels more like an honest conversation than an in-your-face war chant.
This sets the tone for the rest of the album, in terms of both lyrics and music. Vega makes sure to use everything that surrounds him to the maximum, featuring prominent instruments and rhythms native to the Andean region. He also mixes in tango-like violins and Spanish guitars in a song like "INJUS", using the intensity of the genre to complement talk about such serious matters as the failures of the Peruvian justice system and the social inequality. This song ends the first section of the 12 track record and is followed by the acoustic interlude "Sensación", providing balance to an otherwise charged album.
In the following songs, Vega gradually adds additional instruments to tracks like "Normal" and "Nudo", where you can hear more electric guitars, synthesizers and even a cabaret piano. The music also grows more intense, moving to faster tempos and frequent time changes within the same song. It kind of reminds me of the way South American rock sounded in the 90s, with a big push from the Argentinean rock nacional scene. It helps that Vega's voice, while consistent, is pretty versatile in terms of range.
"Todo el tiempo temo … y todo el tiempo me digo: 'No hay marcha atrás" [I fear all the time … and I always say to myself: "There's no turning back"], writes Vega about the record. As you listen to the complete album, this statement rings true in every song. No Hay Marcha A Atrás is full of deceptively sweet melodies that, at a closer listen, reveal how observant Vega is about the world that surrounds him and how preoccupied he is with it. His words feel urgent while avoiding condescension. But perhaps more importantly is the fact that, for all of the critique Vega delivers, the album offers a hopeful look at the future of Peruvians and South Americans in general.
You can buy No Hay Marcha a Atrás from iTunes

Follow Sounds and Colours: Facebook / Twitter / Instagram / Mixcloud / Soundcloud / Bandcamp

Subscribe to the Sounds and Colours Newsletter for regular updates, news and competitions bringing the best of Latin American culture direct to your Inbox.
Share: