Review
El Sonido De Tupac Amaru
I would never have believed it if six years ago somebody told me that Peruvian psychedelic cumbia, also known as chicha, would become somewhat hip amongst white people in the northern hemisphere, and that luxurious vinyl reissues would be pressed in Europe and the US, giving this obscure type of music the kind of exposure it never got in its own time.
But that's exactly what has happened and now we have not one but three record labels competing to release for the first time outside Peru many of these songs, recorded three or four decades ago by artists who were even forgotten back in their hometowns… and gringos love it!
After Barbés (out of New York) and Vampi Soul (out of Spain) covered pretty much all the classics and standards of the genre in their respective compilations, Masstropicas (based in Massachusetts) entered the chicha race with the intention of exploring the lesser known players who contributed to the development of this genre. Last year they did a great job with Ranil's Jungle Party, a restrospective of pioneer chicha composer Ranil's career. Now Masstropicas drops their most ambitious project to date, a compilation LP with a 7" EP companion, to be released together on May 10th.
El Sonido de Tupac Amaru includes only one track by Los Destellos, one of the biggest names in chicha history (if not the biggest) and the rest are mostly obscure bands with strange culinary names like La Mermelada ("the marmalade"), Grupo Naranja ("orange group") and Grupo Guinda ("cherry group") and other names even less witty (but retroactively hilarious) like Grupo Fiesta (party group)!
True, these guys were not particularly clever when coming up with band names. Keep in mind most of them were from extremely poor and undereducated backgrounds, living in small towns far away from Lima's urban center. And that's also reflected in their lyrics. Fortunately, there's a huge amount of instrumental-only chicha where the focus is on the surf guitar and percussion, but those are mostly from the late '60s and early '70s era and were vastly covered by Barbés and Vampi Soul comps already. El Sonido de Tupac Amaru instead focuses on a trend that became dominant in the late '70s and early '80s when chicha started to incorporate pop-format corny love songs (the word "cariño" is the most recurrent in this compilation's list of titles) and that's exactly the style of cumbia that permeated into neighbour Argentina during the following decade and ended up becoming massive.
Still, there are some some great up-beat dance tunes in here and a handful of impeccable percussion breaks that tropical funk DJ's won't wanna miss: "Sueño Amazónico" by Los Silvers and "De La Selva con Furor" by Séptima Región. As a DJ myself I would've like to have these tracks on the 7" companion EP but instead it all revolves around the career of another unsung hero of chicha called Carlos Centeno, a vocalist known mainly for the classic "La Colegiala," but here we have him doing some lesser known songs.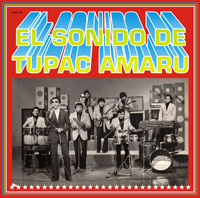 The album comes with complete liner notes and plenty of memorable pictures on the insert, making it a must have collectible for any cumbia fan or retro-Latin digger.
Album: El Sonido De Tupac Amaru
Artist: Various Artists
Label: Masstropicas
Release: May 10th 2011
You can buy El Sonido de Tupac Amaru from Light in the Attic Records.

Follow Sounds and Colours: Facebook / Twitter / Instagram / Mixcloud / Soundcloud / Bandcamp

Subscribe to the Sounds and Colours Newsletter for regular updates, news and competitions bringing the best of Latin American culture direct to your Inbox.
Share: