Review
Grupo 2000 – El Destape
Following in the footsteps of the Peruvian chicha revival, Massachusetts based Masstrópicas have dusted off the master tapes and re-released one of the genre's previously overlooked classics, Grupo 2000's El Destape. First released in 1974, the band's début LP went on to become a much sought after collectors item for chicha aficionados but remained unknown outside of Peru, until now.
In the late 60s and early 70s a wave of so-called música selvática (jungle music) emerged from Peru's Amazonian region. Led by groups like Juaneco y su Combo and Los Mirlos, this brand of Peruvian cumbia or 'chicha' fused Amazonian melodies and symbolism with Colombian cumbia rhythms, surf-rock and electric instrumentation. With the release of El Destape, Grupo 2000, who originated in the Amazonian outpost of Tarapoto, put their own stamp on the ever-evolving chicha amazónica.
At the heart of the album is Tulio Trigoso's guitar playing, apparently inspired by Los Destellos' guitarist Enrique Delgado and guitar-hero Santana, and his skilful musical arrangements. "Sombra Verde" is an indulgent wah-filled tropical Santana ballad while his melodious playing over the traditional rhythm of "El Ventisho" is as close as we get to the band's Amazonian roots. In many respects this LP contains identifiable chicha characteristics: driving güiro-led percussion, melodic guitar solos, electric organ, a well-used wah pedal and the occasional shout of "ey! ey!ey!". Indeed, instrumental tracks such as "El Viajero de Ruta" and "El Mundialito" would not seem out of place next to Los Destellos on the comprehensive Roots of Chicha compilations released by Barbés Records.
However, on El Destape, which roughly translates as 'The Uncovering', Grupo 2000 found their own sound, incorporating a myriad of influences and pushing the genre in new directions. The vocal led "El Tinajón" and "El Destape a los 2000" invoke Cuban son and even salsa, while "Notas de Colores" departs into psychedelic rock territory. Meanwhile, the presence of live brass instrumentation throughout is a break from the norm of Peruvian cumbia. The album is symptomatic of chicha itself: a meeting point between different musical traditions. The genre brought together local rhythms and traditions with global influences: Amazonian melodies with cumbia rhythms or psychedelic guitars with huayno vocals. On El Destape, Grupo 2000, and in particular, Tulio Trigoso, incorporated their own influences and took the sound into new territory. This perhaps explains why the album is considered as a timeless classic and why Trigoso, who continues to play aged 66, is now considered as one of Peru's finest songwriters and guitarists.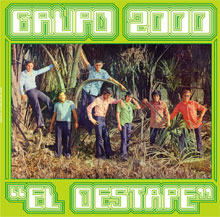 With the 're-discovery' of a genre or a movement there is always the risk of over-indulgence, a sudden need to release everything and anything which can often lead to mediocrity. Going by their releases thus far, Masstrópicas are avoiding this pitfall, carefully selecting music which offer something innovative and previously unheard. Grupo 2000's El Destape is exactly this, a breath of fresh air in the chicha back-catalogue and an album that really merits this re-release in all its vinyl glory.
El Destape is available both digitally and on vinyl from Light In The Attic Records.

Follow Sounds and Colours: Facebook / Twitter / Instagram / Mixcloud / Soundcloud / Bandcamp

Subscribe to the Sounds and Colours Newsletter for regular updates, news and competitions bringing the best of Latin American culture direct to your Inbox.
Share: