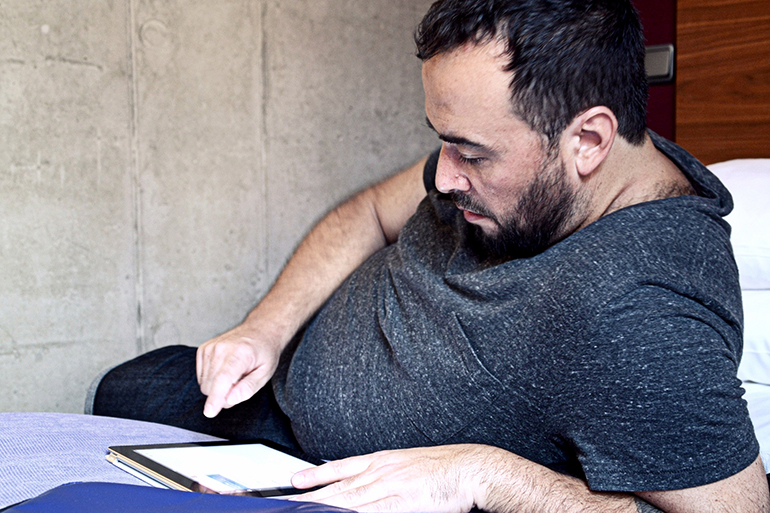 Natàlia Martin
100% Bittersweet: An Interview with Fernando Lagreca
08 December, 2014
When it comes to electronic music, creating atmospheres instead of plain old dance tracks is one tricky business that not everyone gets right. English, French and German electronic musicians like Autechre, Air and Ulrich Schnauss have mastered this art to the core, and after a couple of very successful attempts, Uruguayan producer Fernando Lagreca can proudly walk amongst them. Lagreca is a man who thrives on binaries; there's rarely a middle ground in his music. His lighter and airier efforts like Childhood Is All We Have and Cool Hunter are no match for the dark and weighty quality of his new album Control, which features his signature synth-heavy sound but with a deeper focus on the energy of the dancefloor. It's not just any dancefloor that inspires, but one with a very specific energy that only comes with those beats coming out of the speakers before the crack of dawn.
Control is reminiscent of the best of the new wave and chill wave scenes. The vocals are distorted, echoed and sometimes muted, but no less important. The beats, the tempos and the slow build ups are a force to be reckoned with, a way for Lagreca to control the mood of his listeners. It's an intense album, and that's why I wanted to talk to Lagreca to find out more about the inspiration behind Control, finding his place within Barcelona, the newest electronic music hub, and his future plans.
Sounds and Colours: A lot of South American electronic musicians have migrated to Barcelona in the last 15 years or so. What about the city attracts producers and DJ's? How do you see yourself within the Barcelona scene and how does it compare to the Uruguayan electronic music scene?
Fernando Lagreca: You're totally right. I know a lot of people, all of them related with artistic disciplines, that have migrated to several places, and one of them is of course Barcelona. I think the city offered in that time (I am speaking around 1998-2000) a lot of possibilities for artists, an open-mindedness and lots of resources. There was a mood in which [you could be] creative.
When I arrived, it cost me a lot to win space in the scene because I found out it was really closed. I started to play just after I landed, but that was because I made some contacts before leaving Uruguay. Now, I've found my own space in the scene and I try to network and make good contacts every day. This is a long term career for me. Compared with the electronic scene that I left behind in Uruguay (I migrated at the end of 2002) the Barcelona scene has more venues, more promoters; it is more professional in a lot of ways. Here there is some music industry (not as established as in Berlin, London or Amsterdam, just to name a few) but in Uruguay there was almost no music industry. However, I've visited Uruguay several times since I've established myself in Spain and I've seen how the electronic scene is growing. Every day the audience is more interested in adopting the electronic sound.
S&C: Your new album can be seen both as a continuation and as a departure from your other works. It's more pop oriented, but it's also darker, whereas Cool Hunter, for example, was a bit more airy, atmospheric. What was your inspiration for Control?
FL: Well, even though the albums are different, I still am the same person and yes, this new album has elements of continuity and elements of departure [with my other work]. It is more synthetic maybe than Cool Hunter (Ginotonico, 2010), and colder than Childhood Is All We Have (Irregular, 2012), and of course totally different regarding my more ambient-ish oriented ones (i.e. Nadador or Colpi di Sole, both for Autoplate). My inspiration is the life I am living day by day. That life is 100% bittersweet, so I produced an album 100% bittersweet as well.
S&C: How did you come up with the concept of the album? Why Control?
FL: Control is a word that I like so much, but I like it because of its form and not because of its meaning. Actually, I do not like control at all when stated as a concept, as a manner of living or acting. To be honest, I hate any way of control (I wrote a song which explain this!). So, I named the album that way because I considered it attractive to play with this concept of love and hate, another bittersweet binomial. I like binomials so much, so I though it would be a good name. Also, it [stands] opposite to my last album, which had quite long name. Control, which is a single word, is perfect.
S&C: The vocals on the album are buried within the layers of sound. How important are vocals for your music? What themes do you like to write about?
FL: Vocals are very important for my songs. I started with vocoders in 2005-06, and since then I've always found some way to included vocals on my tracks. This time I used several techniques to treat them: sampling, re-sampling, effecting, overdubbing, synthetic voices, vocoders, beatboxing, etc. I treat the vocals in a different way depending on the song, and I considered them as an instrument.
I am not a singer in the most classical way. I am just a producer using his voice to
complete the experiment. There are, however, some songs in which I sing more 'normally'; in which I wrote lyrics to do that. For those songs ("Way of Control", "Loved", "Quiet Lake") basically I wrote about love and life, and also about emotions.
S&C: In what direction do you want your sound to go in the next few years, if you have any idea?
FL: I suppose I could meet myself half-way between some kind of slow-house and pop, but my tendency now is to get back to tracks oriented to styles that warm up the dance floor. Now it is perfectly normal to hear good indie-electronic tracks in warm up slots in several clubs, from slo-mo house hits to indie-pop tech remixes, and from 105 to 115 BPM. It is also very normal to get some good techno artists playing at 125 BPM, when several years ago the standard for techno was never less than 135-140. So, I think the next few years could be interesting for me in that sense; to turn to producing some dance-floor tracks again.
S&C: You've been known to create a very unique live experience, when it comes to presenting your music. Can you describe to us what elements distinguish your live show? Why did you decide to use organic instruments?
FL: I used to play as a laptop live act when I migrated from Uruguay to Barcelona in 2002. Only a few musicians played with laptops in those years. It became practice for me because I had almost no hardware equipment, since I sold most of my 90's stuff when I migrated. So, for me, it was okay to play with a laptop and a controller. When I landed in Spain, soon I felt the need to include some real machines and I started with a sampler, a groovebox and a laptop.
But, by 2004, I was quite bored seeing two guys playing only with computers (there was a lot of musicians playing even without a proper sound card, neither keyboard nor controllers, just the laptop) and you did not know if they were sending emails or playing music. So, I decided to leave the computers out of the live show and started to mount my sets with hardware only. That was not easy because those days, the sampler's memory was limited and you had to carry a lot of equipment. So, when travelling, I still used a laptop and small synths. But finally in 2006-07, I started to use only real instruments, synths, guitar, effects, samplers, etc. I prefer to make some rock and roll on stage!
S&C: There's been a recent electronic music boom in Latin America, mostly on the fusions front: electronic music with X-tropical genres or folkloric music. What do you think about this? How do you see yourself inside the South American scene and where do you think it's headed, in your opinion?
FL: I knew about a couple of projects related to fusions with cumbia (Doma Tornados), and also with folkloric (Diosque), and I also know there is a huge movement in that sense in Colombia. I suppose also in Brazil there is a lot of fusion. I do not forget about Nortec Collective in late 90s and beginning of 2000 that was a very important movement making also fusion, even though not exactly with tropical music. Nowadays, I could name a couple of Latin American proposals that I find interesting: Gustavo Lamas and Altocamet from Argentina; Hernan Gonzalez (Cooptrol) and Tinitus from Uruguay; Cafe Preto and Bruno Pedrosa from Brazil.
I do not see myself inside the scene because I do not live there or participate in their events. Every time I go to Montevideo to play, there is a lot of people, fans, etc., that attend my shows and make me feel really comfortable with that, but I think I am just another artist, nothing special for them. Fortunately, I have a lot of friends and fans that follow my steps so I am very happy with that, but not because I belong to their scene. Going back to the South American scene, I think there is a lot of possibilities there in terms of producers, labels, etc. It is a rising scene with many people making big things, so I expect a good future for them.
S&C: What's next for Fernando Lagreca?
FL: I am planning two releases for 2015 in tech-house oriented labels. There is also a couple of remixes on the horizon as well as gigging a lot and presenting this new album. I hope I can visit Latin America soon. I played several times in Mexico City and I would like to repeat; and of course Montevideo and Buenos Aires, and if possible, also Brazil.
Control is available from Irregular.
Listen to the album below:
[soundcloud url="https://api.soundcloud.com/playlists/51057341″ params="auto_play=false&hide_related=false&show_comments=true&show_user=true&show_reposts=false&visual=true" width="100%" height="450″ iframe="true" /]

Follow Sounds and Colours: Facebook / Twitter / Instagram / Mixcloud / Soundcloud / Bandcamp

Subscribe to the Sounds and Colours Newsletter for regular updates, news and competitions bringing the best of Latin American culture direct to your Inbox.
Share: