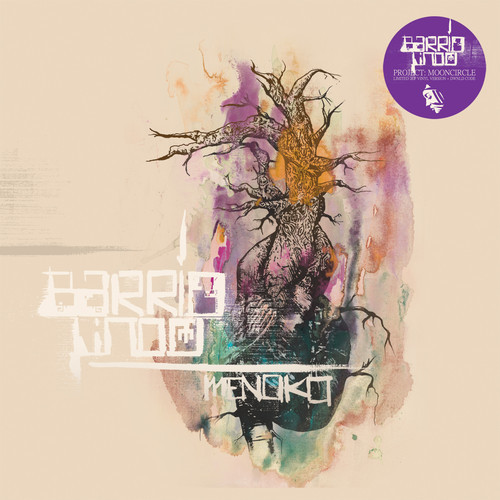 A Glimpse into Barrio Lindo's Sacred Spaces
06 May, 2014
I have to admit it took me a few listens to understand what Barrio Lindo a.k.a Agustín Rivaldo was trying to communicate in his debut album Menoko. The rhythms are familiar; minimal electronic music meets the sounds of the Argentinean (and South American) land, a path treaded before by ZZK star Chancha via Circuito. He's a frequent collaborator of Rivaldo's, yet the comparison feels too lazy, too immediate and too conclusive. It would take away a bit of merit from what Barrio Lindo has accomplished with Menoko: music that thrives in its subtleties and slow build-ups, with surprising sonic textures where bombastic and dance-floor ready jams are the law of the land. Welcome to Barrio Lindo's world.
Rivaldo's biography is well known: an Argentinean with a half-Colombian, half-Argentine father, who moved to Colombia to educate himself about the country's traditional music and folklore. He's been producing electronica for a while, but it feels like Menoko is the ultimate statement to honour that experience; a concept album of sorts. It should come as no surprise that the record feels like a trip into uncharted territory, as the word menoko comes from the Mapuche. It means sacred places. Starting with "Balseros" and climaxing with the lead single "Garza Bruja", Rivaldo intersperses tribal chants and the sounds of the forest with pulsing electronic beats meant to soundtrack a journey. The slow build-up of the first half of the album (which features the excellent Chancha via Circuito collaboration "La Cueva") could be akin to storytelling, evoking the natural, the organic… the perfect storm that is wild nature.
The album also features a pop sensibility almost unheard of in folktronica until now. On tracks like "El Aire", cumbia rhythms and synths dominate, but on "Libre" Rivaldo keeps the cumbia at bay in order to favour other instruments like the flute and the charango. What makes the track so enthralling is the sample that precedes the percussion and the synth line: a little girl telling a story about freedom. He changes his tune on "Afuera" to make an excellent ambient recording. But what really surprised me about the album is the fact that it is almost exclusively driven by percussion. Yes, the cumbia is there, but there are also other types of drumming influenced by the African ancestry of the region.
Those hard-driving, heartbeat-altering drums are what drive the point home on the second half of the record, divided by Barrio Lindo and Chancha's dark "La Cueva". Rather than introspection and the illusion of slow movement, "Visión", "Garza Bruja" and "Yaguareté Abá" inspire dancing; the kind of dancing that lifts you up and keeps you hopeful. That division is what makes Rivaldo's endeavour stand out: he gives you space for dancing and space for thinking.
Menoko is a beast of a record that requires time to work itself into your heart. Once it does, it makes you part of an incredible journey through time and space. But beware, by the time it takes you in, it won't be Rivaldo's journey you'll be going on, it'll be your own.
[soundcloud url="https://api.soundcloud.com/playlists/6961779″ params="auto_play=false&hide_related=false&visual=true" width="100%" height="450″ iframe="true" /]

Follow Sounds and Colours: Facebook / Twitter / Instagram / Mixcloud / Soundcloud / Bandcamp

Subscribe to the Sounds and Colours Newsletter for regular updates, news and competitions bringing the best of Latin American culture direct to your Inbox.
Share: