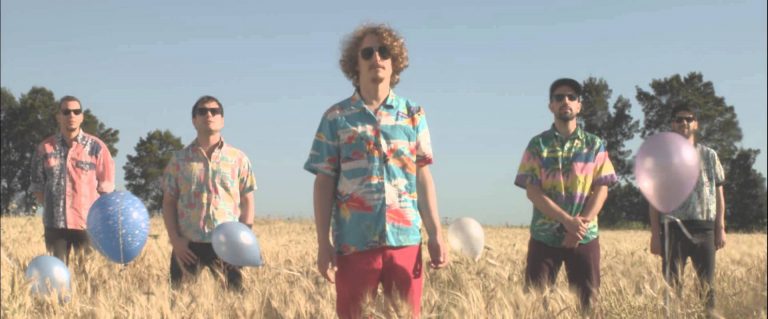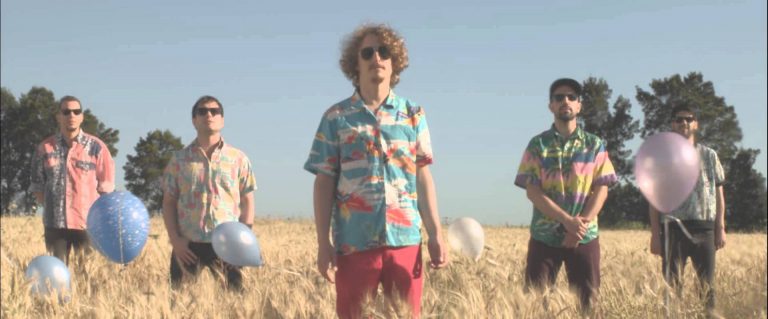 Como Animales: A Deeper Look Into Sante Les Amis' Latest Album
31 July, 2018
For more than a decade now, Montevideo-based outfit Sante Les Amis have been working their way up into becoming one of Uruguay's most colourful and exciting acts. Back in 2012, the band released their debut album Sudamericana: a catchy and danceable collection of tracks, featuring the FIFA 15-featured, dance-punk/electronic anthem "Brasil". A couple of years later, the album was also the object of a remixes re-edition, which included stellar contributions from fellow Uruguayan artists such as La Teja Pride and the Argentines Onda Vaga.
Four years after Sudamericana located them in the radar of Latin American music fans, Santé Les Amis are back with their sophomore LP Sueño Animal. The album was released via Nacional Records a few months ago, and the band is currently preparing a series of live shows across various countries to support the album. We briefly spoke to frontman Diego Traverso about this fresh release.
How did Sueño Animal come to be, and how does it differ from your previous material?
We're really happy with Sueño Animal. It's a record that took a long while to be written and recorded. About two years or more. In musical terms we're basically still moving across the same roads we did during the past couple of albums. We're still looking for a current and modern rock sound that gathers elements of electronic music, new wave and indie rock. Probably the only thing that's changed is the fact that this is more of a pop album. It's filled with more concrete and particular songs. It's also 100% sung in Spanish. We used to write in Spanish and English, so this record will probably feel like a closer experience to our Latin American audience.
The first single is called "Como Animales". In Uruguay it was released back in November of '17, and then again on Nacional Records towards the beginning of this year. We chose it as the first release because we found it to be a sort of bridge between our last record Sudamericana and the new one. As for the song itself, just as it is suggested in the song's title, it's an invitation to follow our animalistic instincts instead of relying so much on reason and technology.
What about the song's video?
The video was produced by Oriental Films in Uruguay and directed by Marcelo De Los Santos. The story takes place in the Uruguayan coast, and it revolves around the relationships of three teenagers. It definitely projects this sort of youthful effervescence, and we aimed for it to be closely related to the album's main concept. On the other hand the most recent single, "A Quemarropa", has a much calmer vibe than "Como Animales", which is way groovier.
You're definitely one of Uruguay's most promising acts. What's the current state of the music scene in Montevideo?
We wish! (laughs). I'd say we're still relatively unknown here in Uruguay. There are a lot of bands that are way more renowned here who have been working for quite a while now. The thing is, Uruguay is a very particular country with an extremely diverse music scene. People often ask me what it is with young Uruguayans. They wonder if it's something weird they're putting in the water in order to harvest so many creative people (laughs). We live in a country with a very small population, and yet there is an incredible number of artistic projects coming out every year. It's as if the dream life of young people here nowadays is either being an artist or a soccer player.
Why is that?
It probably has something to do with our education and the fact that we're a country of immigrants which is also very open and happens to share a border with Brazil, which is an enormously rich country in cultural terms.
What does Montevideo's scene look like in terms of musical styles and genres?
Historically there's been a very solid hip hop scene in Montevideo. You have projects such as La Teja Pride, who've been doing their thing for about 10 years now, and then you have some really nice contemporary artists like Eli Almic and Los Buenos Modales. DOSTRESCINCO is definitely another key figure for Uruguayan hip hop. There are also a decent amount of classic rock bands such as Buenos Muchachos, who have been working for around 20 years now. There's Hablan por la Espalda, a more contemporary band which fuses elements of rock and candombe. Finally you have the more mainstream and international acts like No Te Va Gustar, La Vela Puerca and obviously, El Cuarteto de Nos, who we're constantly in touch with since Santiago Marrero plays keyboards in both El Cuarteto and Sante Les Amis.
Tell us a bit more about your work with Juan Campodónico, who is currently one of Uruguay's most renowned musicians/producers.
Since Uruguay is such a small country, it was fairly easy to reach him. We've actually known him for years now. Juan asked us to do a remix for "Cumbio", a track from his band Campo. Also, our guitarist Nicolás Demczylo works at Juan's studio.
How has the consumption of Latin American music among English-speaking audiences evolved during the last few years?
It's pretty interesting to see North American audiences becoming more interested in what goes on in Latin America. People nowadays are way more curious about what's going on here, and realizing that not everything is reggaetón, Shakira, Calle 13 and Ricky Martin. There's a lot of stuff going on, and what's happening here in Rio de la Plata is not the same as what's going on in Colombia or Brazil. What I would like to see is Latin American artists breaking the barriers that you sometimes see in the mainstream. It's true that Shakira became huge in the North American and European markets, but she had to start singing in English, get a record deal with a major label, and so on. I think the new Latin American generations are now digging in way deeper into their roots, and if you add the internet into the mix, you start to see those barriers being broken.
Sueño Animal is out now via Nacional Records. You can listen to the entire album below:

Follow Sounds and Colours: Facebook / Twitter / Instagram / Mixcloud / Soundcloud / Bandcamp

Subscribe to the Sounds and Colours Newsletter for regular updates, news and competitions bringing the best of Latin American culture direct to your Inbox.
Share: