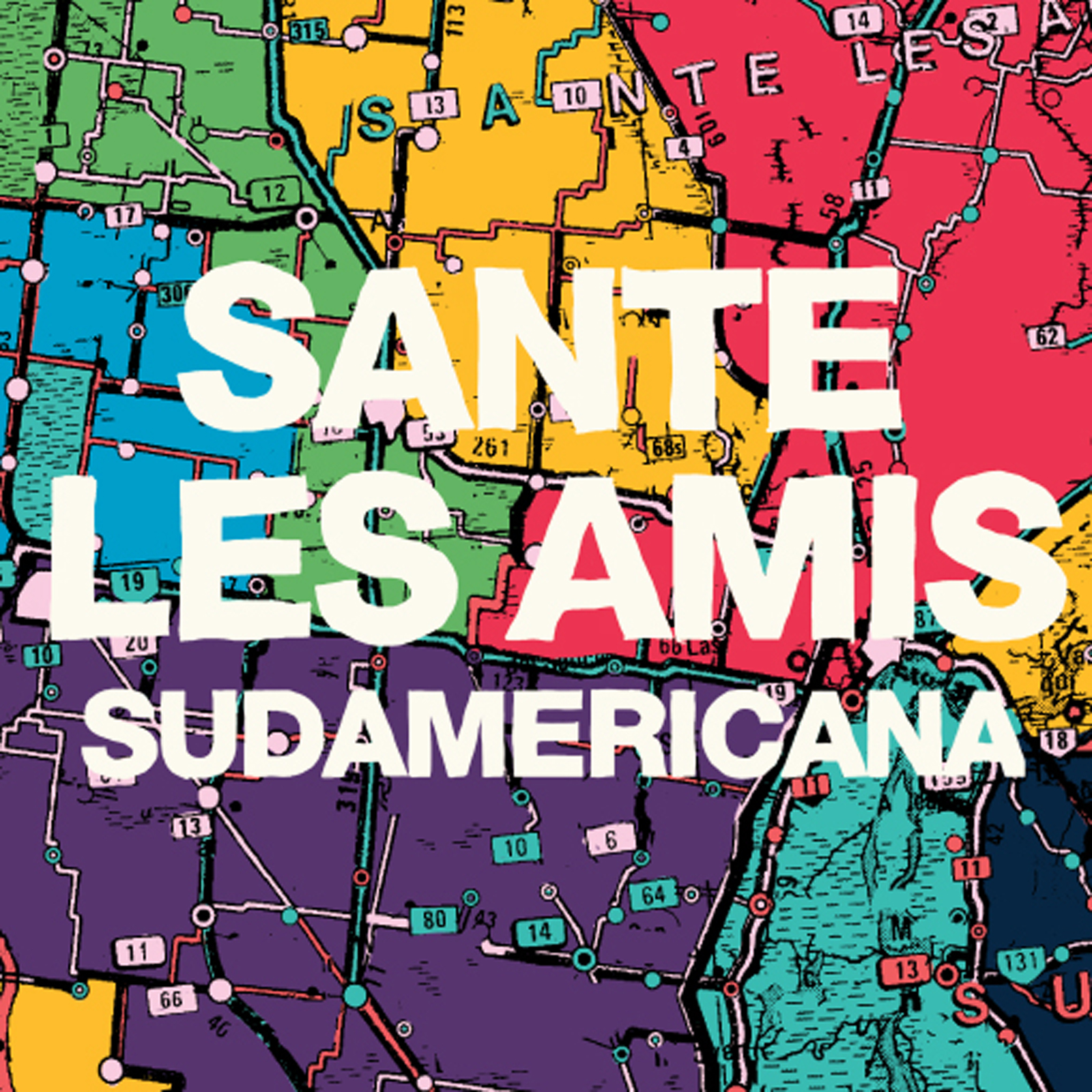 During the last five years, Uruguayan dance punk darlings Sante Les Amis released two promising EP's, Sante Les Amis and Morning Shine, garnering critical acclaim in their homeland and even becoming remixers for Juan Campodónico's latest project, Campo. After two years of silence, the band unleashed upon us the full fury of Sudamericana: an eleven track record where the band demonstrates, not only their knowledge of the new wave/disco punk canon, but their ability to stray beyond their influences to create a sound both fresh and unique in South American rock.
While their first two efforts were strong enough to pull them into the spotlight, they mostly leaned towards a weaker version of the twenty-first century new wave and dance rock pioneered by the London and New York scenes (see The Rapture, LCD Soundsystem, Franz Ferdinand, et.al.). On Sudamericana, the band demonstrates a stronger identity and a more cohesive sound, made unique by Diego Traverso's deep, melancholic vocals and their crafty use of pop harmonies and dark synth lines. While Sante Les Amis' lyrics have always been cryptic at best, this doesn't hamper the fact that they manage to consistently create great, catchy, dancefloor ready tracks. A testament to this is their first single, "Brasil". Driven by a funk bass line, the song suddenly transforms into a disco jam that is surprisingly tropical in its approach. If they're taking a page from Campodónico's sub-tropical genre, they've done it right. Bring on some more cowbells, please.
The tropical route doesn't last very long though; throughout the record SLA return to their dark, synth pop sound, specifically in tracks like "Robot", "El Rayo, El Trueno y El Silbido" (Lightning, Thunder and the Whistle), and "She Gets Me Excited". Even though this is their trademark sound, one of the best moments on the record comes in the form of a hardcore, dance-punk anthem: "Huracán". In the beginning the song masquerades as just another synth rock track, but manic tempo changes and insane chord progressions make "Huracán" an urgent journey through passion of epic proportions. Indeed, the lyrics are about visions of lust and subsequent frustrations.
In contrast, tracks like "El Ultimo Verano" (The Last Summer) and "The Road" offer a chilled, more mature side to SLA. The latter, along with "Huracán", is one of the best tracks on the record, where the band demonstrate their lyrical chops and Traverso gets to show off his vocal range with some mean harmonies that complement the song's fatal aura. That is also one of a handful of songs in English, as Sudamericana also features songs in Spanish and French. It's interesting to hear them in all three languages, as each tongue gives a different personality to the band. Although, I should note that SLA shine brighter in their mother tongue.
That being said, it is evident that Sante Les Amis are a product of their influences. All through its eleven tracks you can hear New Order, Joy Division, The Strokes and a slew of others. But that doesn't take away from the fact that the incredibly talented musicians of SLA manage to come into their own as a band crafting an original sound. There is no band quite like them in Latin America so far.
Long awaited by fans and critics, Sudamericana is a cohesive first effort that demonstrates that the band (fronted by Traverso, along with Nicolás Demczylo, David Stabilito, Santiago Marrero and Esteban López) can successfully carry an album that's both fun and engaging to listen to. With this record, SLA brings you into their dark, playful, chaotic world of disco beats, dark synths and a surprising amount of heart and soul. Sudamericana is SLA's frenzied attempt to capture every feeling through guitar riffs and synth lines. So far, they've got my attention.
Sudamericana is available through iTunes or Bandcamp.

Follow Sounds and Colours: Facebook / Twitter / Instagram / Mixcloud / Soundcloud / Bandcamp

Subscribe to the Sounds and Colours Newsletter for regular updates, news and competitions bringing the best of Latin American culture direct to your Inbox.
Share: