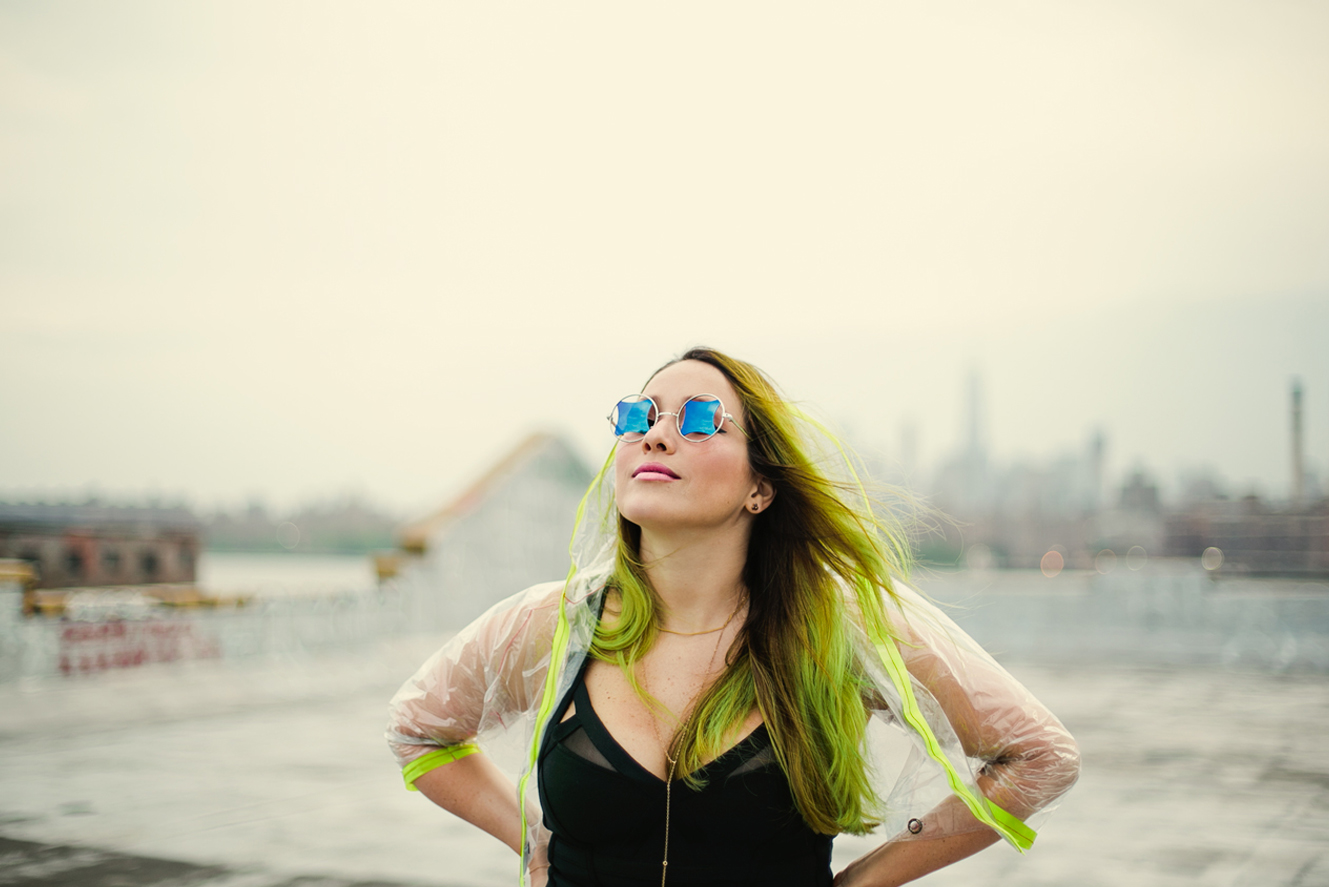 The Super Maniank
Caribbean Sass and Worldly Swagger: An Interview With MPeach + VIDEO PREMIÈRE
02 November, 2015
MPeach is a Latina del futuro, a Latin of the future, as she titles one of her latest tracks. The future however feels like a question, about what once was and what still is Latin America today. Maybe the answer is in her lyrics, sensual and street-wise, straight out of Caracas, the capital of Venezuela. Or in her videos, disjointed and cohesive, like "Ritmo Loco", a motorbike ride interrupted with graffiti and kaleidoscopes; "'pa romperte el coco", to mess with your head. Or maybe it is the eclectic cultural roots feeding into her music, reluctant to be pigeon-holed and to stay within borders, that makes MPeach an insight into what's to come. But, she says, in a self-mocking pompous voice, "I'm not here to deliver some transcendental post-modern message". She sits back and laughs.
Meet Mariana Martin Capriles, or MPeach, a Venezuelan audiovisual producer and singer, based in Brooklyn for the past 10 years and about to go global with her debut album Malania. But first and foremost, she's a girl from Caracas who lives, drinks and eats up her city as only a caraqueña can. "Caracas is black and white and all the colours in between; it has such contrasting realities and I was lucky enough to live out the whole spectrum of this city. It's a place with extreme poverty and extreme wealth, but there is always the warmth and kindness of the people. Wherever you are, it is something you always miss". Whilst the South American capital has made international headlines for all the wrong reasons; a soaring crime rate and economic instability, Mariana wants to "act responsibly" when introducing her side of Caracas. "I don't want to exaggerate things or misrepresent. My music is a personal relationship with the city, my intimate vision, my life and my love for this place."
Following her studies in visual communication and graphic design, Mariana worked as a VJ, doing visuals for parties and raves around Caracas. Although music was always intrinsic to her work, it wasn't until later that she started to contemplate becoming a musician. Electronica, Afro-Caribbean percussion and samples of Venezuelan folk, alongside her videos and stills from collaborators and friends, such as artists Sunsplash, Jimmy Flammante and photographer Violette Bule, make up the body of Mariana's work. It is, she stresses, to be taken as an integral audiovisual experience, which fuses together all the sounds and colours of her country. "I want to be part of the efforts to preserve our folklore, but not in a puritanical way like how you might keep some precious historical document. I am including this folk into my music with lots of other things; it is a mix much like my own identity. One can be young and contemporary, influenced by events that happen globally, in the US or Europe, or also part of the current pop trends in Latin America such as reggaeton. All of this can fit within the same identity, there is room for everything".
For the production of Malania, Mariana recorded music in Venezuela and then based herself in Brooklyn to structure the pieces. Her new label, Dutty Artz, has given her the opportunity to work with Boima Tucker and Uproot Andy, as well as reaching out to old friends such as her pal Cheo, ex-guitar player and producer from Los Amigos Invisibles and her "homie", Cardopusher, another fellow Venezuelan but who lives in Barcelona. "Making this record was a great team effort and that's how I like to make music, with the same friends I have always collaborated with over the years. But whilst I wanted to compose in Venezuela and create a window into our world, Brooklyn then gave me the platform to sit down and structure all this archive of music and videos. Venezuela is where all my ideas flourish, but here in Brooklyn is where I need to be to organize them".
The United States plays a new part in Mariana's music, and what Venezuela brings in passion, Brooklyn gives in production tools and international insight. Travelling back and forth for ten years, it is only now that Mariana has started to feel her life is also abroad. "It's a complex duality and it has taken me a while to accept and understand my place here. But the process has helped me to start seeing myself and my country from the outside. I have access to a more global viewpoint and I have been working with some amazing people from all around the world. Some are immigrants, others children of immigrants and this helps me discover a wind range of localities existing alongside each other, with different ideas and musical passions".
Living between two countries has helped Mariana understand her standing in contemporary music and her contribution to Venezuela's cultural legacy; she is today an artist informed both by her people and the world beyond. She is ambitious and plans to set up an international platform for artistic exchange in her home country, "but this is still just a dream" she giggles. For the time being she is concentrating on touring and promoting her new album. But you can see her already bridging the gap between here and there, travelling beyond the borders and tearing down the stereotypes, like, some might say, a Latina del futuro.
Watch "Prendelo" below, the latest video from MPeach showing exclusively on Sounds and Colours. The track features Venezuelan producer DJ Yirvin, who pioneered the hard fusion and Changa Tuki styles, making "a huge impact on the sound of electronic music from Caracas", according to MPeach, who has this to say about the track/video: "Recording the song was a lot of fun, it has powerful festive energy, I wanted to capture that so made a video that is all about the live show.  The video was recorded during [the] Que Bajo (pre release show) and Pico Picante "Malania" Release Party in Brooklyn. Light up the dance floor having fun, be confident and embrace your light."
Malania is available from Dutty Artz. You can listen to more MPeach at soundcloud.com/mpeach

Follow Sounds and Colours: Facebook / Twitter / Instagram / Mixcloud / Soundcloud / Bandcamp

Subscribe to the Sounds and Colours Newsletter for regular updates, news and competitions bringing the best of Latin American culture direct to your Inbox.
Share: