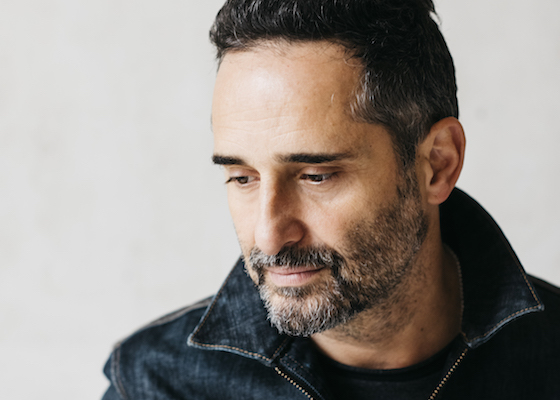 Lucia Marcano
Jorge Drexler Releases New Single 'Asilo' and Brings Rhythmic Storytelling to London as part of Latin America and Europe Tour
16 February, 2018
Uruguay's Jorge Drexler brings us a new single from his latest album Salvavidas de Hielo. "Asilo" features Chilean artist Mon Laferte and was recorded in just one take. Drexler has described it as "a plea for a sentimental refuge in the form of a ranchera". The track is an intense and moving halfway point on the album that breaks from Drexler's percussive style to allow the harmonies space to breathe on a stripped-back instrumental, just two voices and an electric guitar.
Drexler's Grammy-nominated Salvavidas de Hielo, released in September of last year and spanning a range of rhythmic melodies, is his 13th studio album and also features Mexico's Julieta Venegas and Natalia Lafourcade. What is particularly impressive about the album is that all the instrumentation was done on guitars – the percussive and electronic elements on the record were created using different parts of the guitar to create a variety of textures. The album's lyrical content also provides various food for thought including "Despedir a los Glaciares", a sad farewell to the glaciers and a reflection on the future of the planet in the face of climate change.
"Asilo" follows the recent single "Movimiento", a commentary on immigration and human connectivity that was inspired by a TED talk Drexler gave in Vancouver in 2017. It is a passionate defence of the power of immigration in light of the current debate surrounding the issue, an important message for Drexler who himself is the grandson of Germans who fled the Nazis in 1939 and eventually settled in Uruguay. The stunning visuals that accompany "Movimiento" were filmed in Mexico's Sierra Tarahumara and feature Lorena Ramirez, an award-winning 22 year old runner with Rarámuri roots, an indigenous culture celebrated for their endurance-running abilities. Watch that video below
Finishing up a tour of the US, Drexler is due to spend the next six months on tour between Latin America and Europe, including a date in London as part of La Linea, the London Latin Music Festival. Having not performed in London since 2016 be sure to catch him playing songs from his new album at Cadogan Hall on April 30th.
Upcoming Shows
Feb 15 – The Regency Ballroom, San Francisco, US
Feb 16 – El Rey Theatre, Los Angeles, US
Feb 18 – Teatro Zaragoza, Tijuana, Mexico
Feb 22 – Teatro Metropolitan, Cuauhtémoc, Mexico
Feb 23 – Teatro Metropolitan, Cuauhtémoc, Mexico
Feb 24 – Teatro Diana, Guadalajara, Mexico
Feb 25 – Auditorio Rio 70, Monterrey, Mexico
Mar 07 – Auditorio Box Sevilla, Seville, Spain
Mar 08 – Auditorio Box Sevilla, Seville, Spain
Mar 09 – Auditorio Box Sevilla, Seville, Spain
Mar 10 – Gran Teatro Falla, Cadiz, Spain
Mar 15 – Auditorio Infanta Leonor, Los Cristianos, Spain
Mar 16 – Auditorio Teobaldo Power, Santa Cruz de Tenerife, Spain
Mar 17 – Sala Teatro Atlantida, Arrecife, Spain
Mar 18 – Auditorio Alfredo Kraus, Las Palmas de Gran Canaria, Spain
Apr 05 – Teatro Jorge Eliécer Gaitán, Bogota, Colombia
Apr 06 – Teatro Metropolitano, Medellin, Colombia
Apr 12 – Theatro Municipal do Rio de Janeiro, Rio de Janeiro, Brazil
Apr 13 – Casa Natura Musical, São Paulo, Brazil
Apr 14 – Casa Natura Musical, São Paulo, Brazil
Apr 15 – Casa Natura Musical, São Paulo, Brazil
Apr 17 – Cine Teatro Sesc Casa Do Comércio, Salvador, Brazil
Apr 19 – Centro Integrado de Cultura – Teatro Ademir Rosa, Florianópolis, Brazil
Apr 20 – Ópera de Arame, Curitiba, Brazil
Apr 21 – Auditório Araújo Vianna POA, Porto Alegre, Brazil
Apr 30 – Cadogan Hall, London, UK
May 04 – Gran Teatro De Elche, Elche, Spain
May 05 – Teatro Circo, Albacete, Spain
May 09 – Auditori Enric Granados, Lleida, Spain
May 10 – Auditori Nacional d'Andorra, Ordino, Andorra
May 11 – Teatre Auditori De Granollers, Barcelona, Spain
May 21 – Gran Teatro Nacional, Lima, Peru
May 22 – Gran Teatro Nacional, Lima, Peru
May 27 – Teatro Roxy Radio City, Mar del Plata, Argentina
May 29 – Banco Central de Paraguay Theatre, Asunción, Paraguay
May 31 – Domo del Centenario, Resistencia, Argentina
Jun 01 – Teatro ATE Casa España, Santa Fe, Argentina
Jun 02 – City Center, Rosario, Argentina
Jun 05 – Teatro del Bicentenario, San Juan, Argentina
Jun 06 – Auditorio Ángel Bustelo, Mendoza, Argentina
Jun 08 – Teatro Mercedes Sosa, Tucumán, Argentina
Jun 09 – Espacio Quality, Cordoba, Argentina
Aug 03 – Forum Roma D' Empuries, Girona, Spain

Follow Sounds and Colours: Facebook / Twitter / Instagram / Mixcloud / Soundcloud / Bandcamp

Subscribe to the Sounds and Colours Newsletter for regular updates, news and competitions bringing the best of Latin American culture direct to your Inbox.
Share: