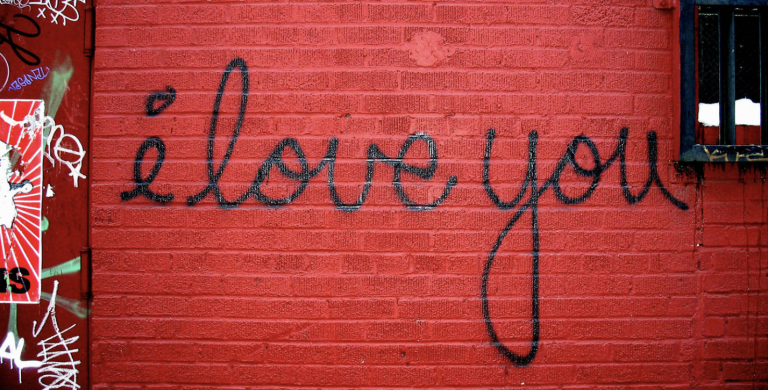 Courtesy CC/Flickr/Scott
Nine songs we're playing this Valentine's Day weekend
12 February, 2021
Valentine's Day is an *insert eyeroll here* holiday for some of us, but we'll welcome any reason to share some tunes we are digging at the moment. And, hey, if they help the vibes on your Valentine's Day plans, then all the better.
Not all of these are love songs, per se, but there was a lot of love in the songwriting, we can tell. Check it out.
Ani Cordero: 'Es Amor'
Puerto Rican activist and songwriter Ani Cordero is singing about nontraditional love in her new track, "Es Amor [It's Love]."
The song is about love "in a bigger way than traditional romance" Cordero said. "I want this song to be like a hug for everyone. After the year we've all had, it feels like we all need to return to love. We all definitely need healing."
Zuzuka Poderosa feat. Au Contraire: 'Vem Meu Amor'
Zuzuka Poderosa returns with a bang and a sensual embrace as she scatters her signature high-powered Portuguese rap chants around a haunting hook, beckoning a mysterious lover to come-hither while Au Contraire's fat buzzy bass lines & playful percussion bounce off a sublimely head-spinning drop. The duo creates an interplay of baile funk and tropical dance music that provides a facelift for both genres, creating something entirely novel yet somehow familiar: we'll call it "Baile Soul."
The song is about longing for her love to come back: "Vem meu amor
Eu penso em você toda hora (Come here my love, because I can't stop thinking about you)."
Nufolk Rebel Alliance: 'Fronteras'
We have a lot of love for all of those who are working worldwide during this deadly pandemic, especially those who are undocumented. Well, this new song is for immigrant workers worldwide, the artists say on their Instagram.
Nufolk Rebel Alliance is made up of Pdrito El Criollito Erazo (of Gogol Bordello) and Leo Minimum Tek (of Descarrilao and more) just two years ago when they went on tour supporting Gogol Bordello with a bilingual tribute to The Clash.
The video for their original song "Fronteras" was filmed in Teotihuacan Mexico and incorporates footage from the band's 2019 US/Mexico/European tours alongside global news footage. The video translates the song's mostly Spanish lyrics into english. "We wanted to make the message as accessible as possible, we want to be a bridge between cultures," said Minimum Tek. "The song speaks for itself, we want no borders, no walls."
Las Cafeteras feat Sa-Roc, Boog Brown, QVNL & Mega Ran: 'If I Was President (remix)'
Voting is an act of love in this unpredictable world. "If I Was President" is a timely hip-hop remix by LA Based Las Cafeteras with featured artists Sa-Roc, Boog Brown, QVNL, and Mega Ran.
"If I Was President" is part of a trilogy of election anthems that advocate for the power of voting and in support of the Black Lives Matter movement to unite Black and brown voices through song. The band also hope to bring light to the President's first 100 days and remind President Biden and the masses of the needs and demands of the communities who shifted the outcome of the 2020 election.
Jarana Beat: 'Diablos!'
Love is fresh new music from AfroAmerindian group Jarana Beat, whose new album, "Vibración Por Simpatía (Empathetic Vibrations)," is a compilation of 55 artists united in a symphony/fandango meant to carry a message of inclusion, unity and tolerance within a rough and hostile political climate. The result is both textured and sophisticated, a testament to their urban multicultural ethos, creating a modern world music sound unlike any other. The record features Grammy Award-winning artists such as Ana Tijoux, John Benitez, Mireya Ramos and Shae Fiol (Mariachi Flor de Toloache) and Felipe Fournier, among many others
With the intention of commemorating all their ancestral roots — both Black History Month and Dia de la Candelaria (a very important pagan holiday for the Latin American Community) and at a time when people feel, and are, so distant from one another and the world seems increasingly fractured, we fully welcome this absolutely lively record.
Joakino: 'De Nazareno'
Love is love, and this track by Chilean pop reggeatonero Joakino is too cute not to adore!
"De Nazareno" (Of Nazareth) definitely has some religious vibes. The young queer artist said while it may seem ironic for him to be be singing about those themes, it's something that "has been constantly in my education, in Latin culture and even in language. Besides, we always see the representations of Jesus as a muscular man with eyes. clear to which everyone prays. I find it entertaining to think of a religious figure from a sentimental, even erotic way, towards an other, romantic and Queer," he said.
Nora Gonzalez & Mariachi Flor de Toloache: 'Lady'
A Lionel Richie/Kenny Rogers cover by some bad-ass Latinx women? Yes, please!
Nora Gonzalez, who is being touted as the millennial singer who is "revolutionizing traditional mariachi" singing, teams us with mariachi Flor de Toloache to bring us a cover of "Lady" a song written by Lionel Richie and first recorded by American country music artist Kenny Rogers.
Adapted to a mariachi arrangement and mixing Nora's mariachi voice to Flor de Toloache's soaring vocals, the single will be part of Nora Gonzalez' upcoming album #CharraMillennia.
The Los Sundowns: 'Los Angeles'
What is more romantic than a long drive while on the West Coast with some dreamy psychedelic soul playing in the car?
The Los Sundowns is a breezy record of just that conceptualized by Beto Martinez (Grammy-winning Guitarist/Producer-Grupo Fantasma, Brownout, Money Chicha) and Daniel Villarreal (Drummer and DJ, Dos Santos). Written, Recorded and Produced by Martinez at his studio, Lechehouse Music, and featuring a host of friends across the six tracks, the reverb-laden platter conjures the sound of Latin American balladeers and crooners of the 60s, updating the vibe and transporting the listener to a beachside hang from sunup to sundown.
Check out the video for "Los Angeles," which features the haunting background vocals of Fermin Sanchez of CDMX based band Los Guadaloops and transports the listener to a quiet beach at sunset with equal parts blissful relaxation and introspective melancholy.
BONUS: Making Movies: 'Could You?' & link to their Valentine's Day livestream concert
Listen, in case you haven't heard, there's a global pandemic. You could go out for Valentine's Day, but you can also just stay cozy in bed and tune into a livestream concert by Making Movies featuring special guests, Mireya Ramos of Flor de Toloache, and Rebel Song Academy (that's their mentoring program for young artists) alumni, Malek Azrael and India Jane.
The band will also premiere their fan-filled video for their cover of "Everybody Wants To Rule The World."
RSVP here and watch their stripped down-ish performance of a new song, "Could You?' below.

Follow Sounds and Colours: Facebook / Twitter / Instagram / Mixcloud / Soundcloud / Bandcamp

Subscribe to the Sounds and Colours Newsletter for regular updates, news and competitions bringing the best of Latin American culture direct to your Inbox.
Share: