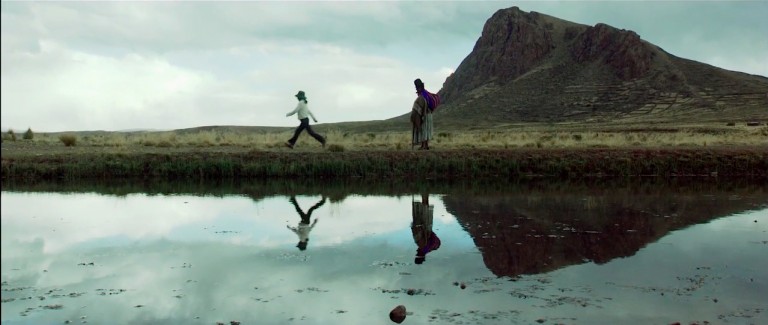 Gabor
25 March, 2016
The opening shot of this documentary is of a man in an oxygen mask. It then cuts to the statue of Columbus standing atop his column on the Barcelona seafront, extending a digit in the direction of the Americas. We may have an idea where we are going, but we don't know how we are going to get there. The director, Sebastian Alfie, voices his concern about the clichéd format of many documentaries and how he wants to avoid it. This might be considered cute and self-congratulatory if what followed succeeded, but, unfortunately, for a large part, it doesn't.
It's a film of film. It's a symmetrical device by which subject and object nest in a series of interchangeable positions. Gabor Bene, the titular head, becomes not only part of the crew, but an integral part of the subject. He's the blind man, whom Alfie enlists to help make a short film for the charity, Fundación Ojos del Mundo, which works on restoring sight among Bolivia's impoverished Aymara community.
Gabor, though, is no ordinary blind man. He is a former cinematographer whose career went kaput with the onset of glaucoma, the result of an infection contracted whilst filming in Amazonas. The back story is of a man who escaped Communist Hungary for Canada in 1968, and who, through a series of peregrinations, including a dangerous return to study cinematography in Budapest, now finds himself via Colombia (and Ana Nadal's fine graphics) in Spain. Where once he arranged storyboards, focus, composition, framing and lighting, he now earns his living renting out the same equipment he would once have used.
Alfie muses on his options but he's not really sure how he is going to film the 4-minute piece, or with what. Gabor, it turns out, is the only person in Spain who has a Viper, a high magnification camera capable of reading the expression on an ant's face.
Action! Alfie then has the idea that he should take on Gabor as his director of photography but ponders what the charity might make of this. At times, the film seems so contrived and self-conscious. Alfie's mother, for example, just happens to be Alicia Waza, a consultant who works on "orientacion y movilidad" for the blind. When she advises Alfie on the Do's and Don'ts of having a blind man aboard a small boat in the Med, it is truly cringe-worthy as only an idiot wouldn't have considered what she suggests. Still, this is being picky.
When the action shifts to Bolivia, the viewer is given a complementary white cane when Pilar Groux, the local head of production calls the idea of having a blind director of photography, "madness". Who is kidding whom here? Would Alfie really have taken a duffer five thousand miles for nothing?
If some of it is gratuitously contrived, it is still heart-warming in parts, beautifully shot and endearingly comic at times, particularly when Gigio Díaz, the local sound recordist, describes his director colleague Freddy Delgado's membership of the morenada dance troupe, Los Intocables, as being "like the Rolling Stones here". There is also a nice comic plug for Digestogas, an anti-flatulence preparation, which is something of a necessity in the rarified atmosphere of El Alto.
What the film does do, is show clearly how adaptable people are and how the biggest barrier is often the perception, self-induced or otherwise, that the blind (and/or disabled) are incapable. This is disavowed by example both by Gabor and the Bolivians who feature in the film.
Gabor still has his mind's eye, that third eye, which relies on perception, memory, experience and expertise. He still navigates the world of cinematic ideas even if now he requires the reverberations of a cane to make sense of the physical one. Also, it is abundantly clear that the production of a documentary on the blind is greatly facilitated by having someone who shares their experience.
As the film assignment moves to its conclusion, Gabor, in particular, rails against the idea of compromising the narrative by yet another tedious contrivance, the staged happy ending. When his own experience has been so different, you can understand his reticence.
Gabor is showing in Manchester on Wednesday 13th April as part of the ¡Viva! Spanish & Latin American Festival 2016. More details at homemcr.org/film/gabor

Follow Sounds and Colours: Facebook / Twitter / Instagram / Mixcloud / Soundcloud / Bandcamp

Subscribe to the Sounds and Colours Newsletter for regular updates, news and competitions bringing the best of Latin American culture direct to your Inbox.
Share: