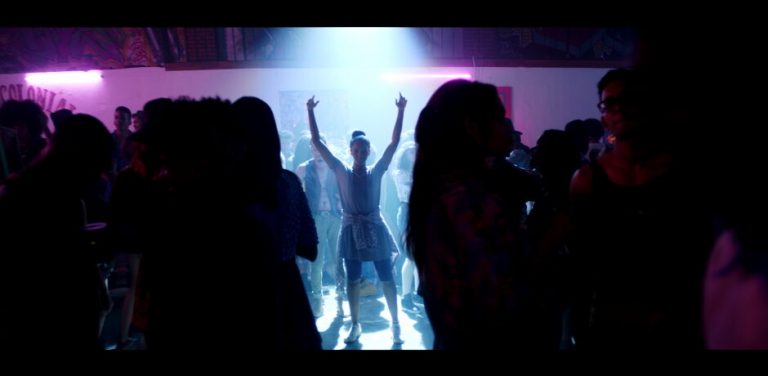 ¡VIVA! Spanish and Latin American Film Festival
'Mosh' invokes a Dominican reality imbued with hope and absurdity
20 August, 2021
Juan Antonio Bisonó graduated from university in Miami with a degree in English Literature and Film Directing, and a clear goal: to create an educative, more artistic cinema for the Dominican Republic. The young writer and director does just this with his dazzling second feature film, Mosh, about a poor family of three trying to stay out of trouble.
Mosh plunges you into a high-contrast, hyper vivid, absurd, theatrical world on its own terms, in a celebration of art, nationality, mortality and creativity. From the beginning, it carves out what Dominican identity means today and draws you in with its neon charm.
The opening scene shows God clapping her hands, ordering the film to begin, from the deep red velvet seats and bright stage lights of the theatre. As that great Shakespeare poem goes: All the world's a stage and we, the players. Mosh (María Rebecca Dalmasí), an aspiring dancer, begins to move in the magical purple lights and we soon find ourselves in a club.
On the mic is Mosh's cousin Geronimo, an aspiring rapper who tells the crowd: 'Throw your hands up if you're Dominican, it's time to free yourself / Throw your hands up, let's revolt!' The sequence recalls noughties dance movies and hints at a Lin Manuel Miranda musical, but the grit of Geronimo's motto 'Whatever happens, never stop being a gangster' scrapes through the sparkle and the film hits an educative message. It is an artistic revolt that Mosh incites.
In the cousins' backlit ghetto home, we meet Mosh's mother, Laura (Isabel Spencer). She is mesmerising, caring and fatally ill with cancer, concerned with what will become of her kids when she's gone. Geronimo is heading down a path of crime and who will be there for Mosh?
It is this simple, affecting plot that allows Bisonó to play around with other elements. The focus is not on the story, but on the perspectives and encounters of its three main characters, as they navigate crime, ambition, poverty and death.
I found my expectations of pace redefined, as Bisonó's scenes opted for spontaneity over structure, allowing you to lose yourself in exquisitely delivered monologues, to ruminate on existential questions and focus on the stunning sets.
The creative direction reaches for Almodóvar levels of detail but produces something edgier and electric. Take a scene where an unsuspecting drug Lord in yellow satin speaks on sadness, surrounded by floating yellow balloons, with warm light peeping through the yellow curtains behind him and – of course – a melancholy merengue playing. Or Geronimo, hiding a pink gun beneath his pillow in the electric blue light of the early morning. This is exciting cinema, creative in its melding of local folklore, existential philosophy, modern dance, rap culture and drugs.
Bisonó has clearly drawn on his literary background and appreciation for national popular culture to create a unique cinematic world with its own symbolism – reflecting Dominican sentiments, oddities and vividness.
He periodically reminds us of the absurdity of life – and this brings out awesome creativity. The cool TV pastor has razor-short hair dyed neon orange; spirituality is expressed through dancing salsa or smoking a joint with God – here, Señora Dios – played by the inimitable, wonder-creator Rita Indiana. Walking through the ghetto you'll see graffiti, guns, drugs and perhaps a dude bathing in a paddling pool drinking punch out of a pineapple.
Gangster 'El Doctor' (Héctor Aníbal) explains there's a 'climate theory' surrounding the Dominican Republic: people are incapable of being sad here, despite the crime and corruption. Yet Señora Dios tells Laura, as they lie on the bed together smoking weed, 'Of all the creatures I've created, humans are the only ones who focus on the bad rather than all the good they have.' This philosophical tension between pleasure and pain, diversion and destitution, is a central theme of the film, developed through often comedic, sometimes crazed character dialogue.
Judging by titanium performances and dedicated characterisation from most of the cast, it seems Bisonó is both surrounded by talented creatives and has quickly mastered how to direct. Although he may not have lived a life anywhere near to that of Laura, Geronimo and Mosh, (his father invested most of the film's $67 million peso budget); his intelligence, creativity and hunger to uniquely represent his country should put him firmly on the map of national (and international) cinema. This is a film which takes risks – and they pay off with whirling quality.
Bisonó has dreamt up a world imbued with hope and absurdity, in which debts can be paid through music, drug lords are philosophical, art is valued over money and the world has more colour. Just as Mosh refuses to go by her given name, Bisonó refuses to create within the preexisting parameters of mainstream cinema, whilst eagerly taking part in it. 'El cine dominicano tiene que cambiar,' Bisonó told El Día. We can't wait to see what's next.
Mosh is one of the films showing at the 27th edition of ¡VIVA! Spanish and Latin American Film Festival, 6-22 August at Manchester's HOME cinema

Follow Sounds and Colours: Facebook / Twitter / Instagram / Mixcloud / Soundcloud / Bandcamp

Subscribe to the Sounds and Colours Newsletter for regular updates, news and competitions bringing the best of Latin American culture direct to your Inbox.
Share: