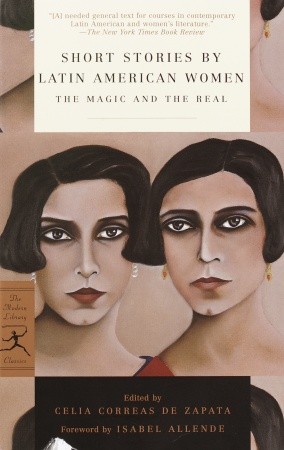 Short Stories by Latin American Women: The Magic and The Real
18 February, 2014
Short Stories by Latin American Women: The Magic and The Real is a prospectus of what Latin American women writers can do. It is also sets out to raise women from their traditional role in Latin American literature as voiceless mistresses, wives, mothers or whores, to be the agents in their own drama. Indeed, the opening story, An Act of Vengeance by Isabel Allende (Chile), covers most of these bases and more – though with one last particularly dramatic act which defines the story.
The scope of Short Stories is broad. Stories range from the now emblematic magic realism, notably in the pieces by Marta Traba (Argentina/Colombia) and María Elena Llano (Cuba), to the allegorical, the surreal and the comedic. The themes offer a uniquely female perspective of subject, voice, narrative and sensibility.
Stultification By Domesticity
María Luisa Bombal's (Chile) story, The Tree, is a harrowing tale of a failure to thrive (as it applies to women in societies governed by overbearing convention, domesticity and a suffocating asymmetrical power relationship). These themes are followed in Rosario Castellano's (Mexico) tale of domestic servitude, Culinary Lesson, and Luisa Mercedes Levinson's (Argentina) The Cove, in which overcoming drudgery becomes a matter of life and death.
Teresa Porzencanski's (Uruguay) tale, The Story of the Cat, takes a different tack on domesticity. Here the home is a low altar to base materialism, where a cat's life is curtailed lest it soil the carpet, interfere with the line of sight to the television or have kittens. The uncertainties of life, the maybes and what ifs, are traded for degraded order.
Penelope's Silver Wedding Anniversary by Rima de Vallbona (Costa Rica) looks at the point where expediency and forebearance are replaced by control. From being taken for granted, patronised (for being crass, parochial, obvious and ordinary) – to say nothing of being a compulsive knitter – Penelope throws off her domestic shackles in a display of whithering acuity and intensity.
Cultural Dynamics
Blame the Tlaxcaltecs by Mexican writer, Elena Garro, brings a long-standing issue into sharp focus. The narrative dips in and out of the past and contains the presence of a wounded Indian. The middle class wife, for whom the Indian is a figure of love, is obsessed by the fall of Tenochtitlan, the city of the Aztecs. She is viewed as a psychiatric case.
The symbolic act of dressing his wounds is both an act of atonement and contrition – atonement for the bloody and destructive process by which the Spanish came to rule Mexico. It's a tale of acculturation which is redolent of much Latin American culture, where the indigneous peoples have often become pariahs in their own house.
Two other stories, To Seize the Earth by Josefina Plá (Paraguay) and Cloud Over the Caribbean by Ana Lydia Vega (Puerto Rico), take as their subject other themes that continue to resonate through the region today. The former concentrates on the alienation of those who belonged to neither the old world nor to the new one they helped create, whilst the latter looks at how history, economics, politics, power and race have been forged into often fractious, dysfunctional nation states. The upshot of this maladministration is the steady stream of those escaping misery, drudgery, poverty and oppression to seek a new life in the United States.
Ladies Who Lurch
Clarice Lispector's (Brazil) Looking for Some Dignity is a disturbing look at the mundanity of Mrs Jorge B. Xavier's tenure on this mortal coil. In a theme redolent of Franz Kafka, the hapless lady of leisure, the empty vessel who lurches, gets trapped in the bowels of the Maracanã stadium having not listened to the instructions about how to get to the cultural centre.
It is easy to see the allusion to Kafka's Castle in her lengthy attempts to leave its innards , yet there is one particular difference; Kafka worked largely from the outside and on paranoid projections onto the external. Lispector's focus is Mrs Xavier's inner emptiness. Nothing has any meaning. She pursues culture without any interest. She's a disengaged exemplar of a crushing existential morbidity, where nothing is felt, appreciated, understood or considered. Everything is done out of a sense of duty or to appease the deadening rules of social conformity. She exists in name only – a rudderless hulk – reliant on others to save her from her own failure to engage in the one project over which she can truly exercise some control – herself.
Modern Times
Elena Poniatowska's (Mexico) story, Park Cinema, is a gem. It's a beautifully droll piece of writing and the only really humorous piece in the collection. A letter to a matinee actress – who has long been worshipped in celluloid – reveals a fan tortured by three viewings a week and an over-identification and interest in his object of desire. The line between craft and reality is blurred – not least in this most ardent of admirers. He takes an interest in everything; the distance between the star's lips to the presence or otherwise of emotion in her eyes, and he directs her from this – a farewell diatribe. At one point in the letter he says: "It is not jealousy that makes me speak this way, but, believe me: in Slaves of Desire, you were kissed, caressed and assaulted to excess."
The final story in the piece, Alicia Yánez Cossío's (Ecuador), The IWM 1000, is a story of our time; a world where information on any subject, however arcane, is laid on a cyber platter. Cossio's point is clear – a journey with only a beginning and an end isn't a journey at all.
As an introduction to the calibre and depth of women writers in Latin America, they don't come much better than this.
Short Stories by Latin American Women: The Magic and The Real is published by the Modern Library, New York and edited by Celia Correas de Zapata with a foreward by Isabel Allende. It's available from Amazon and other booksellers.

Follow Sounds and Colours: Facebook / Twitter / Instagram / Mixcloud / Soundcloud / Bandcamp

Subscribe to the Sounds and Colours Newsletter for regular updates, news and competitions bringing the best of Latin American culture direct to your Inbox.
Share: