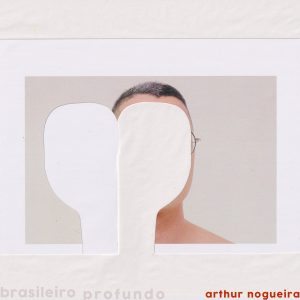 Review
Arthur Nogueira – Brasileiro Profundo
At a moment when Brazilian pop is embracing its local-rooted genres more than ever, and the expression "Brasil profundo" ("deep Brazil") has even been marketed by brand campaigns, Arthur Nogueira's latest album title, Brasileiro Profundo, might not come off as all that original at first. But it's a relevant and legitimate choice, considering the background of the Latin Grammy-nominated singer-songwriter, and his history of making MPB with slight touches of music from his native land, Pará (in north Brazil). And as you dive into the universe of sounds and lyrics of Brasileiro Profundo, Nogueira's ethos make even more sense. He is claiming the "deep Brazil" title to continue his path of subtle, sophisticated music with a focus on poetry-driven lyricism. While it is hard to define what the essence of the Brazilian identity is, albums like Nogueira's provide a few answers, through lyrics and music.
Freedom drives the lyrics in Brasileiro Profundo, and even the title of one of its tracks, "Liberdade"; yet the album is not expansive in sound. Instead it sounds intimate, steady, and self-controlled. However, calmness and introspection can also be a facet of freedom — this message is clear in tracks like "Cabeça nas Nuvens" ("Head in the clouds") in which Nogueira sings: "O céu não é fora mas dentro aqui" ("The sky is not outside but inside here", or "Heaven is not outside but inside here"). It is also the subliminal message behind tracks like "Vôo e Mansidão" ("Flight and Meekness"), a collaboration with Nogueira's fellow paraense Pratagy. When Nogueira sings: "Nossa parada é vôo e mansidão", it can be translated as in "Flight and meekness is our thing" when you take the word "parada" as slang, but the literal meaning is "Our stop is flight and meekness". It is an ode to freedom as both a means and an end, as much as it is a smooth depiction of freedom, contrasting with louder ideas of it.
Nogueira's partnership with poet Antonio Cicero (a partnership that has even yielded an entire Nogueira album, 2016's Presente (Antonio Cicera 70)) continues on Brasileiro Profundo's title track [YouTube video above]. Sound-wise, it is at least interesting that this track is a bossa nova, a genre whose origins and global reputation lay closer to surface-level Brazil than deep Brazil (although it is, undoubtedly, a genuine and essential part of Brazilian music). But there are layers to the music in "Brasileiro Profundo", especially when paired with the lyrics. "Deep Brazilian is what I am", Nogueira sings as the guitar plays in the rhythm of bossa nova; but the lyrics that follow are: "I got in me all races and none". "Brasileiro Profundo" is about hybridity. Nogueira repeats the lyrical pattern "I got in me all _____ and none" many times; there are no following "buts" or conclusions. The theme works as an approach to the Brazilian identity, and also makes sense from an individual perspective, as seen in tracks like "Tem horas que eu pareço eu" when Nogueira sings: "Tem horas que pareço eu / (…) Tem horas que me camuflo / (…) Tem horas que nada pareço" ("Sometimes I look like me / Sometimes I camouflage / Sometimes I look alike nothing"). 
As with "Brasileiro Profundo" and "Tem horas que eu pareço eu", two lyrics built on anaphora, the poetic ideal of Nogueira leads throughout the entire album. It is in the alliteration of lyrics like ""Estrelas estão tão sós onde estão" ("Stars like so alone where they are"), from "Valente", or in the poetic metaphors of lyrics like "Há sins bem protegidos em línguas que não sei" ("There are well-protected yeses in languages I don't know"), from "Vôo e Mansidão.
In spite of these romantic lyrics, Nogueira does not shy away from addressing less inspiring sides of the Brazilian DNA. In "Treva Branca", he sings: "Os filhos da terra viram a cor do Ocidente / Cara branca" ("The earth's sons saw the color of the West / A white face"). In that sense, Brasileiro Profundo drives complex conversations on the historical process of the Brazilian identity construction.
However, although the lyricism shines in Brasileiro Profundo, the music also contains a message in itself. The gorgeous "Pássaro", for example, features no vocals; but its title and sad chord arrangements are effective in conveying the feeling of a caged bird.
In many ways, Brasileiro Profundo is an invitation to think of the Brazilian identity as not necessarily cohesive, and to celebrate freedom as a possibility at least, if not a reality. The album is joyful in its introspection, exploring inward and outward ideas of belonging — be it to one's self, or the ever so complicated but spirited, creative Brazil.
Brasileiro Profundo is available from Bandcamp

Follow Sounds and Colours: Facebook / Twitter / Instagram / Mixcloud / Soundcloud / Bandcamp

Subscribe to the Sounds and Colours Newsletter for regular updates, news and competitions bringing the best of Latin American culture direct to your Inbox.
Share: