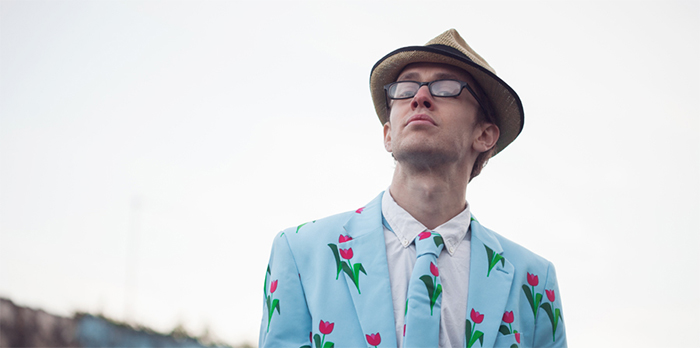 DJ Cal Jader's Best Tracks of 2015
18 December, 2015
In what is hopefully becoming an annual tradition here is DJ Cal Jader to bring you some of his favourite Latin-flavoured tracks from 2015. As the head honcho of Movimientos (Latin events producers and cultural agitators in London) and one of Europe's finest global beats DJs Cal Jader is a man with a plan… and a ridiculous stash of some of the freshest tunes out of Latin America this year. Here's his rundown of his most cherished:
Uproot Andy "Arroyo en El Barrio" (Que Bajo Records)
Taken from the Barrioteca EP out earlier this year Uproot Andy slaps a monster trap beat onto a Joe Arroyo classic.
http://www.youtube.com/watch?v=prru7HftilM
Bazurto All Stars "La Manguera ft Koffee el Kafetero"
Second year running on my end of year lists for Bazurto All Stars, who are part of the new wave of champeta taking off in Colombia right now. The band hail from Cartagena on the Caribbean coast and are bringing a fuller live sound to the genre. This one is a brand new cut and currently on heavy rotation in my DJ sets!
[soundcloud url="https://api.soundcloud.com/tracks/229579563″ params="color=ff5500&auto_play=false&hide_related=false&show_comments=true&show_user=true&show_reposts=false" width="100%" height="166″ iframe="true" /]
La Mambanegra "Barrio Caliente"
Smoking salsa dura from another red hot Colombian group formed by La Mojarra Electrica's Jacobo Velez. The video here is simultaneously a tribute to Cali whilst referencing the classic Colombian film Aggarando Pueblo.
Chico Trujillo "La Cura Del Espanto"
Taken from their recent album Reina De Todas Las Fiestas the masters of cumbia chilombia bring the full force of their immense brass section to the fore, as showcased at their debut London show as part of our 10-year anniversary this year.
Novalima "Beto Kele" (Wonderwheel)
A standout track from the latest Novalima release Planetario – accompanied by a beguiling animated video trip – with the band weaving their inimitable afro-Peruvian rhythms with shimmering guitar riffs and Colombian flutes. Various special guests from Colombia feature on the album with Sidestepper vocalist Eka Muñoz and gaita courtesy of Pernett showing up on this one.
Karol Conka "É o Poder" (Skol Music)
Fast becoming Brasil's #1 female hip hop icon KC returns with a helping hand from compatriots Tropkillaz on production duties with this old school roots reggae-inflected trap banger.
Symbiz "Fuego" (Enchufada)
Berlin based Symbiz released this tribute to golpe de tambor, from the Caribbean coast of Venezuela via Enchufada's Upper Cuts series. Brilliantly weaving afro-latin chants into some jittery drum patterns… fuego indeed!
[soundcloud url="https://api.soundcloud.com/tracks/192774781″ params="color=ff5500&auto_play=false&hide_related=false&show_comments=true&show_user=true&show_reposts=false" width="100%" height="166″ iframe="true" /]
Algodón Egipcio "Cotorra Del Sol" (Rhythm and Roots)
Could have chosen any number of tracks from the superb A Guide To the Birdsong of South America on El Buho's label. A glittering array of acts and producers from the South American underground scene using samples from birds of the region to create original new work whilst raising awareness and money to support endangered species; culture and eco-activism never sounded so good.
Luzmila Carpio "Ch'uwa Yaku Kawsaypuni (Nicola Cruz Remix)" (ZZK Records)
Sitting alongside the Guide to Birdsong album at the forefront of this new folk-roots digital scene the Luzmila Carpio remix album ingeniously brought together some of the other major exponents of this sound: Chancha via Circuito, Tremor, El Buho and here ZZK Record's latest signing Nicola Cruz (who also released his very own opus in November) who went to work on Bolivian legend Carpio's hauntingly beautiful vocals for a marriage of dubbed-out beats and Andean melodies.
Metá Metá "Sozinho"
Metá Metá take up from where they left their last album with a killer 3 track EP. This track spectacularly captures the three contributors of the project: driven by Kiko Dinucci's acoustic guitar licks with Juçara Marçal's urgent vocals jostling alongside the screeching soulful sax of Thiago França
Movimientos are hosting their annual Tropicalista New Year's Eve bash with Arriba La Cumbia at Rich Mix, London to finish off the year. Cal will be DJing, as well as Arriba La Cumbia's Russ Jones and there will be live sets from Son Pikkante and Kantikena & Sus Estrellas de Cumbia. Get your tickets for undoubtedly the most 'tropical' of NYE parties from movimientos.org.uk/tropicalista-nye-2015.
If you'd like to hear more Latin goodness from Cal check out his Best of 2015 Mix (Part One).

Follow Sounds and Colours: Facebook / Twitter / Instagram / Mixcloud / Soundcloud / Bandcamp

Subscribe to the Sounds and Colours Newsletter for regular updates, news and competitions bringing the best of Latin American culture direct to your Inbox.
Share: