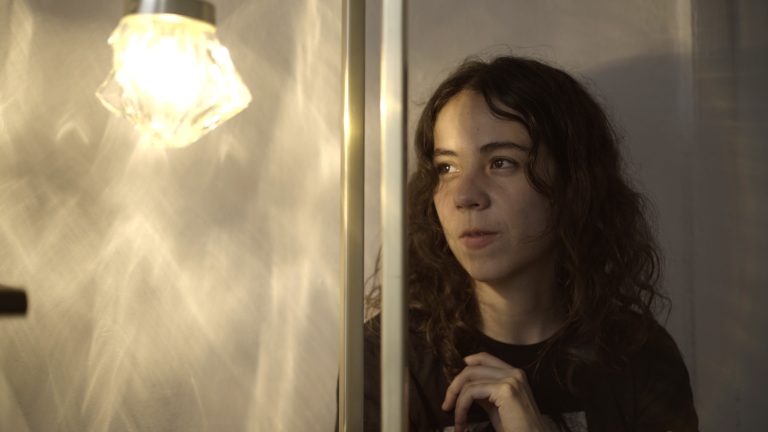 Mabe Fratti on Finding Liberation in Mexico City
|

04 November, 2021

Mabe Fratti's socked feet masterfully distort the notes ringing out from the cello between her legs, her toes turning dials and feeling for the pedals, as her fingers glide intuitively around the instrument's neck.

The three-piece similarly glide through songs – their transitions sometimes mad experimental interludes, muffled twangy guitar riffs or explorative synthesised sounds – not stopping for applause, nor accenting the beginning or end of compositions, but rather travelling through a repertoire via improvisation.

At one point, Mabe plays alone, scraping, hitting and plucking the strings in a distorted, wild display. As if moved by that energy, the mic in front of her spins around an almost 360-degree circumference, before dropping to the floor with a crash. A Mancunian breaks the ensuing silence, shouting "Fuck yeh! Amazing!".

At other points, Fratti's voice soars over neat, intriguing strings, with questions: "¿Puedes tomar mi mano al vacío?" ("Can you take my hand as we enter the void?") and statements: "Yo estoy aquí. Soy el aire que colapsa con tu piel." ("I'm here. I'm the air that hits your skin").

We are listening so intently that slowly the audience has begun to sit themselves on the floor, some snuggled in with friends, others rocking on their toes, alert. Every noise in the room becomes part of the soundscape: the slow tacky release of boots peeling off the sticky floor of The Peer Hat, this no-frills, all-heart Manchester venue; the crunch of a water bottle; a whisper. Fernando, who Mabe's been playing with since she was 19, is in tune with this and synthesises what is around us, quick to pick up on these connections and build them into something greater, amplifying the questions in the room.

Both him and Hector, who's on electric guitar and a tiny keyboard, watch Mabe with something of wonder, something of excitement, listening for where they might go next.

The trio (two Guatemalans and a Venezuelan) have been reimagining Mabe's songs from Será que ahora podemos entendernos? and Pies sobre la tierra in various European towns for the past few weeks. The former, an enchanting album written in lockdown, has taken on a new life, played by the trio live across the world. "They interpret the songs in their own way", Mabe explains, "the songs have changed and the live show is something completely different."

"When you're composing, you return to the song time and time again; when you improvise, you make decisions in real time. It's instantaneous dialogue. Like when you're talking, you want to interrupt each other, speak to each other, converse, listen. There are unlimited conversations with music."

Since visiting an artist's residency in CDMX six years ago, Mabe has connected with countless musicians, exploring experimentation and improvisation. She went for three months and ended up staying six years… and counting. "In Mexico I went to all the experimental concerts I could," she recalls happily, and with a friend at the residency, Fratti learned more about musical vocabulary. "It complemented my cello playing knowledge and helped give me tools for improvisation."

Discussing improvisation seems to unlock a more excitable part of her psyche. "You have to learn how to connect, react, listen, and tune into others – and then you can improvise." I ask if she felt she had to master her instrument before being able to express herself and explore. "I'm not one of these purists that believes you have to know an instrument well to improvise, for me it's about listening, not being so immersed in yourself. It's not about one person, but multiple people responding to each other, becoming aware of what's going on around them. The important thing is that you connect, converse. You don't need to know an instrument."
That said, Fratti has clearly mastered her craft and liberated herself from tradition. Although initially choosing to study the saxophone, in their local orchestra it was the strings that Mabe was taken by. The director was a vivacious, dramatic cellist, an extreme evangelical Christian obsessed with the apocalypse, and an amazing player. She became Mabe's teacher.
"She had a completely different philosophy," Mabe tells me, she was traditional. They played nothing beyond the 1900s – no minimalism, no experimentation. Eight-year-old Mabi was waiting for something bigger.
Growing up in a conservative evangelical environment, experimentation and free jazz were far from encouraged. Even pursuing music for a living wasn't taken seriously. "Musicians are seen as lazy," Mabe explains. "It's difficult to live from music in Guatemala." But as she joined a handful of bands in her late teens, Mabe discovered how much she loved to experiment, play, transform and communicate with other musicians through sound.
"Guatemala is still very conservative, there wasn't the freedom to explore or meet other people within a scene. It's so religious." It takes me by surprise that this is the environment Fratti grew up in. "And that was the norm," she adds. "Being an eccentric person in Guatemala is difficult. Growing up gay or being trans, 'glitchea'." She uses the verb, 'to glitch' like this is a strange defect of the country, a malfunctioning of society.
I ask how she gets on with her family, given her drastic change of scenery. "I get on well with my siblings, but my parents are complicated, they're very conservative. I'm always there trying to show them love but it's difficult."
Although Fratti holds Guatemala dear to her and seems at peace with her upbringing, she has adopted Mexico City as another home, and thrived in the music scene there. Fratti talks full Mexicana, with slang ringing through her excited sentences.
It's clear that the residency, a haven for Central American and Mexican experimental musicians, has changed her life. "It liberated me," she says. "Yo aprendí un chingo allá."
On top of recent collaborations with German musician Gudrun Gut of Malaria! on a Goethe Institute project, Paulistano bassist of RAKTA, Carla Boregas, and Beijing producer Howie Lee with a remix of his "Island Birdy" (the first on the Birdy Island (Remixes) album from Mais Um), as well as remixes from artists like Dengue Dengue Dengue and Silvia Kastel, Fratti is set to release a new EP, Estático, later this month via SA Recordings.
Estático was composed through long sessions of free experimentation with Mexican musician, Concepcion Huerta. "The record blooms with ecstatic synth riffs and unselfconscious bowing, capturing the sound of a mind buzzing at the threshold of some great vision," praises Pitchfork, and Mary-Anne Hobbs of BBC 6 Music says, "She plays cello like a wild angel."
Follow Mabe Fratti on Instagram and hear her music at Bandcamp. She has upcoming tour dates in Germany, Czech Republic and UK in November, with a North American tour scheduled for 2022.

Follow Sounds and Colours: Facebook / Twitter / Instagram / Mixcloud / Soundcloud / Bandcamp

Subscribe to the Sounds and Colours Newsletter for regular updates, news and competitions bringing the best of Latin American culture direct to your Inbox.
Share: