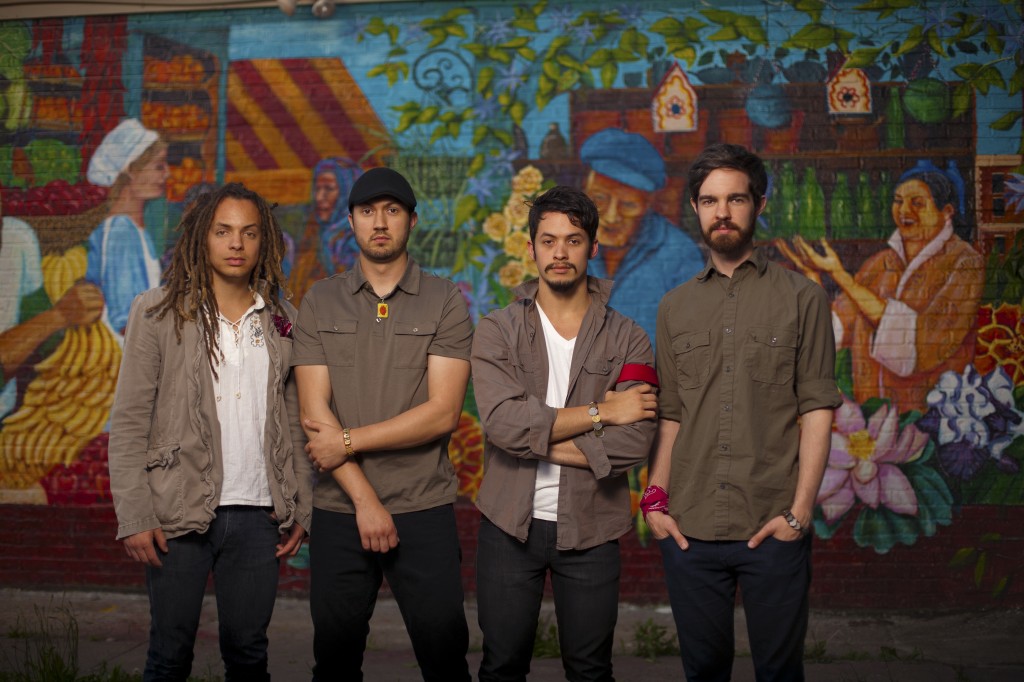 Making Movies/TRM
Making Movies: Afro-Latino indie-rock by way of the Midwest
24 October, 2012
Kansas City, Mo.-based indie rock band Making Movies has a good thing cooking with their music. They start with alternative rock, add in sultry bilingual lyrics, some spicy percussion, and top off with just the right amount of Afro-Latino rhythms. The result? A hearty portion of "I want more." 
I got to see the quartet during New York City's CMJ Music Marathon and they did not disappoint.
Founded by Panamanian born brothers Enrique and Diego Chi, Making Movies has been playing for just a little over three years, yet they're already signed to Kansas City-based indie label, The Record Machine, and have legendary artist and producer Steve Berlin of Los Lobos producing their sophomore album. Not too shabby.
I had a chat with lead vocalist and songwriter Enrique Chi to find out how this all came about.
So how did Making Movies get together?
EC: My brother, Diego, and I started playing together as kids. Diego and Brendan (our drummer) had a band in high school so there was some built up chemistry already.
What's the story behind the band name?
EC: When I was a kid in Panama, my first musical memory (and virtually my first memory) was listing to a song by the Dire Straits. The song was an English song and though I didn't speak the language, I loved the song and would sing along. My Dad had all their albums and one was called "Making Movies."
Who are your musical influences (both from Latin America and the United States?)
EC: Our musical influences stem from our father's record collection. He raised us on a heavy diet of the Beatles, Pink Floyd, Yes, Peter Gabriel, etc. My mother, on the other hand, liked to dance, and listened to salsa, merengue and cumbia.  Both of my parents liked [Panamanian salsa legend] Ruben Blades because my dad could get into the lyrics while my mom could dance.  Blades made his career here in New York City as he developed an evolved Afro-Cuban sound that combined elements from rock and jazz. He is the genesis of us wishing to combine Afro-Latino rhythms into our music.
Tell me more about Making Movies' Afro-Latino sound.
EC: After discovering the roots to Blades music, I realized that the West Africans brought their rhythms to all the different parts of Latin America and became enamored with discovering how those rhythms evolved in each culture. In Panama and Colombia, the rhythm that came to the forefront is the cumbia, Peruvians developed the festejo and other cajun rhythms while Cuba contributed some of the most developed integrations of West African rhythms into their culture's music. When you break it down, it all comes from the same place. In a way we are playing afro-panamenian/kansas-citian music but no one would know what the hell I'm talking about. (Laughs.)
I notice some of your songs will be completely in English save for a lyric or two. Yet others are mostly Spanish. Why is that?
EC: Since I was six years old my life has been in both English and Spanish so I find it very natural to make our music be the same way. Some poetry resonates more in one language or the other and we try to pick the best language for the purpose of each song.
What's next for the band? Any plans for Latin America? Europe?
EC: After CMJ we head home to prepare the release of our new album, A La Deriva. We recorded the album under the guidance of [producer and Los Lobos member] Steve Berlin. We will be touring the West Coast in December and should be back [to the New York City area] in early 2013. We'd love to head to Latin America and Europe in 2013. It would be amazing.
Trust me on this one– make sure you catch Making Movies if you can.
In the meantime, support the band by buying their music on iTunes or downloading their EP here. Check out the videos for "Hangover Blues" (it's a wild one) and "Twenty Years" below. Finally, read about the rest of the bands I saw at CMJ on my personal blog here.
http://youtu.be/qdtP9vfQRQU
http://youtu.be/z5ZDhUY2mVU

Follow Sounds and Colours: Facebook / Twitter / Instagram / Mixcloud / Soundcloud / Bandcamp

Subscribe to the Sounds and Colours Newsletter for regular updates, news and competitions bringing the best of Latin American culture direct to your Inbox.
Share: