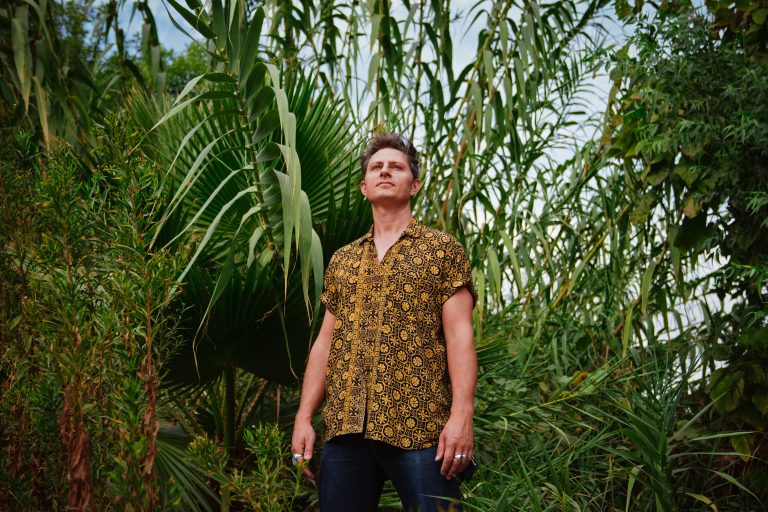 'NO VISA' – New Album by Captain Planet; Plus Premiere of Singles feat. Kongo Elektro, Thornato, and Zuzuka Poderosa
22 June, 2020
Three years after releasing his collaborative album with singer Chico Mann, DJ/producer Captain Planet (real name Charlie Wilder) has a whole new record of tunes for us. NO VISA, out on the 26th of June via Brooklyn-based label Bastard Jazz, is the Los Angeles-based producer's fifth full-length album.
With 13 songs that feature vocalists from around the world, long-time fans will recognize several previous collaborators as well as the global influences that have always been central to Captain Planet's music. Wilder's trademark sound pulls from African, Caribbean, Middle Eastern and South American styles of music, blended with the Hip Hop, Reggae, House, and Electronic music that he grew up playing as a DJ.
We chatted with Captain Planet, who was born in New Hampshire and cut his musical teeth in New York City, about the new record, and specifically singles "Body Yako" and "Mi Poni" featuring Ghana's Kongo Elektro, New York City's Thornato, and Brazil/Brooklyn's Zuzuka Poderosa.
Sounds and Colours: Congrats on the new record! Since it's Father's Day, does being a father lend any insight to the music you're producing?
Captain Planet: Absolutely! My last album Night Visions came out three years ago, and since then I brought two daughters into the world. My first daughter came the same week as Night Visions was released. Everything about my old life has been turned upside down and inside out in the most profound ways, and for the better. I didn't become a parent by accident, I love my babies more than anything in the world. My priorities have all shifted. So much of the superficial concerns of my old life were completely stripped away. I just didn't have time for them. In terms of my music specifically, I have much less time to actually create because of the million new responsibilities that come with parenthood, so I have to be much more focussed. That focus is powerful, and has definitely helped crystalize what I want to promote and say in my songs. Of course I care even more deeply about the future now too, because it's less abstract, it's the actual world that I have to see my girls living in, and so it has to be better. The song "Come Along" actually began as a lullaby that I played on thumb piano for my first daughter.
S&C: What is No Visa about? What's with the title of the record?
CP: There are different layers to it. I wanted to address the idea that, while certain people are constantly trying to build walls and secure borders, separating and dividing humans, music itself cannot be contained. It always crosses those boundaries and carries culture and change with it. A visa gives you permission to travel. Music doesn't need permission, it will travel whether you like it or not. I have always wanted to create an imagined world with my music, where different cultures and languages intermingle and mix, where diversity is celebrated and not feared. It's idealistic, sure, but we have to envision the world we want in order to call it into existence.
On another level, there is something to be said about the fact that I am a white man from the United States and benefit from serious privilege around the world. For me, getting a visa to go almost anywhere is possible⁠—relatively easily. I've had my entire world view change from having the opportunity to travel globally. I believe it's the greatest education a person can have if they are open to receiving it. But that was possible partly because of my privilege. I'm constantly aware that there is a thin line between celebrating and promoting cultures and people from around the world that I revere, and exploiting them for my own benefit, particularly as a white man. It's not easy, but I believe that's the way the world will change for the better.
S&C: "Body Yako" sounds so good! Very upbeat soukous-ish type of track. Tell us about it.
CP: Truly a global connection here, and all made possible through the internet! My friend and long-time collaborator Thornato hit me up and said he had some great guitar recordings he made with a Ghanain maestro named OT Woode (the same guy who plays on Ed Sheeran's Afrobeat influenced song "Bibia Be Ye Ye"). I edited and arranged the parts more and built the beat up, then I sent it to a friend in Cape Town, South Africa who has a studio and a group called Kongo Elektro. They started sending me vocals which I felt were perfect. Very classic Soukous / Highlife vibes for sure, but I also tried to incorporate some more contemporary Afrobeat and Afro House sounds. This one has been in all my DJ sets lately, it just makes you feel good. The lyrics, sung in Swahili, are basically praising the way a woman is dancing and how she is moving her body.
S&C: "Mi Poni" is also very upbeat, baile funk-ish, and even a little POP! Tell me about conceiving that track with Zuzuka Poderosa.
Out of all the artists on this album, Zuzuka [Poderosa] is the one I have known the longest. When I got one of my first regular DJ gigs at a Latin club in Brooklyn many years ago, Zuzuka was the bartender serving caipirinhas! We've been friends since the beginning. She has put out so many dope songs that I play in my DJ sets, and we always talked about working together, but it just took a long time for it to finally align. When I made the beat, I hadn't talked to her in a long time, but I called it something like Zuzu because I knew I wanted her on it. And when I sent it to her, she told me she was coming to Los Angeles the following week. So much depends on timing. This is our first official song together, hopefully we make more. She is a true badass.
S&C: Anything to say about releasing a new album during a pandemic and a time of change?
CP: The whole world has changed course dramatically in the past five months, and it's a powerful time to be alive. When else have all the nations of the world been collectively fighting the same foe? When else have the deep rooted habits and customs of our daily lives been so deeply called into question? And here in the US, we are confronting our deep racist failings all over again with a new passion. As someone who has always tried to use music as a tool for change, I feel even more strongly now that real change is possible, that the future is in our hands and unfolding everyday with our actions. I took my name from a cheesy 90's superhero when I was a teenager, but the reality is that we all have to step up and make serious changes in order to survive. It starts with something as simple as bringing folks together to dance (virtually, if need be), sharing great uplifting music, and reminding everyone that there's so much to celebrate.

Follow Sounds and Colours: Facebook / Twitter / Instagram / Mixcloud / Soundcloud / Bandcamp

Subscribe to the Sounds and Colours Newsletter for regular updates, news and competitions bringing the best of Latin American culture direct to your Inbox.
Share: