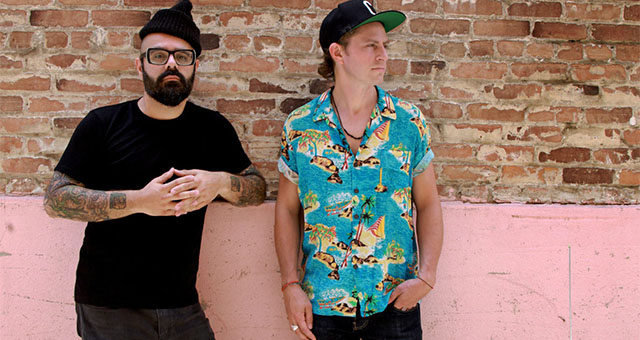 Chico Mann and Captain Planet Find Liberation in 'Night Visions'
10 February, 2017
There are many musical gems that began via college and/or independent radio, and the collaboration between Chico Mann and Captain Planet is one such story.
The pair, who are set to set to drop their debut album, Night Visions, via Bastard Jazz Recordings on the 24th of February, met when Captain Planet (real name: Charles B. Wilder) had Chico Mann (real name: Marcos García) as a guest on his former radio show Passport, which aired on WNYU.
"I was a fan of his stuff ever since then," said Wilder, adding that he began sending García beats on an occasional basis. Eventually, the pair put out an upbeat global bass tune, "Un Poquito Mas," which they assembled in 2014 from different coasts, since Wilder was in Los Angeles, and García in New York City.
But when García took his Chico Mann act out west, working together more closely became inevitable.
The songwriting process was very much a result of two friends, hanging out talking or sitting with their thoughts while listening to music, Wilder explained.
"Sometimes I would have a foundation of a beat started," he said. "Sometimes we just start from scratch and build up a structure. Sometimes he would come in and add guitar or keyboard. We'd be talking and we would start with some little nugget of experience and then I would I would watch him get real quiet, sit on the studio couch, hop on his bass, and his eyes would get so small. It was as if he was creating a movie in his head. He would create a whole world—a character, a storyline, etc. He's not the type of person to write lyrics or rewrite them; he makes this painting in this head without writing anything."
García laughed, recalling that he'd have to ask if the equipment was recording after he'd come out of one of these music-making moments.
"For me it was always trying to hold onto it long enough to get the words out," said García, a trained guitarist who still plays with the afrobeat band based out of Brooklyn, Antibalas.
García said that when it came time to decide the title of the new album, the one thing that kept coming back to him was the "eternal nighttime" atmosphere in Wilder's studio in L.A.
"It didn't have windows, but also, I'm a night creature. I get a lot of my character motivation from the darkness," he said. "There are all these characters that I started exploring when I'm in that space. Aside from it all taking place in dark, these characters are journeying, searching, conflicted, and trying to stay the course. I follow this one point of light, and, for me, that point of life is love. We are striving to maintain that you have it for a moment and then you forget about it. The idea is to reach this balance, harmony, unity and love."
Wilder, too, looked to darkness as a source of inspiration for this record, which, as you'll hear, is not "dark" at all.
"The idea of the darkness as a theme came up in a conversation we had that what people tend to think of when thinking of 'la oscuridad (the darkness)' is the easy idea of the dark side or bad things. But also there's this liberation that can happen in the dark," he said.  "You can be free in the dark a little bit. There's a deeper element. You are free to move and dance more at night. Love making happens at night and so on."
Chico Mann and Captain Planet have been rehearsing in studio and plan to perform live shows in the summer. For now, the album coincides with the birth of Wilder's first child, so he'll have his hands full for the next few months as he becomes a new father.
Listen to four singles off Night Visions below and follow the Press Junkie PR press page for tour dates. Pre-order/buy the album here.

Follow Sounds and Colours: Facebook / Twitter / Instagram / Mixcloud / Soundcloud / Bandcamp

Subscribe to the Sounds and Colours Newsletter for regular updates, news and competitions bringing the best of Latin American culture direct to your Inbox.
Share: