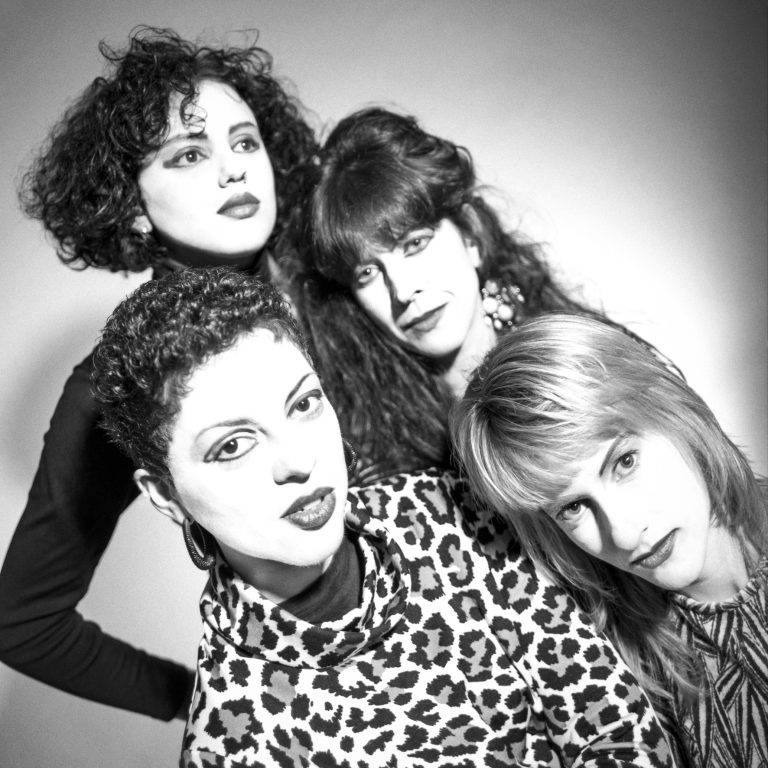 On The Margins – Brazilian Music Round-Up (AKT 3, Kauan Marco, MNTH, Goatface!, Sentidor and more)
24 March, 2022
Welcome back! This month I've managed to find even more post-punk, though with a feminine twist, as well as environmental riot grrrl, sun-kissed Balneárico, pan-psychic ambient and bossa nova meets the 303. Dig in!
---
AKT 3 – Frauen-Feuer (Discos Nada)
Gadzooks, the post-punk re-releases keep on coming and Discos Nada have dug deep and unearthed something fresh and interesting in this release. I'm curious as to why this stayed in the vaults so long; in 2005 when Soul Jazz were re-releasing the all female post-punkers Mercenárias would have been a perfect time to put this out. 
At the end of the 80s just as the BRock scene was losing its sheen this alternative female supergroup formed, bringing together Sandra Coutinho from Mercenárias (of "Polícia" fame), Denise "Dequinha" Camargo from the trio Bruhahá Babélico, Karla Xavier from R. Mutt (Belo Horizonte), and Biba Meira from De Falla (Porto Alegre). Interestingly, Dequinha and Sandra Coutinho met at the workshop given by Can's Holger Czukay in São Paulo, 1985. This event was a catalyst in that the musicians that were present invited Czukay to a studio leading to his contribution on the track by Akira S, "Sobre as Pernas", a key São Paulo post-punk recording. 
AKT 3 is the third incarnation of the band and this brief album was beautifully produced by the band and another key figure on the scene, R.H. Jackson, perhaps Brazil's own Martin Hannett. Opener "Habits" is a fine piece of bass-driven post-punk, downtuned John McGeoch-like guitar riffs with wigged out synth work, pure catnip to these ears. This pretty much sets the tone for the rest of the album, "Prince no Deserto Vermelho", with its martial drumming, was featured on the mid-noughties compilation Não Wave and still sounds amazingly powerful and original. This multi-lingual album with songs in English, German and Portuguese is bursting full of ideas and is surprisingly accessible (to me anyway). 
---
Various – 30 in 3 midsummer madness Vols. 1, 2 & 3 (midsummer madness)
Thirty years of the scrappy Rio indie label midsummer madness is celebrated with 3 volumes of guitar pop spread over three formats, a vinyl, double CD and a cassette, but otherwise all available for pay what you want on Bandcamp.
Label boss Rodrigo Lariu started out with the classic format of a zine and cassette in 1989 as that was what the budget dictated and has since then been releasing mostly CDs and some vinyl of classic Brazilian indie bands that were once firmly in the NME C86 camp combined with the aesthetics of Bristol label Sarah Records, but over the years have branched out into all manner of whatever comes under the indie umbrella. You are going to find bands with names like The Baudelaires and Early Morning Sky and there are lots of Brazilian versions of The Pastels, My Bloody Valentine (in their more indie incarnation) and the like. However, there's some very idiosyncratic albums amongst their huge catalogue, Thomas Pappon's The Gilbertos and their "Os Eurosambas 1992-1998" for example is bossa nova meets post-punk with touches of a Roland 303, and is where I recommend starting – it's where I first dived into their catalogue about 20 years ago through mail order. The Gilbertos are represented by the haunting "Everywhere" on Volume 1. You can find the cream of Brazilian indie pop on these volumes, they've all been through Rodrigo's label, The Pin Ups, Pelvs, Motormama, and innovators The Cigarettes, many of which are singing in English. In Portuguese you can hear the reformed Fellini performing "Longe", always in a league of their own with a minimalist piece of just voice, harmony, bass and guitar. Motormama are from my neck of the woods and have been going for almost as long as the label; their 2017 album Fogos de Artificio was a perfectly realised production of power pop and psychedelia; here they serve up the melodic "Meus amigos (não tive escolha)" on Volume 2. Vulkano perform some shouty angular post-punk with "Punk Aborígene" on Volume 3, and there's bossa nova with a heavy dose of overdriven guitar fuzz from Casino's "Samba Dada".
There's such a huge amount on offer in these 3 volumes that there's bound to be something for everyone, here's to another 30 years.
---
Motoserra – AmaZona (Hominis Canidae Rec)
Experimental, environmental, Riot grrrl shenanigans, angry women – yeah! Motoserra are Olga Costa from Paraíba and Maria Caram from Minas Gerais, a virtual duo who have dived into the DIY approach with aplomb with their mix of punk, riot grrrl, experimentation, spoken word and a great desire to put the world to rights. It's a short and sweet EP with two tracks of a looped guitar riff, sound effects and angry poetry.
"Mad Max is here. 1984 is here. Another thousand (trees) are cut down", comments Maria Caram about the clip, which was produced and edited by Matheus Palmieri. Imagine if Sigue Sigue Sputnik had been angrier, female and cared about the rainforests.
---
MNTH – IMINENTE (Mais Um)
Luciano Valério returns with this five track collection of deep rhythmic pulses and cosmic synth patterns on the always interesting Mais Um label. This EP is a taster for the full length album due later this year. Originally recorded in August 2020 for a Brazilian documentary, the two main tracks "Pedra Sobre Pedra" and "Demanda E Despejo" are presented and then remixed and reversed. The documentary Pedra Sobre Pedra (Brick By Brick) is about a group of skaters, who campaigned to preserve the history of the Vale do Anhangabaú (Anhangabaú Valley) right in the centre of São Paulo, and save it from a decades-long neighbourhood regeneration program. It was recently turned into an urban park and is a renowned spot for local skaters but has held everything from music festivals to evangelical rallies. Walk along the famous Chá viaduct that crosses over the vale and you get a striking view of the region. Back to the music and on the title track Hanna Olivegren's (Zomes, Thrill Jockey) lyric-less vocalisations course round Aurelia Smith-like modular synths and dub tremors on the opening track, which is then remixed and finally reversed by Big Dada label affiliate Thavius Beck. "Demanda E Despejo" (Ask and Be Evicted) has piercing synth riffs referencing Caribbean steel pan melodies, which unravel in real time around energetic syncopated drums. Remixer Bartosz Weber of eminent Polish group, Baaba and Mitch & Mitch, takes it on a 1980s bleepy techno, 8-bit detour. 
IMINENTE isn't out until 8th April, so please make do with the documentary for now:
---
Kauan Marco – A Magia Nos Espera (Gop Tun)
After their incredibly fun and funky compilation of edits from the end of last year, Gop Tun slip us another slice of idiosyncratic dance music, a non-genre which seems to be their specialty. Delve into their catalogue on their Bandcamp and there's a smorgasbord of non-obvious Brazilian genres, from 80s funky groove to forró and electrobrega. A heavy Balearic vibe, or as the Selvagem crew coined it, Balneárico, oozes from these tracks. In other words a genre that takes slowed down beats, early house, the eccentric end of yacht rock and mixes it with the tropical sun and beauty of Brazil. Herein you'll find the very definition of Balneárico, smooth synth basslines, 808 beats and choppy funked-up guitar lines. 
Gop Tun's open minded approach to electronic music is reflected in their upcoming festival in São Paulo this April which has copious amounts of South American talent on show and I for one shall be heading down there.
---
Goatface! – Bordas Liquidas (Submarine Records)
First release in a long while from Submarine, much missed in these parts, anything from their collective of improvising players is worth a listen if you like the music written about here. This project is led by Guilherme Granado who supplies the electronics for Hurtmold and São Paulo Underground alongside M. Takara and Rob Mazurek, as well as his fine solo work. A particularly memorable experience was seeing SP Underground accompanying Pharoah Sanders quite a few years ago, and seeing the old boy put through the paces by these relatively young players.
The title track is a 17-minute meandering piece of afro-psychedelic jazz that shuffles along with an engaging groove, gradually building and then coming down smoothly at the end. The second piece is Sun Ra outta-space improv, where wandering synths and rattling percussion abound.
---
RHR – Linha de Ofício 93″ (Tijolo Records)
Born in Diadema and based in São Paulo, RHR shows us a glimpse of his techno talent with his second vinyl/digital release on Tijolo Records, a Brazilian label based in New York City.
He takes electronic genres and imprints his own clear stamp on them. Hoover sounds abound on the dense electro of "Mente e Drama". "Na Captura" is futuristically steely baile funk combined with techno, "Sem Sono" features friend of the column and Submarine Records affiliate Black Snake 808, and features a dubby Joey Beltram synth line echoing around a tasty break beat. "Proibidão", named after the infamous genre of baile funk that bigs up the trafficking gangs, puts the classic batidão break through various effects alongside what sounds like a didgeridoo. 
---
Marcus Neves – Modular Drone Session D (Musica Insolita)
The column is never complete without its monthly fix of bone-shaking drone and noise, and you can do no wrong with this release from isolationist label supreme, Musica Insolita. Marcus Neves works with sound design, field recordings and soundtracks, though all through an experimental filter. Here he presents a series of drone works, each one with a different collaborator. Friend of the column, Gimu, is on the first track with a two note drone piece with added disorientating layers of sound and tape grunge. The instructions say to be listened to at high volume, though I find music like this works well at a just about perceivable volume, creating an eerie atmosphere in the room, rather than completely dominating it.
---
Sentidor – Sonho das Flores (Le Petit Chambre Records)
And if you want something completely on the other side of the spectrum, try the sound of nature dreaming. Been a long time since I've written something from this label but this is a delightfully relaxing soft listen for hard times. Sonho das Flores is a musical exploration of pan-psychism, which is the idea that other organisms and even inorganic matter and minerals forming the body of the Earth are inherently gifted with a kind of vital force or universal conscience – deep! 
João Carvalho, who produced this ambient mini-opus, recorded it in the city of Felixlândia and its surrounding areas, in Minas Gerais, where he'd been working with riverside communities who had their ways of life eroded by the disruption of a dam built by the mining multinational VALE in Brumadinho in 2019. Though its creator claims that "this album is an image of voices springing from the earth, the dream of a new spring composed of plants, stones, rivers, and animals", it's not all lightness and calm, there's an edge with the distortion and disquieting sounds underlying the ambient tones, well worth investigating.

Follow Sounds and Colours: Facebook / Twitter / Instagram / Mixcloud / Soundcloud / Bandcamp

Subscribe to the Sounds and Colours Newsletter for regular updates, news and competitions bringing the best of Latin American culture direct to your Inbox.
Share: