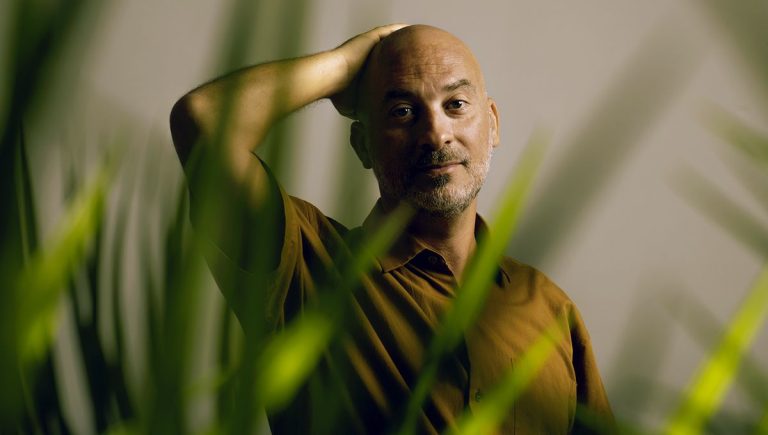 Prezident Markon's Singles Round-Up (Lucas Santtana, Joe Bataan, João Selva, Bio Ritmo, Alea, Xaman X and more)
16 December, 2022
If the supermarket adverts are to be believed, we'll all be smiling from ear to ear in big happy families this Christmas, tucking into a monumental feast supplied by said supermarkets at unbeatable prices. If you can slip away from so much Yuletide merriment, here are some fine new singles to enjoy in the privacy of your own electronic device.
---
Lucas Santtana with Flavia Coelho "Muita Pose, Pouca Yoga"
Pride of place goes to a track taken from the Bahian singer-songwriter's marvellous ninth album due very early in the New Year, O Paraíso. Actually, the single is quite atypical of a predominantly lyrical album. For a start, it's a duet with the Paris-based queen of bossa muffin, Flavia Coelho. And while much of the album is devoted to Santtana's environmental concerns, the single is a playful dig at so-called yoga professionals who spend more time on Instagram than on the yoga mat. Too busy self-marketing to read the writing on the wall? The single, like the album, was recorded in Paris with the help of available musicians of the quality of cellist Vincent Segal and percussionist Zé Luis Nascimento. "Much pose, little yoga" indeed.
---
João Selva "Passarinho"
Someone else who has sung with Flavia Coelho (on last year's Navegar) and who voices his environmental concerns on vinyl is the Rio-born poet and singer-songwriter who records for Lyon-based Underdog Records, João Selva. It's the title track of the forthcoming new album. The titular "little bird" tells of the human condition and warns of the devastating consequences of biodiversity loss and environmental collapse. Once again produced by the ubiquitous Bruno Patchworks, the single could be seen as a prime example of what you might call tropicália nova.
---
Gabriel da Rosa "Bandida"
Probably no relation, but the percussionist in this delightful musical vignette is a certain Bruno Coelho. Listening to this retro-bossa gem, it's hard to credit that this new artist on the L.A. scene was part of a successful punk-covers band back in Brazil. With a musical family background, da Rosa supposedly dreamt of playing bossa nova one day. "It was always this untouchable, unimaginable type of music that I perceived myself to be incapable of playing," he confesses. But here he is now releasing a second single for DJ Peanut Butter Wolf's Stones Throw label and sounding highly capable and totally convincing. A little squeaky-cuica-gem, complete with Getz-like tenor sax.
---
Joe Bataan "Call My Name"
The King of Latin Soul has recently turned 80. Out on 7″ vinyl for the first time is this typically warm and infectious offering from a man blessed with one of the most recognisable and enticing voices in the business. Recorded at Brooklyn's eminent Daptone studio, this pop-tastic single is guaranteed to get even the most leaden-footed party-pooper dancing around the Christmas tree.
---
Bio Ritmo "Madrugador"
Compared to Joe Bataan, the various members of this classical salsa outfit from Richmond VA are mere babes in arms. Nevertheless, they've been together now for 30 years and December 9th sees the release on Electric Cowbell Records of their 2006 EP, Salsa System, to mark the occasion. Engineered and mixed by Fania's legendary Jon Fausty, the recording sessions gave Bio Ritmo "an important lesson as to how a salsa band's sound is brought to life in the studio", according to band member Rei Alvarez. The four tracks include the bonus track "Bionic Boogaloo", a hip take on the old Bionic Man theme. Steve Austin might have approved of a product that's as polished as my grandfather's brown brogue shoes.
---
Alea "Nuestro Juramento"
High time, I think, for the feminine touch. The New York-based Colombian diva, Alea, has featured previously in this column. Here she takes on the classic bolero penned by Benito de Jésus as a Latina Isabella Rossellini in film maker Elyssa Budd's loving homage to David Lynch's Blue Velvet. A tremendous performance all round.
---
Sebastián Coloma y Alea "Ya No Te Puedo Querer"
And if that doesn't get you choking back copious tears of emotion, here's Alea once more, this time in the company of Sebastián Coloma, together singing about the moment when a relationship reaches the point of no return. Heartbreak and anguish to the max!
---
Los Ranger's de Tingo Maria "La Trochita"
And now for something… well, quite different. You can always rely on Analog Africa to surprise us. It's not long ago since they shone a light on the slowed-down cumbia rebajada phenomenon created by some Mexican sonideros twiddling with their pitch controls. Now it's the rapid-fire cumbia amazónica which emerged from deepest Peru in the 1970s, characterised by twangy, "treble-damaged" electric guitars, cheesy organ and timbale-driven dance rhythms. As such, this first single – and first track – is fairly representative of another splendid (18-track) compilation, Perú Selvático. This guitar-driven slice of nutty nonsense was inspired apparently by its writer's memories of hacking through the undergrowth with his machete on the family farm.
---
Sonido Verde de Moyobamba "La Danza Del Vampiro"
In conjunction, Analog Africa are releasing a limited-edition LP dedicated to one of the star groups of the genre. Sonido Verde de Moyobamba brought out five albums for Discos Universal between 1981 and 1987. Eight rarities have been compiled for the album, but it's hard to believe that the other tracks can possibly scale the dizzy heights of insanity that this particular dance of the vampire does. It's blood-sucking great.
---
Xaman X "Distraido"
We'll stay with a cumbia theme, but move from the Peruvian jungle to… err, Bristol. "Wild, unruly cumbia" from the West of England. I'm particularly taken with this deeply rhythmic, electro-infused slice of updated tropical Colombian music, which comes from the group's eponymous debut EP and puts me in mind of the splendid group from Marseille, Cumbia Chicharra. Check out the other two tracks on Bandcamp. You'll want them all – just as the members of Xaman X will certainly want the two Analog Africa releases. Right up their street, methinks.
---
Tunico "Galope"
Back to Brazil, to wind things up with a new release on Far Out Recordings: the debut single from another native of Rio, the composer and multi-instrumentalist who goes by the moniker of Tunico. It's a single that exudes distinction and promise for the album to follow in 2023. Recorded with some of Rio's finest jazz musicians, including trombonist Antonio Neves, there are shades of Airto Moreira, even a more restrained Hermeto Pascoal. It may be a little too soon, but I think I'll write to Santa and ask him for a vinyl copy of the album.
---
There you have it. The last round-up of 2022. Have yourselves a merry little Christmas, but don't eat too much of that super supermarket food.

Follow Sounds and Colours: Facebook / Twitter / Instagram / Mixcloud / Soundcloud / Bandcamp

Subscribe to the Sounds and Colours Newsletter for regular updates, news and competitions bringing the best of Latin American culture direct to your Inbox.
Share: