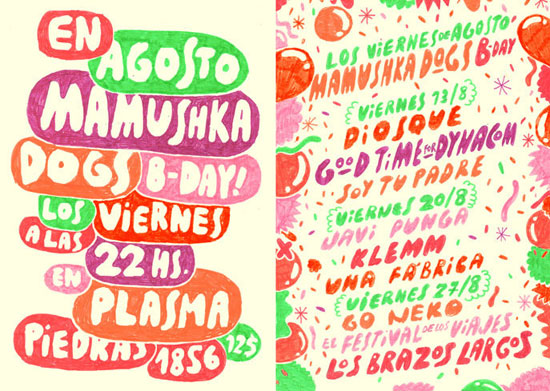 Mamushka Dogs – Indie Argentina Mixtape
13 August, 2010
This is a very exciting day as Mamushka Dogs, one of our favourite record labels in Argentina, have gracefully agreed to send us a mixtape of some of the best songs from their label. For anyone unfamiliar to Mamushka Dogs they are your primary source for the most innovative and fresh bands coming out of Argentina, a litmus test for the Argentine indie scene, like a latino Fierce Panda. As well as releasing the first release by A Banda de Turistas (who we interviewed here, and who are going on to big things) they have released records by some of our favourite Argentinians including Go-Neko!, Diosque and Prietto Viaja Al Cosmos Con Mariano. These are bands influenced by Krautrock, Jesus and the Mary Chain, The Pastels, Os Mutantes, folktronica and countless other styles a million miles away from the images of tango and gauchos (cowboys) that Argentina are normally packaged with.

The label was started by Luciano Banchero and Leandro Pereiro in 2007 with the objective:
Objetivo de difundir, de manera libre y gratuita, obras de algunos de los artistas más interesantes y talentosos de la escena emergente argentina
Okay, we'll try that again:
To freely spread works by some of the most interesting and talented artists from Argentina's emergent scene
One of the best things about this label, and for anyone wanting to find out more about Argentinian indie music is that all of their releases are FREE! Yes, that's right, FREE. Which means that it is now possible to get new releases by Javi Punga, Aguas Tónicas and Los Brazos Largos without spending a penny! These artists, along with many others from their catalogue are showcased on this mixtape which Mamushka have lovingly compiled for us:
1. A Banda de Turistas – Las Casas de Brian
2. El Festival de los Viajes – El Bautismo
3. Una Fábrica – El Ventanal
4. Los Brazos Largos – Fallar
5. Monoambiente – Las Cosas Se Acomodan Solas
6. Compañero Asma – Who Dies If England Lives
7. Diosque – La Mañana
8. Good Time For Dynacom – Your Fucking Life
9. Klemm – No Sabés lo que Sufrí por Vos
10. Javi Punga – Wanda Nara
11. Go-Neko! – Los Niños Beta
12. Atras Hay Truenos – Velocidad
13. The Baseball Furies – A Rather Agressive Atmospheric Fluctuation
14. Le Microkosmos – Borracho Drogado y Sucio
Download This mix is no longer available
More info:
Mamushka Dogs Records
Bosque – we also wanted to mention Bosque studios who designed all the amazing illustrations on the Mamushka website. Here are a couple of examples of their work:

Follow Sounds and Colours: Facebook / Twitter / Instagram / Mixcloud / Soundcloud / Bandcamp

Subscribe to the Sounds and Colours Newsletter for regular updates, news and competitions bringing the best of Latin American culture direct to your Inbox.
Share: